Early last Spring, the folks on the SOTG forum (Char-Broil) started talking about putting together a get together or fall gathering and after many posts on the subject about where, when, and how, decided to take the advice of fellow forum member Dee Stafford and use the Central Christian Recreation Association facility which is just North of Augusta, Georgia and right on the Clark's Hill Lake. This lake is a part of the much larger J. Strom Thurmond Lake, Dam, and Rec area.
This is just one beautiful place and would be perfect for many different uses including our fall gathering.
The property is easy to find and about 20 miles North of Augusta.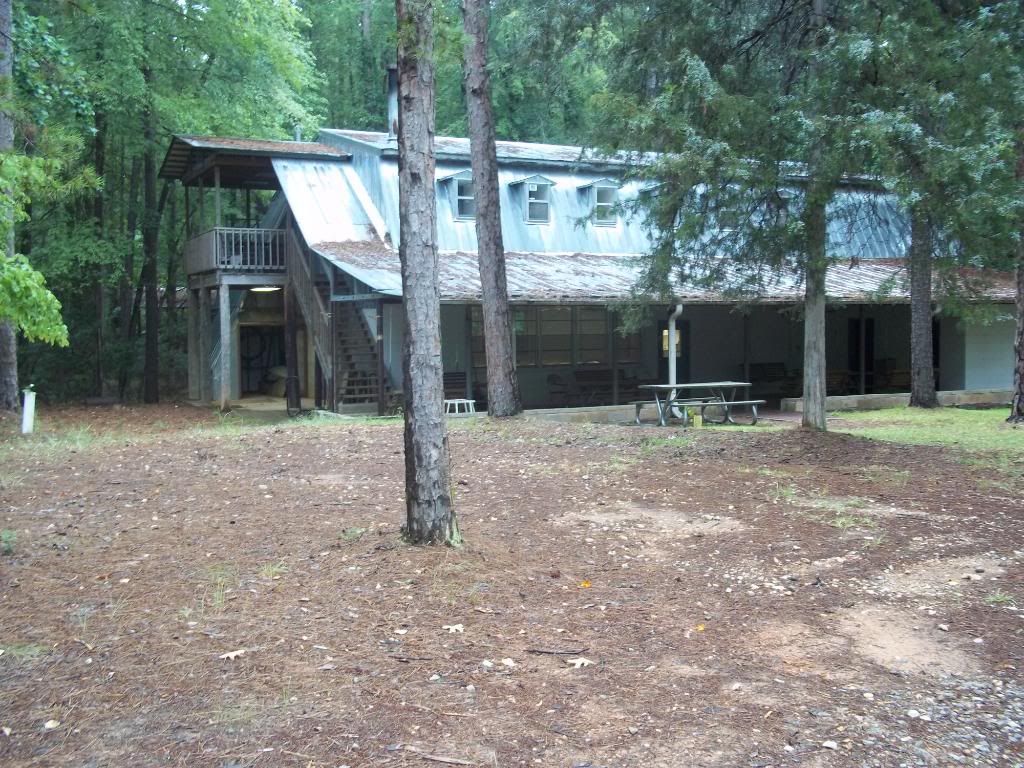 This is the main building which contains a full commercial type of kitchen, a large mess hall, a porch with several swings, and a couple of bathrooms. Upstairs contains bunks and bathrooms with showers for many people. I am sure it is used for a Summer camp for several churches and probably Scouts.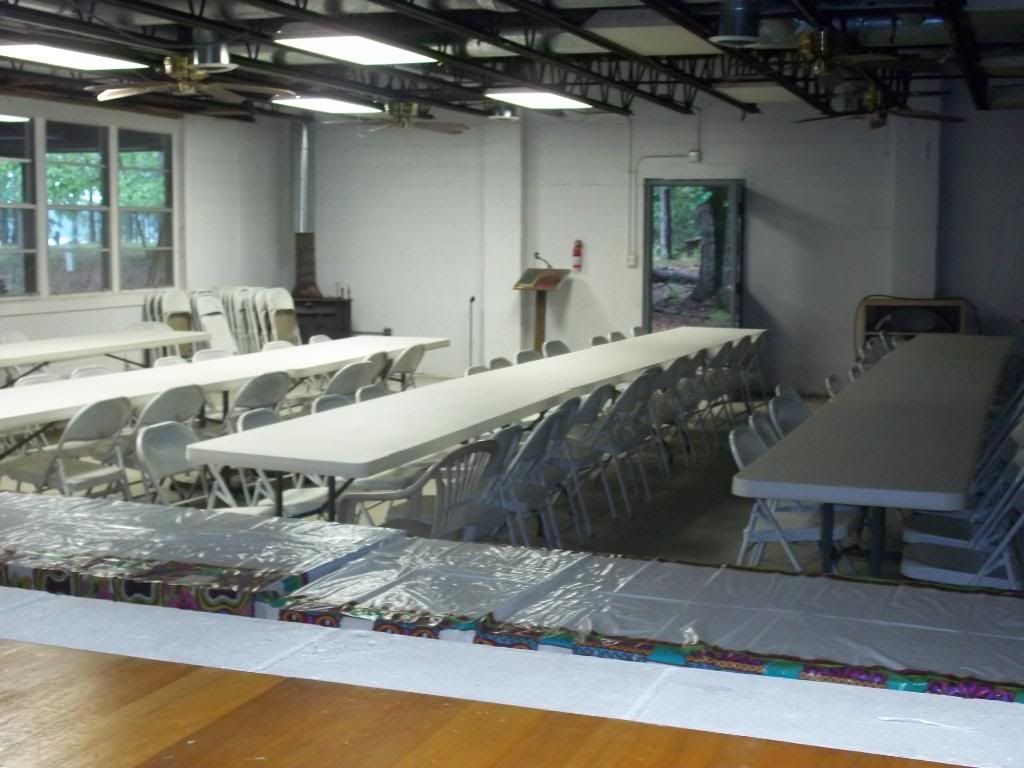 The mess hall.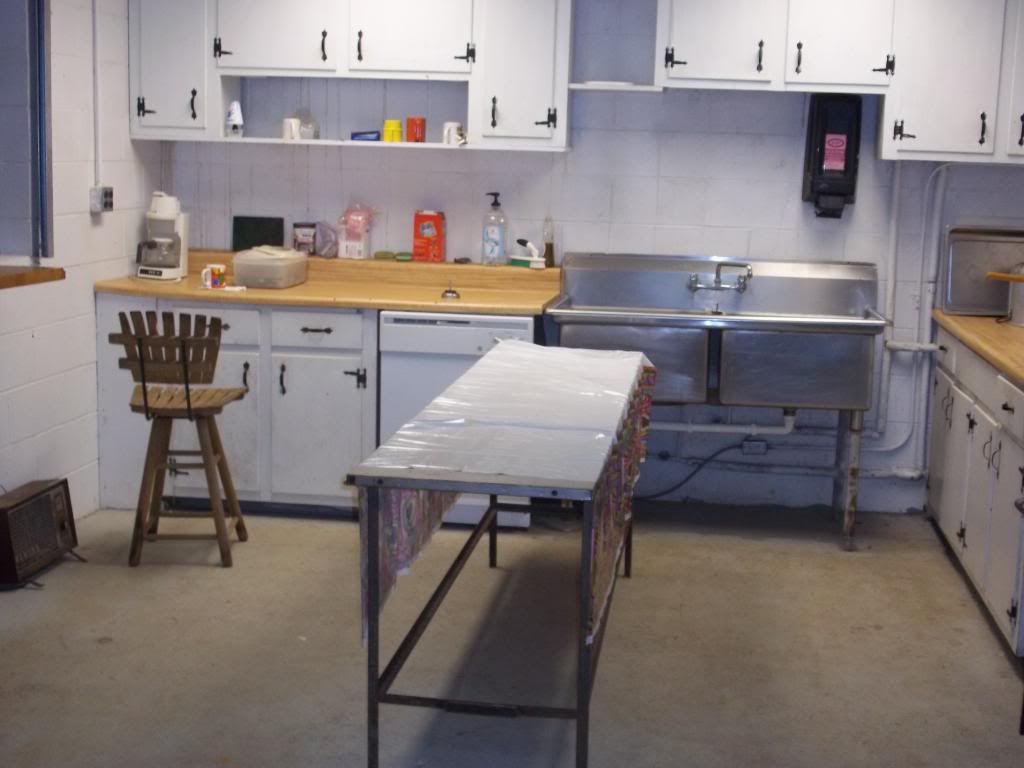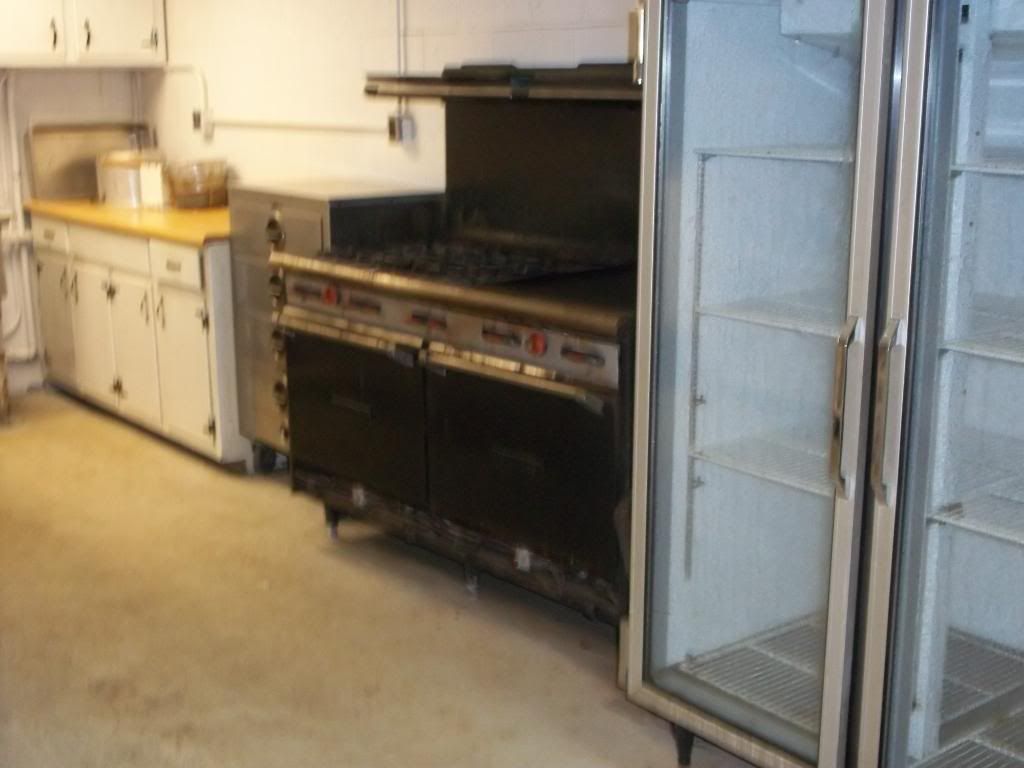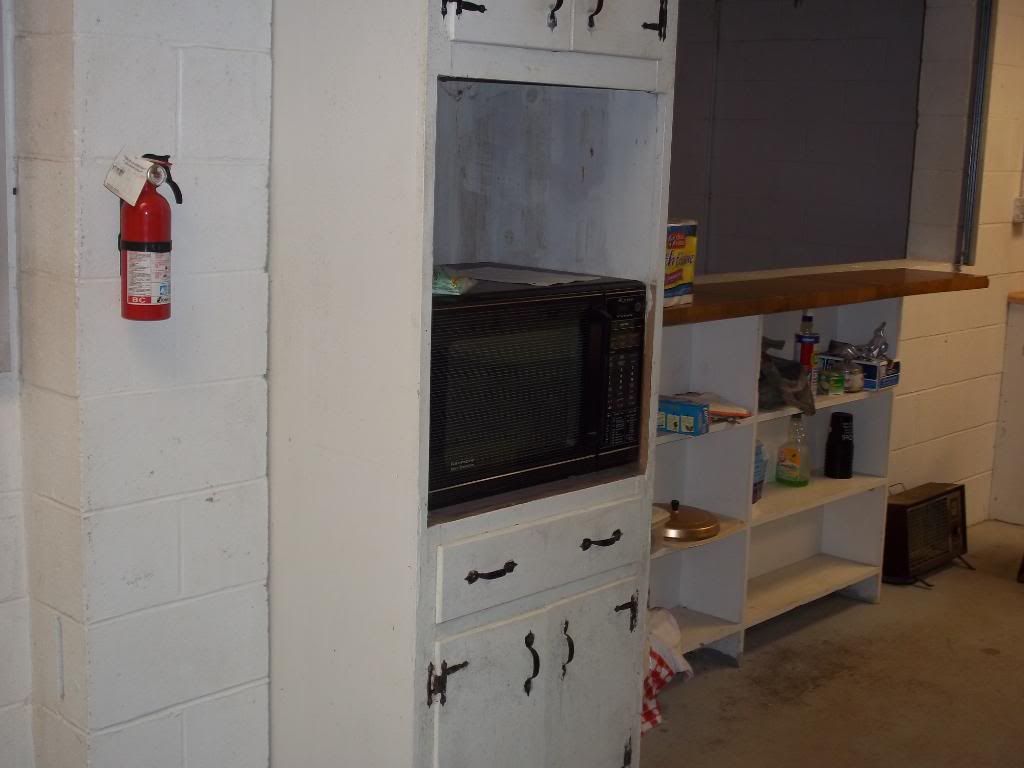 The big kitchen.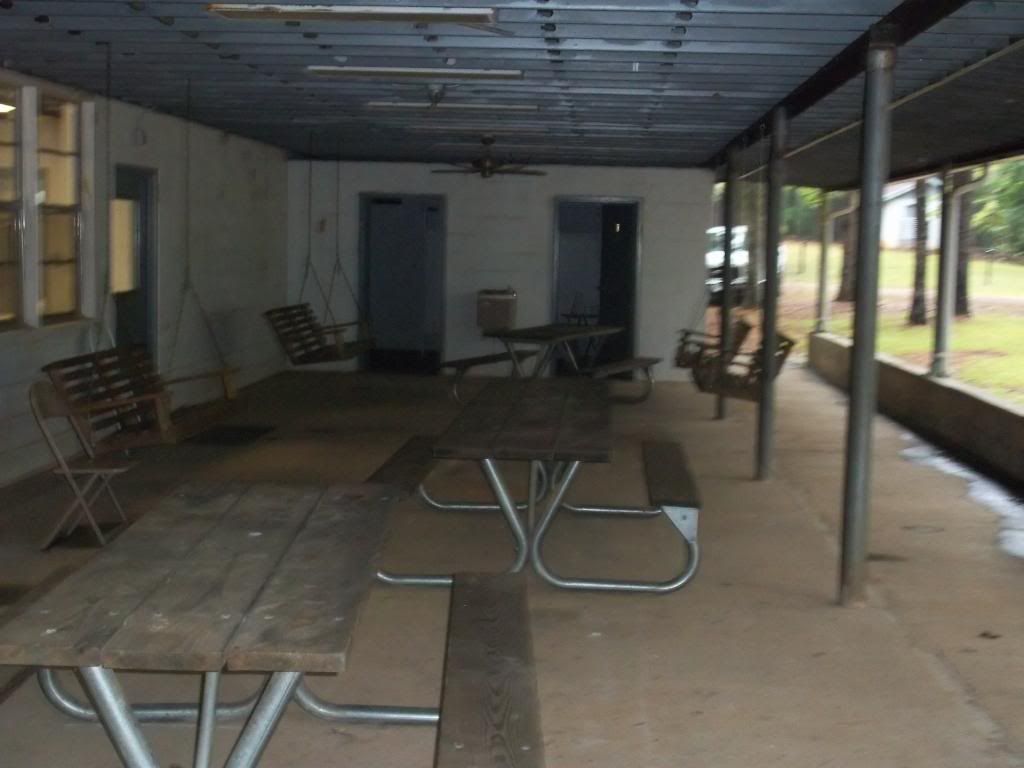 This is the front porch.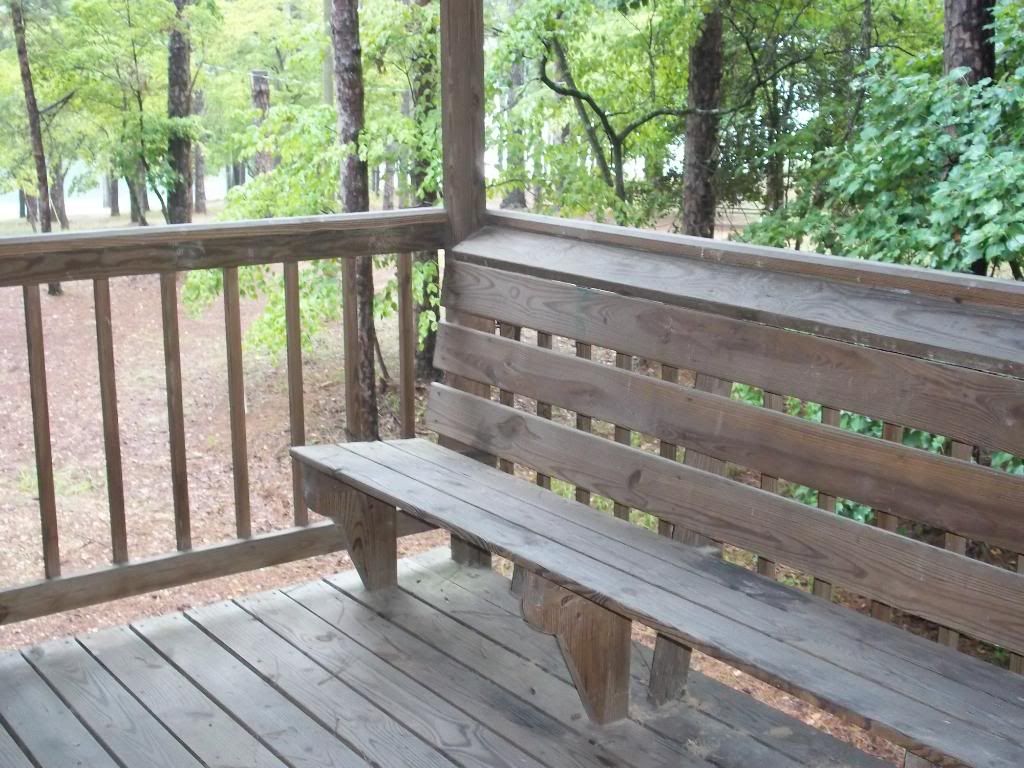 Another porch on the building.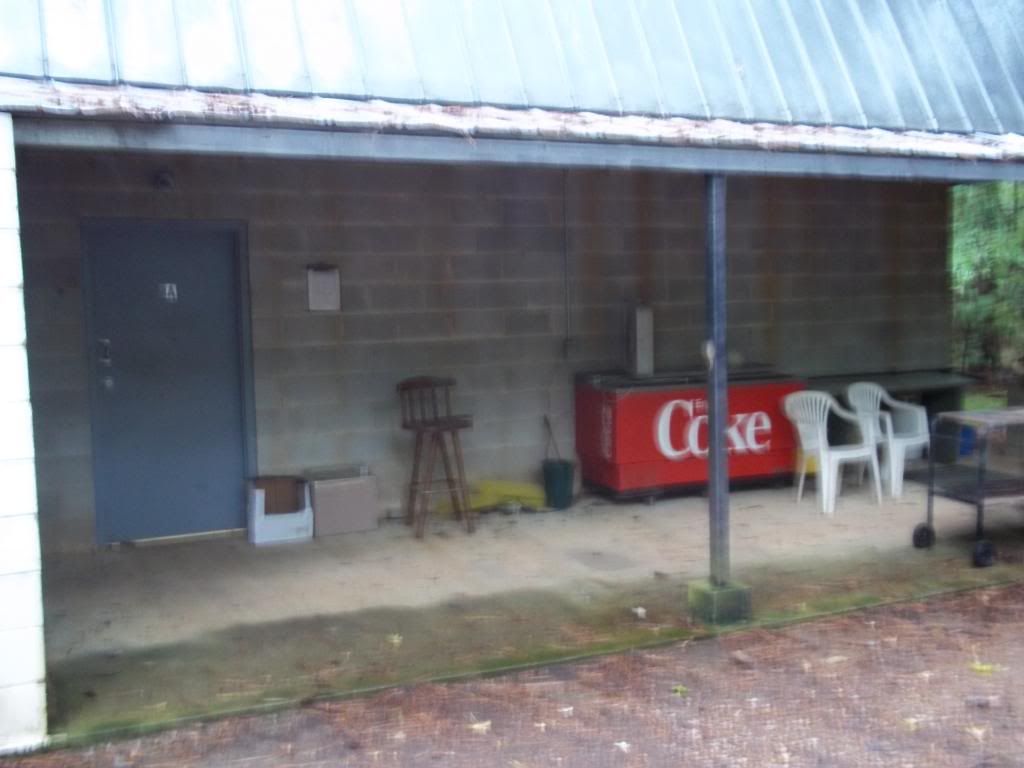 It also has a nice place right outside the kitchen door to set up some cookers.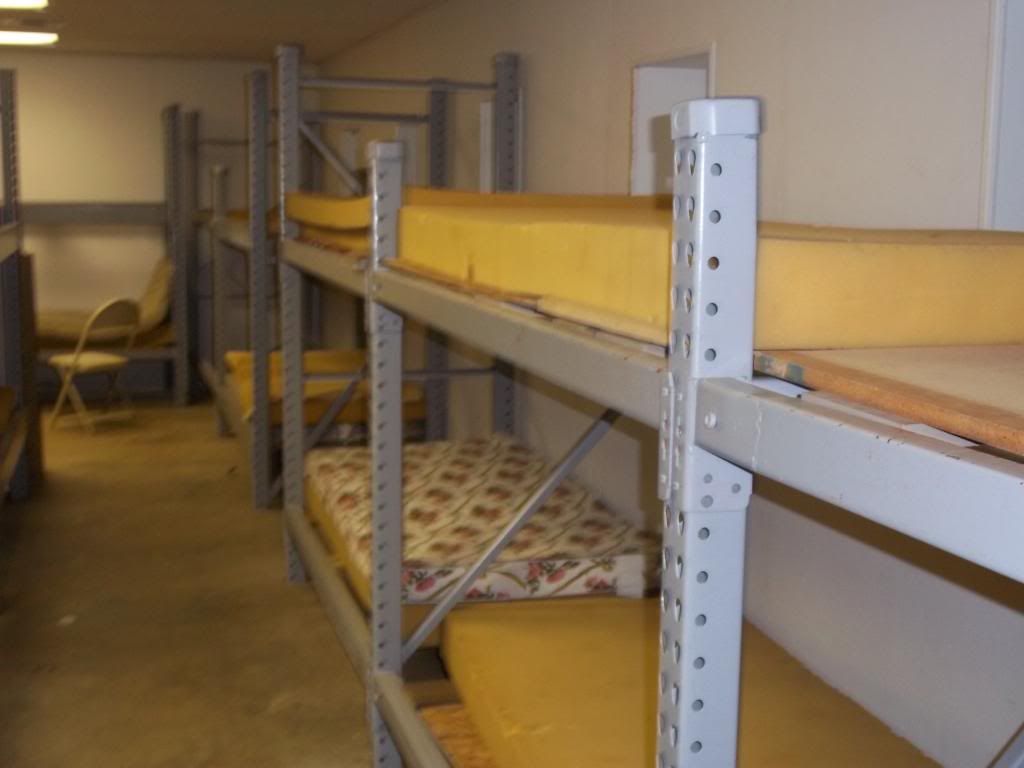 Some of the upstairs bunks.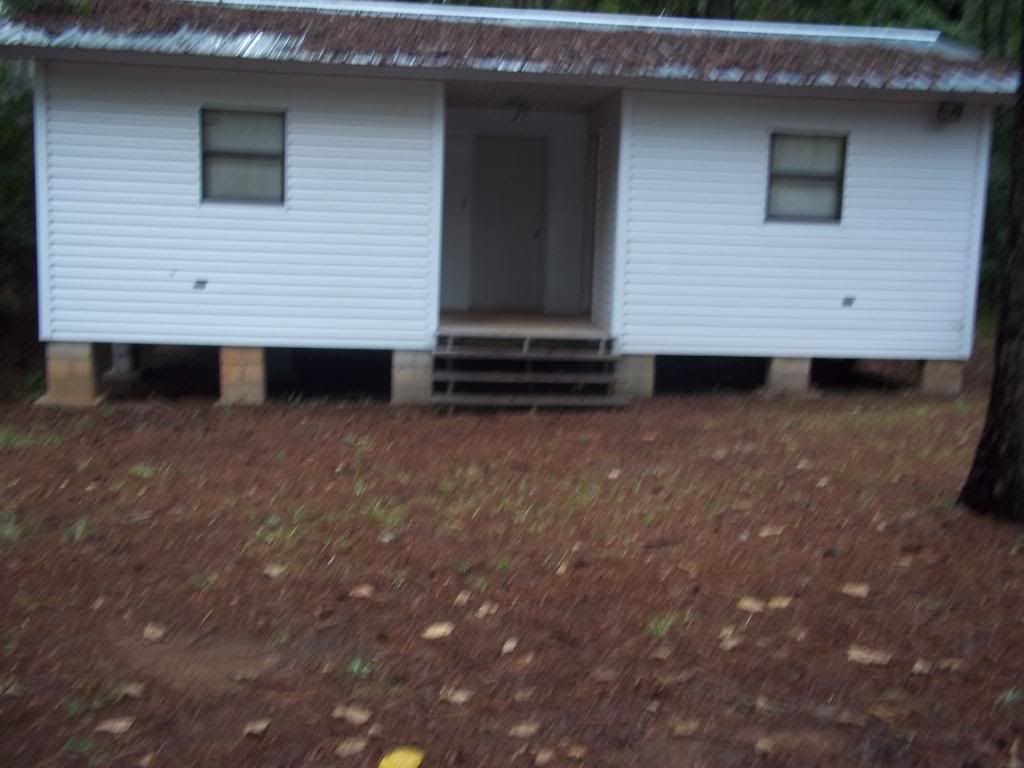 The property has two of these cabins which are doubles and each side will sleep 6 people.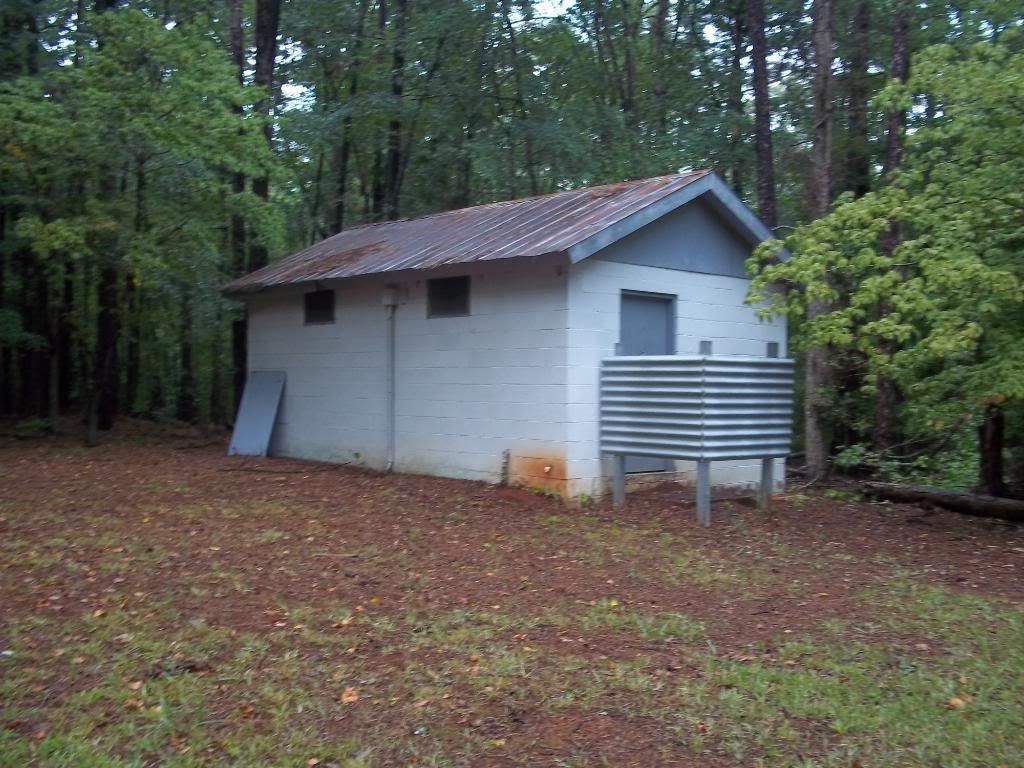 A shower house and bath near the cabins.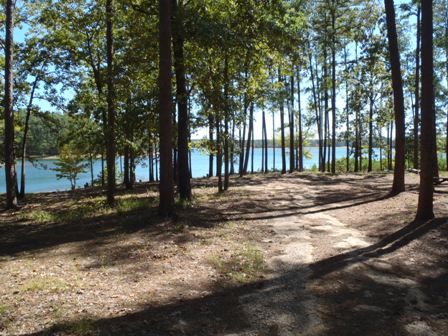 Looking down at the lake.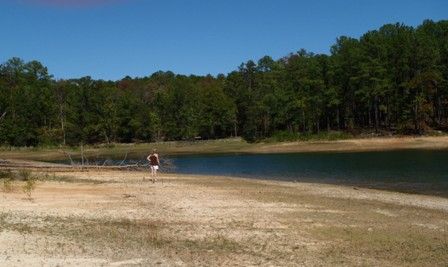 Another lake picture.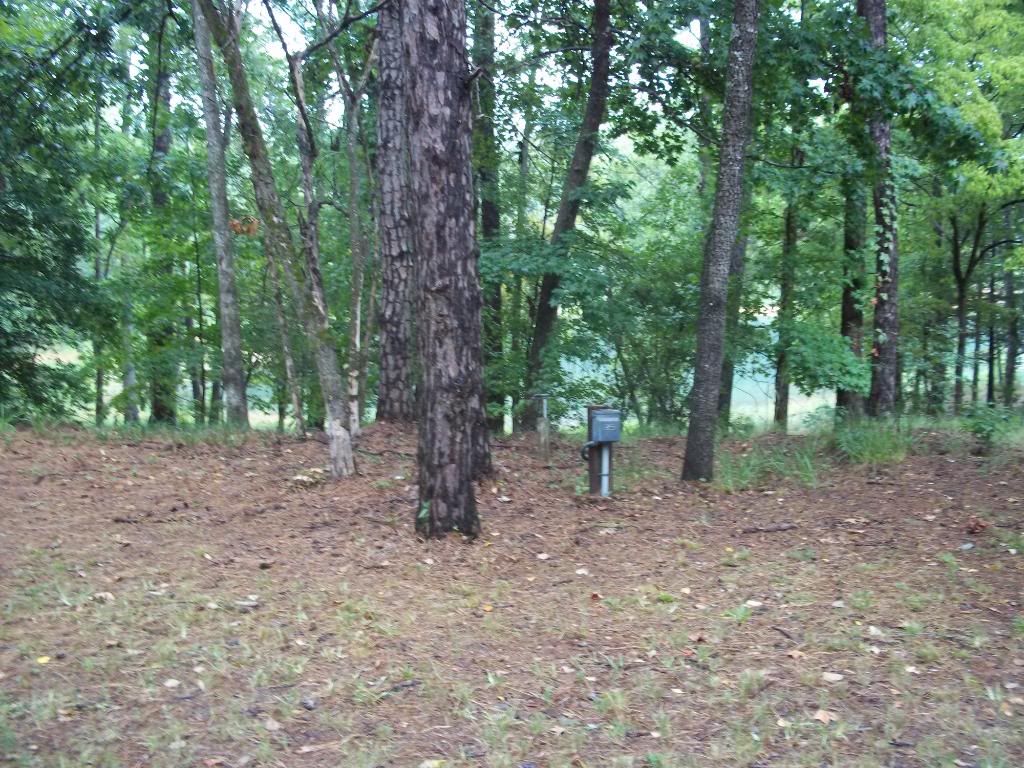 The property covers quite a few acres and is wooded with many places for camping with tents and also has about 5 camper spots with 30 amp electric and water. It has many more spots with just water. It also has a dump site on the property for the trailers.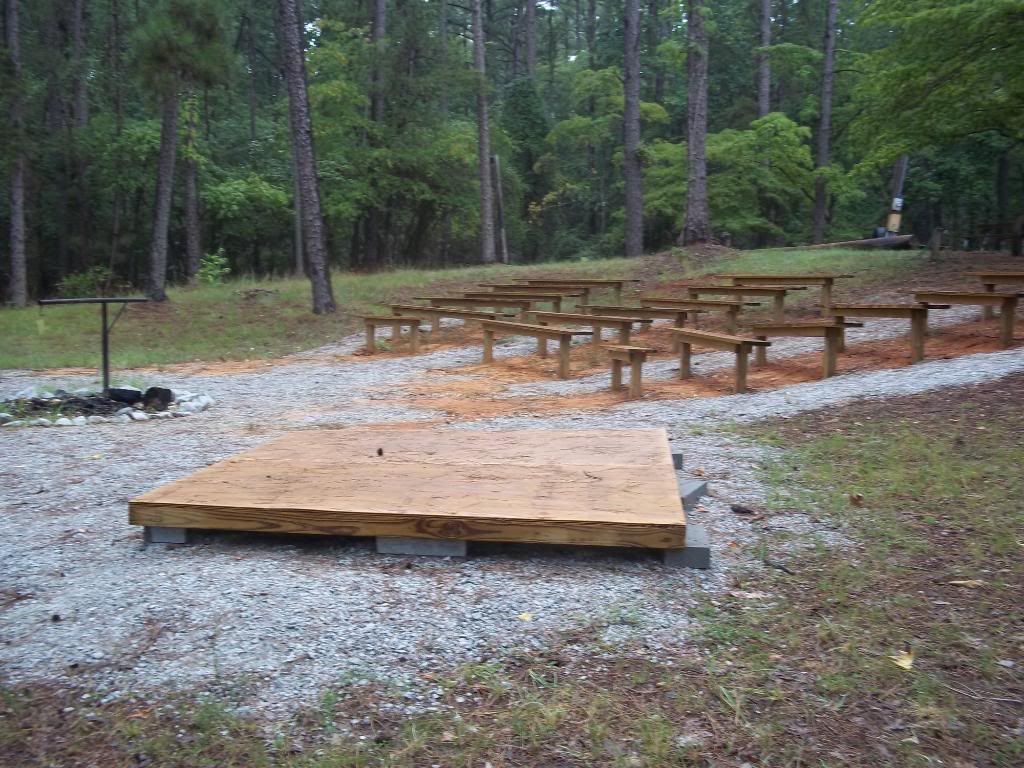 This is the open theater overlooking the lake.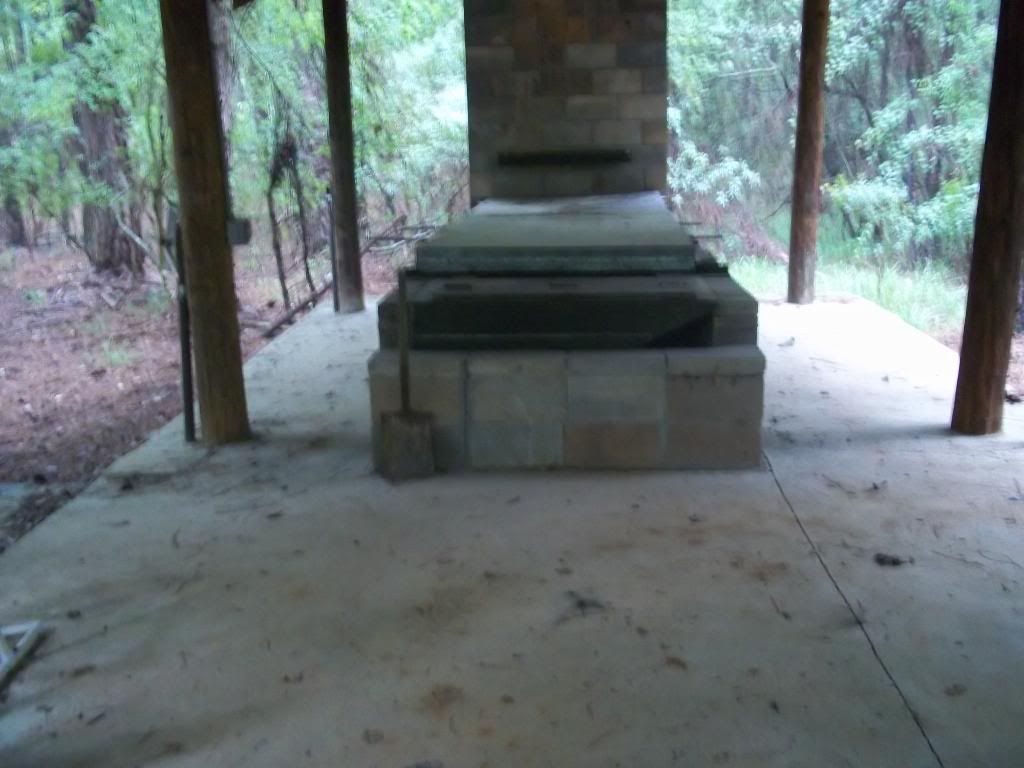 This is a big outside cooking pit for hogs or whatever.
Like I said, this place is perfect for the Fall Gathering. Was also pretty close to motels, stores, and shopping.
Dee had secured the facility from Sept 30 thru Oct 3rd for the event. The cost was to be a donation from everyone that attended.
We decided after seeing the pictures and getting some information to go to the event. It would mean missing our favorite bbq contest in Owensboro, Kentucky but we wanted to give it a go. The folks on the SOTG forum are just so real and easy to get along with and we just wanted to meet some of them.
We left from home about 3:00am on a Thursday morning and drove about 510 miles to a KOA just North of Atlanta. Just hate to drive thru this city!!! Anyway, stayed over until about 3:30 am and left to get thru Atlanta before the morning rush hour. West out of Atlanta to the turnoff to the facility and got there about 8:30 am on Friday morning. Dee was ready for us and we were the first to arrive. The total trip down was about 720 miles.
We had our pick of the rv sites and selected a great site facing the lake. Got the trailer turned around and backed into the spot.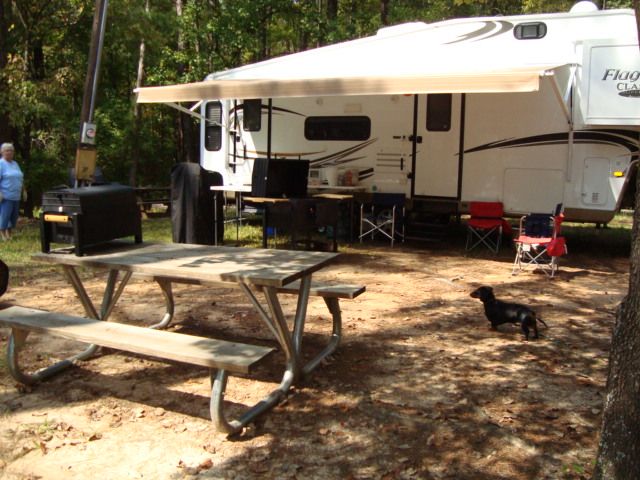 We spent most of the morning getting setup for the event.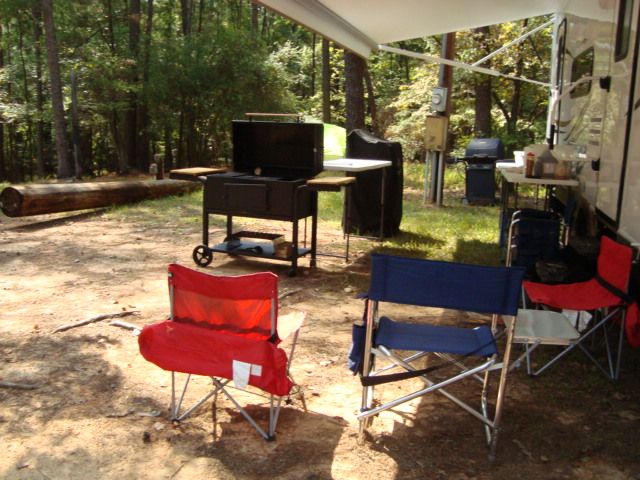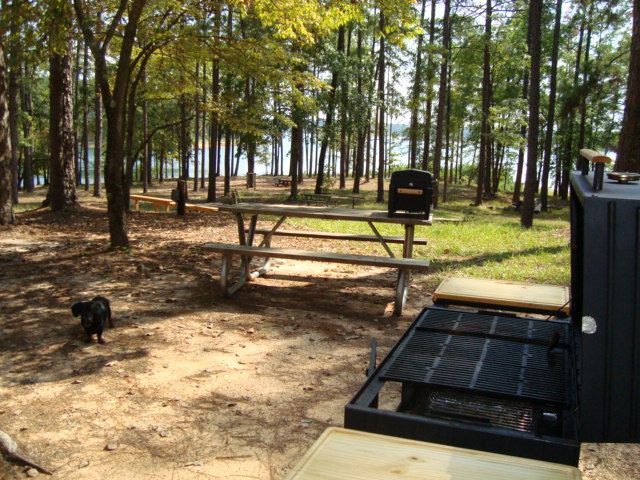 I brought 3 cookers to the event including my Char-Broil 940X, my Char-Broil 500X, and a Backwoods Party for my Saturday evening rib cook. These cookers run on charcoal with chunks of wood for smoke.
Many other folks came in on Friday and got setup for the event.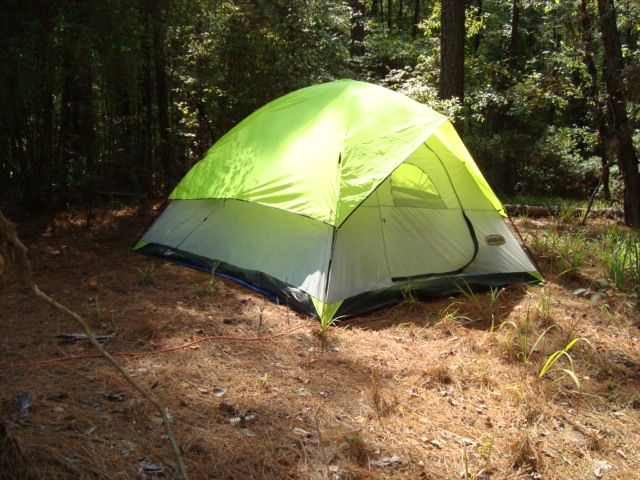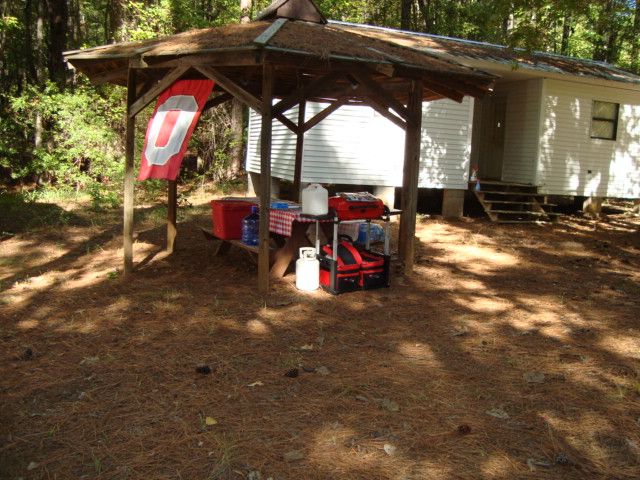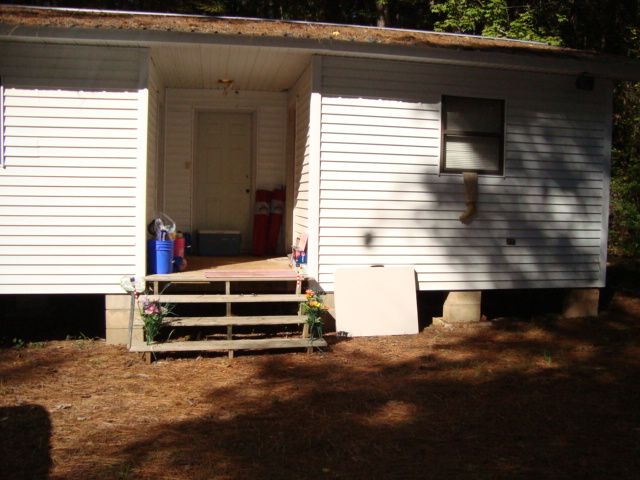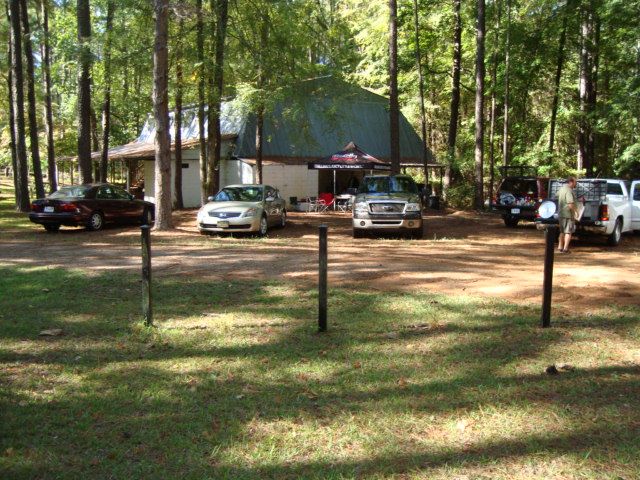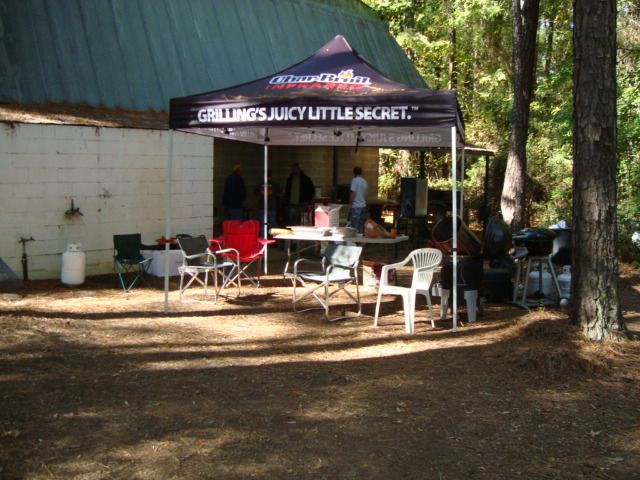 Many great food items were cooked over this 3 day period in many different style of cookers including gas, electric, infrared, and charcoal. Of course, most of the cookers were the Char-Broil brand.
Barry Martin, a Char-Broil rep, got the Compart Duroc Family Farms in Minnesota to donate a 218 pound box of mixed cuts of premium pork and we had this to cook on top of what everybody brought to the event. You talk about eating, we just were fixing and eating 24 hours a day.
From here I will just put in some random pictures and list some of the items cooked when I know what they were.
Busy in the kitchen.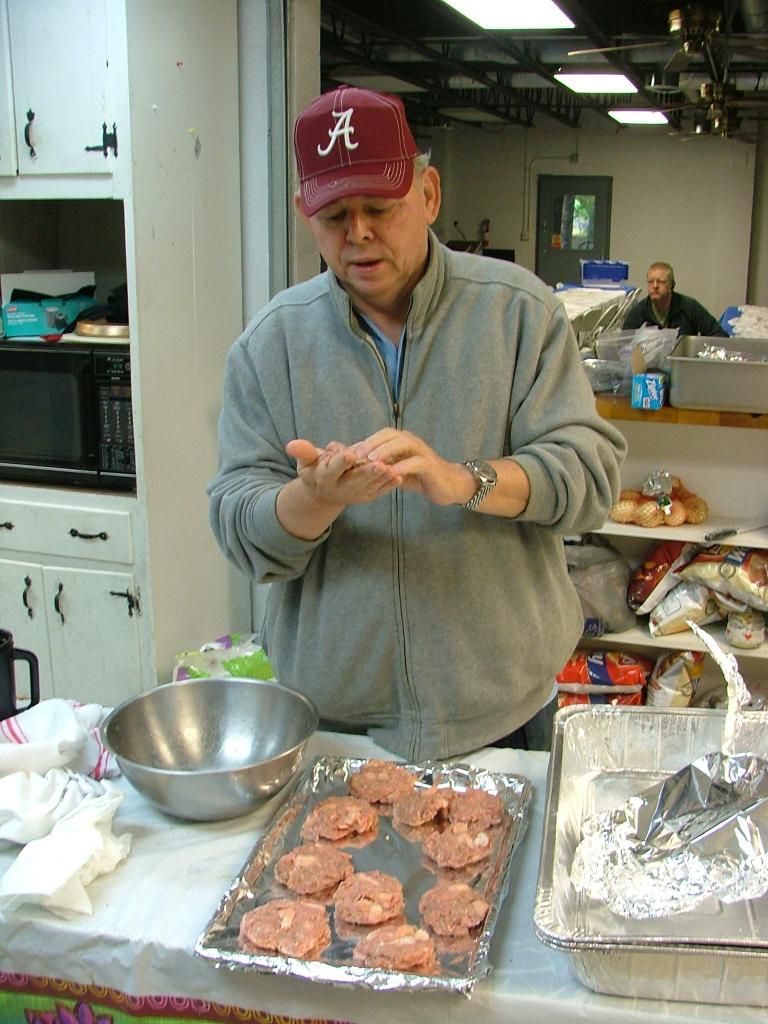 Sausage of some type.
I think this was ice cream cake.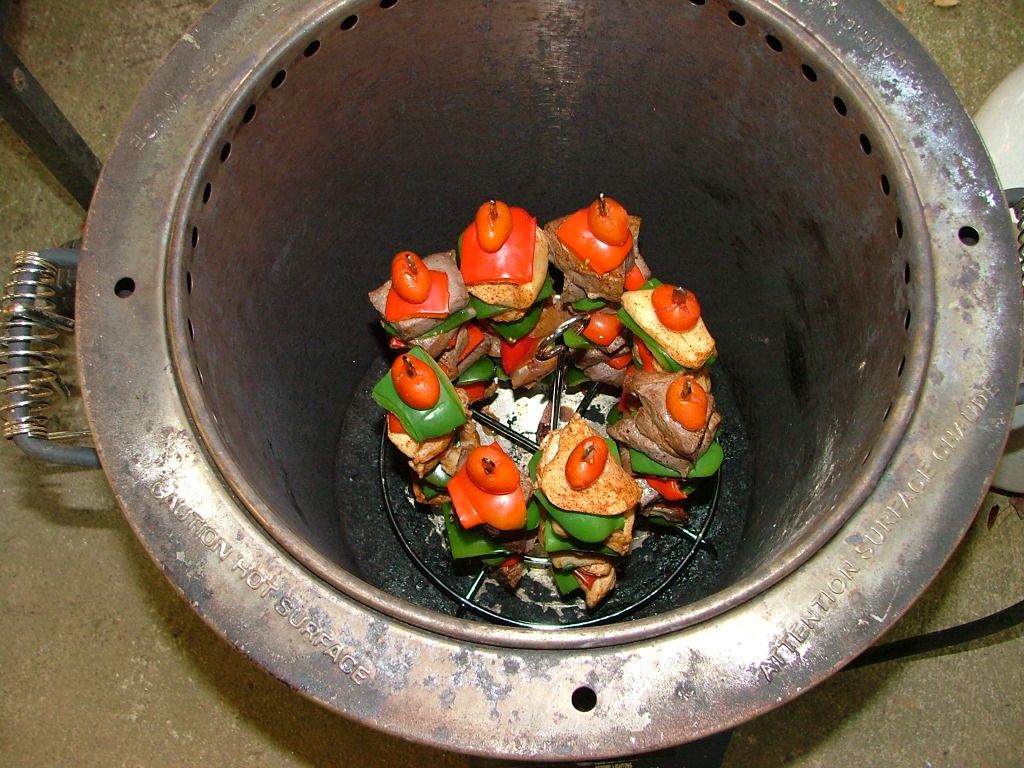 Kabobs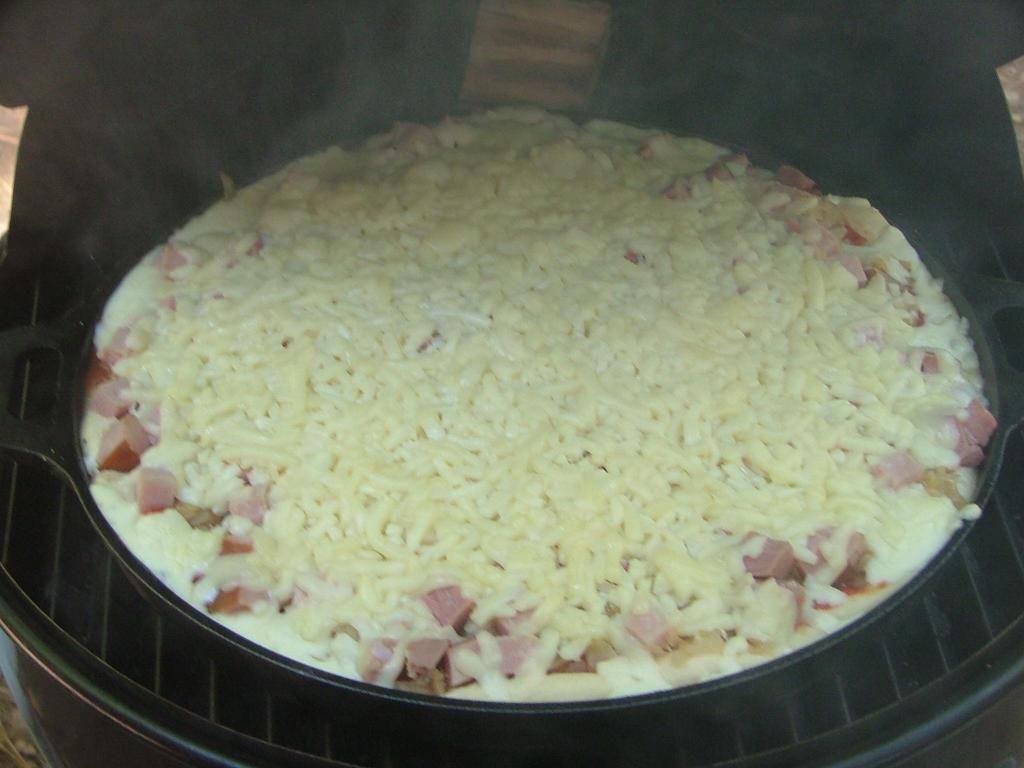 Pizza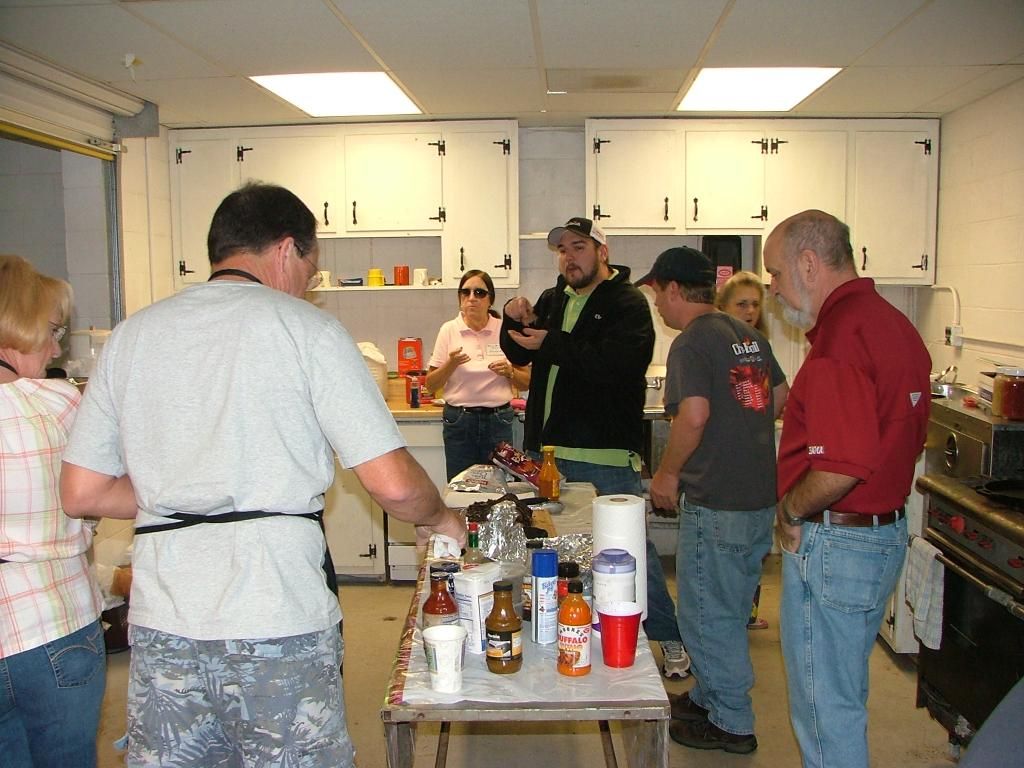 Real busy in the kitchen.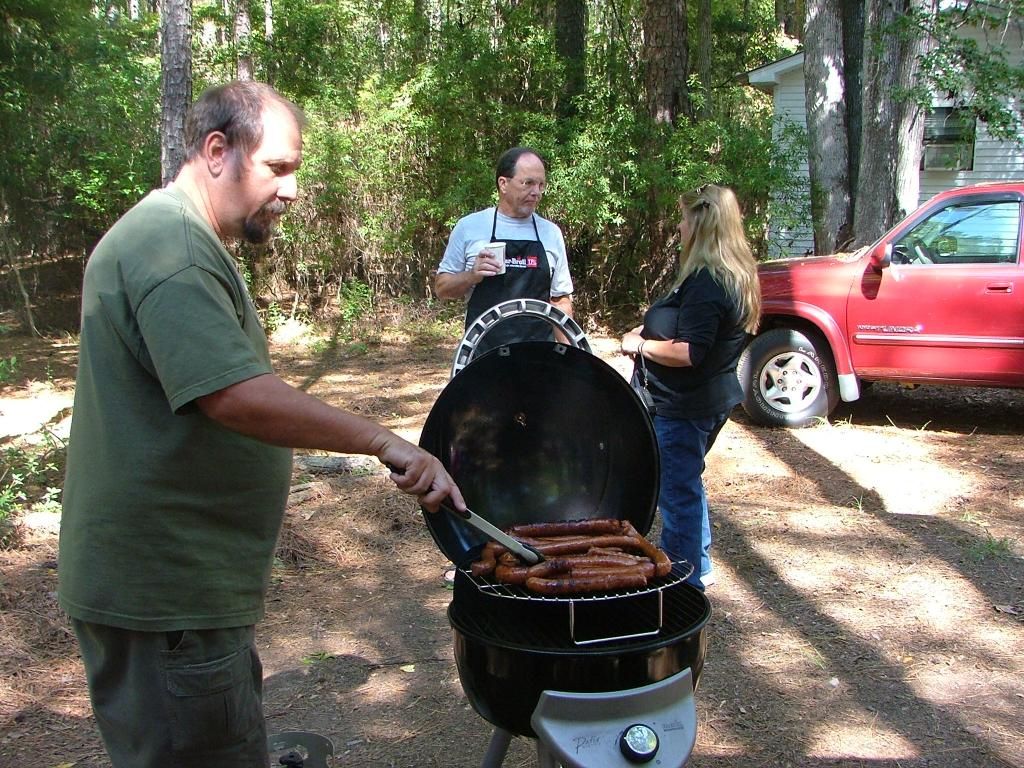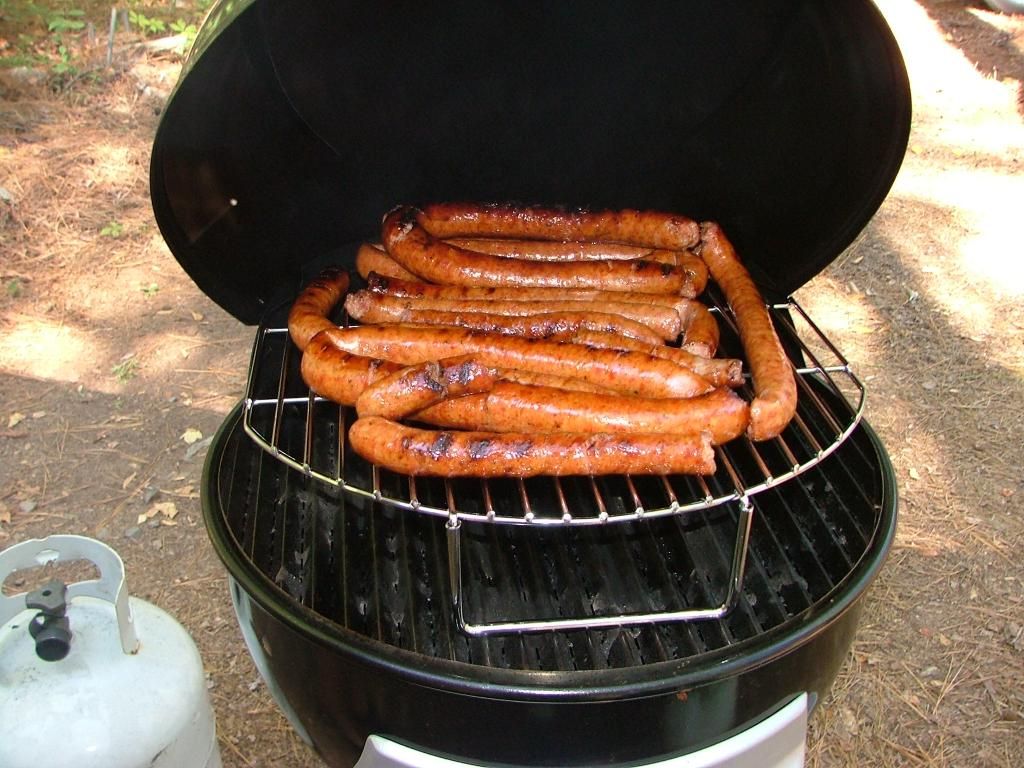 Might have been doing sausage for the low country boil.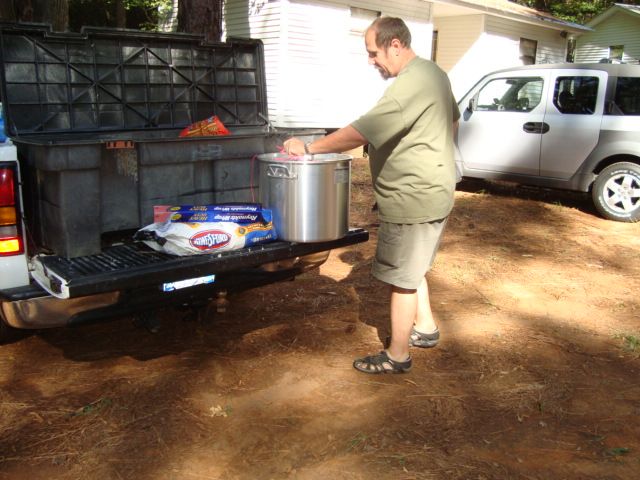 Getting the pot ready for the low country boil.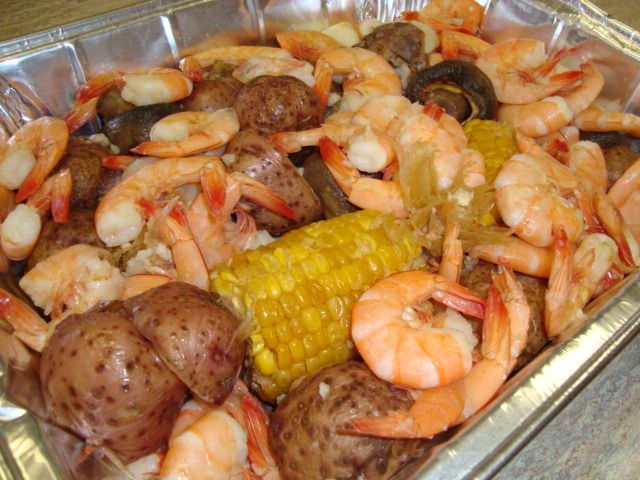 Results of the low country boil and it was "killer".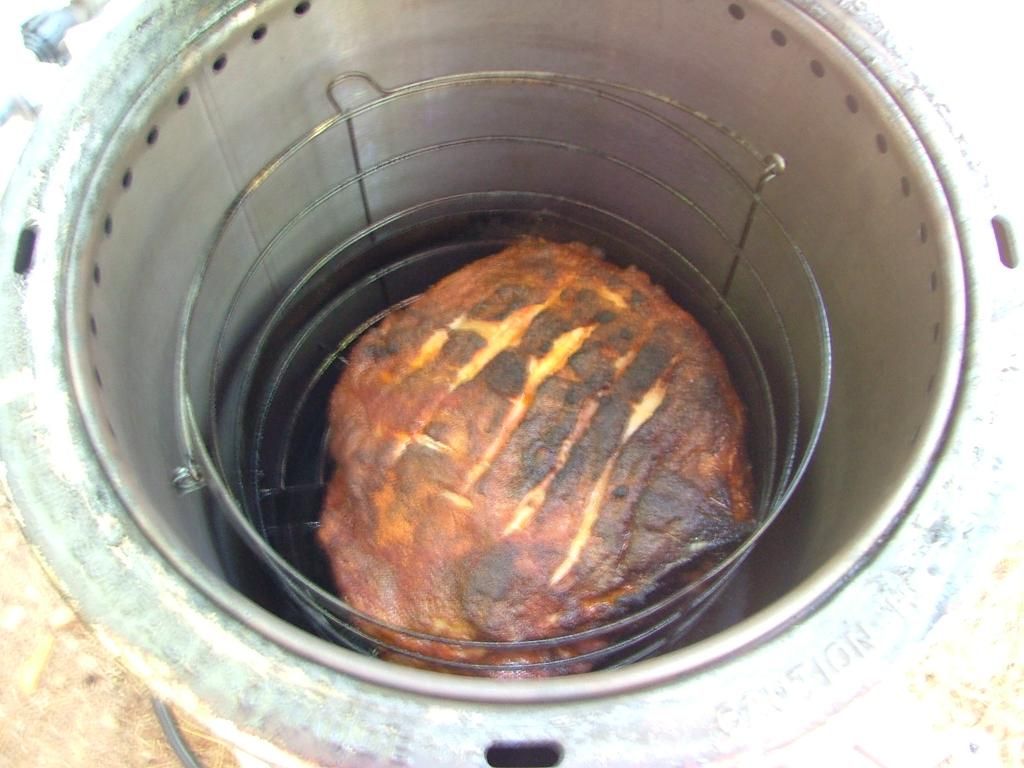 Pork butt.
I didn't get pictures of all the items cooked but I can tell you that the group also cooked brisket, pork tenderloins, abt's, steak, pork chops, chicken, brunswick stew, and several items out of the Compart Pork donation.
Now, what did we cook and serve you might ask?
We started out on Friday evening with some "kicked up" pulled chicken sliders.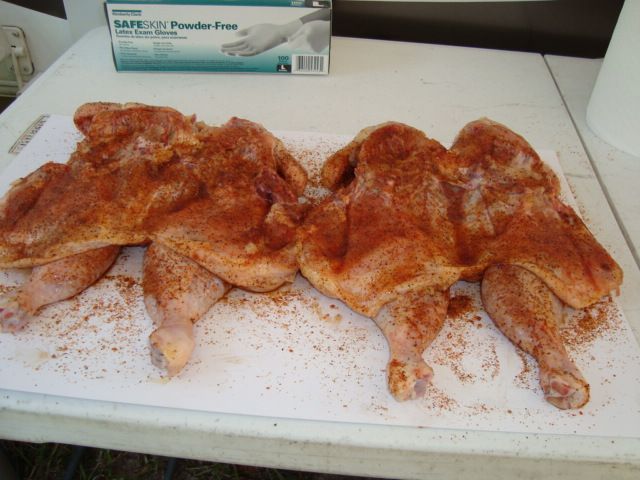 I butterflied the chickens and used some Smokin' Guns hot rub and then cooked them on the classic Char-Broil 940X charcoal cooker.
They come off the cooker looking good.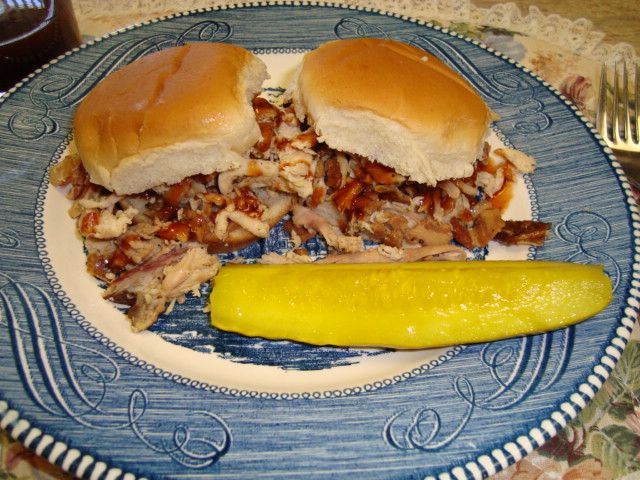 As it might be served...Doesn't that look good?
Saturday was our big cook day and we started out with a large plate of my smoked and mixed cheeses with crackers. This great appetizer had gouda, Swiss, cheddar, 3 alarm hot, and a couple more different cheeses. I didn't get a picture.
About 10:00am, we started with about a 7-8 pound piece of pork from Compart Duroc Farms. I am not sure of the cut but it was like a whole bone in non-Frenched pork rib roast. Just a beautiful piece of meat.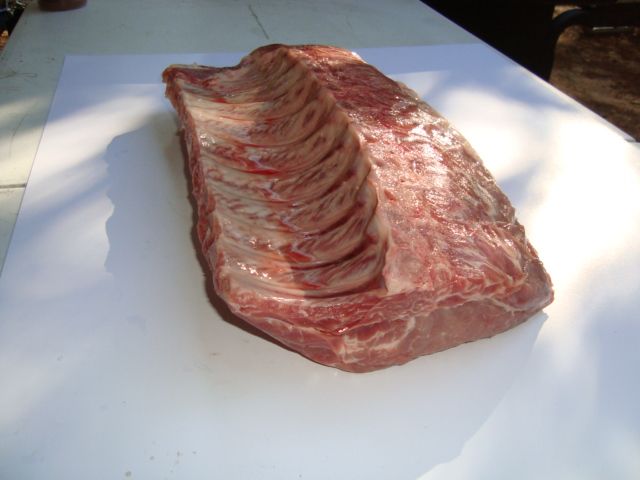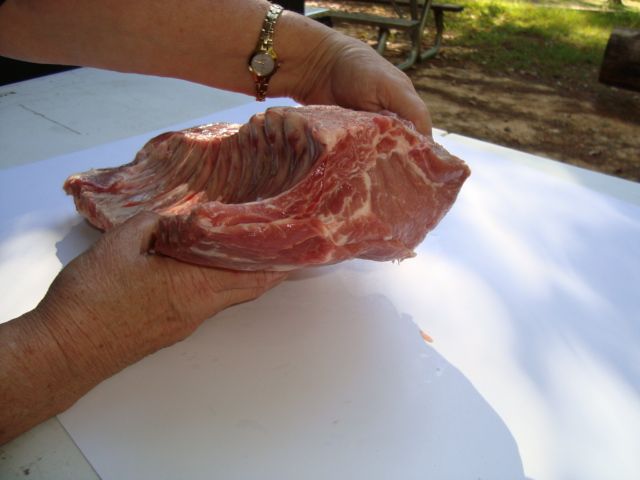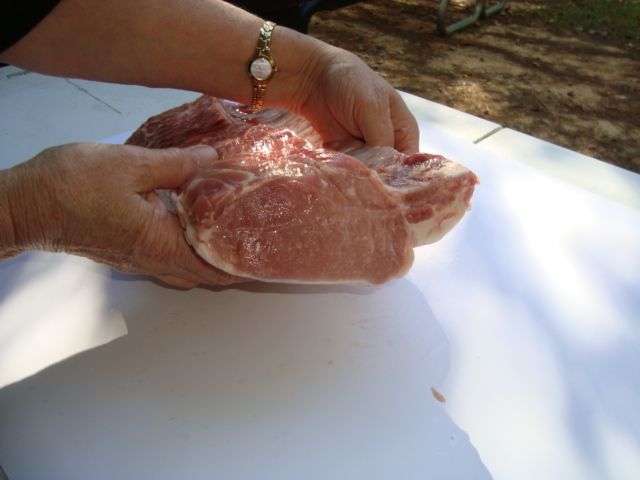 Now, that is one great looking piece of meat. Looked like a row of pork chops!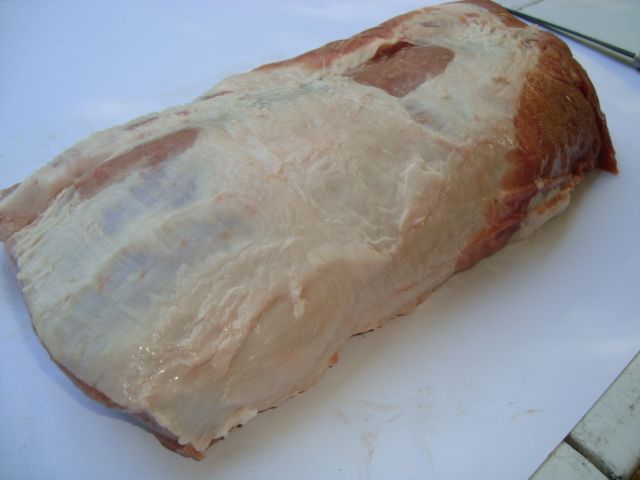 I trimmed some of the fat off of the roast.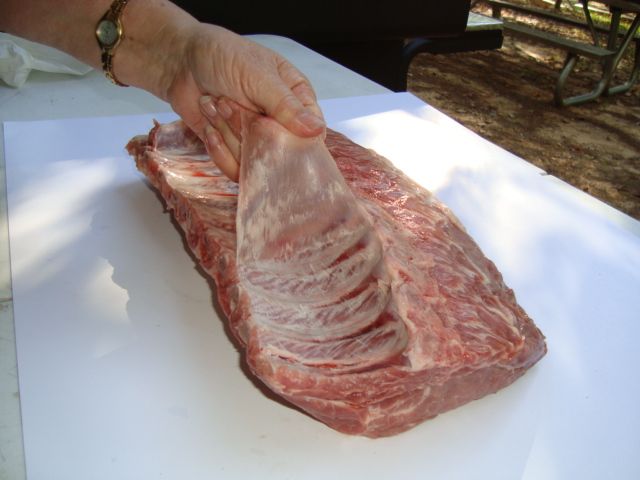 Pulled the membrane off.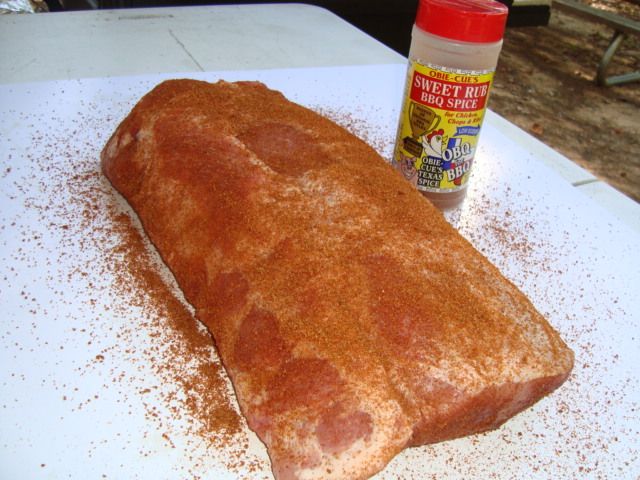 Put a little sweet rub on that baby.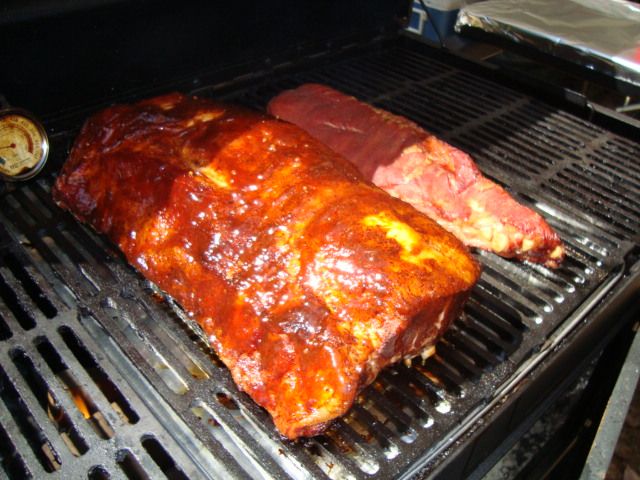 Cooked the roast on the CB940X over lump charcoal with hickory for smoke until the internal was at 135 degrees. I glazed it later into the cook. Took it off the grill and foiled it and let it rest for about 20 minutes.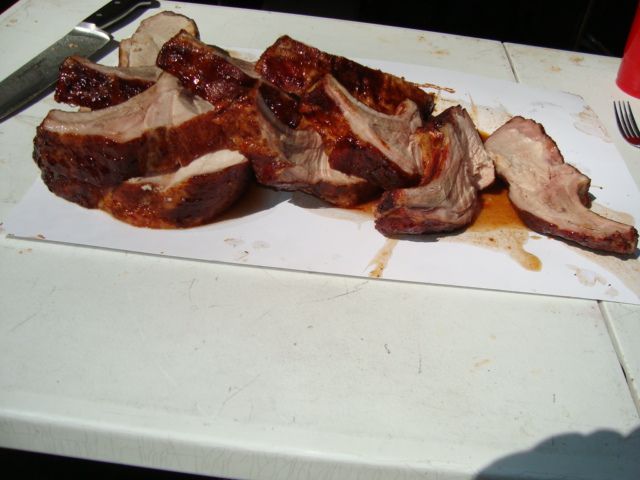 Cut it up for serving and we sent it up to the main building so everyone could taste it. It was very juicy and tender and the flavor was as good as it can get. Probably be a while before I cook another piece of pork that is as good as this one. Many thanks go out to the Compart Farms.
About noon, we started on our big meal. I had promised to cook some competition type ribs along with some pit beans for the entire group for the Saturday evening meal.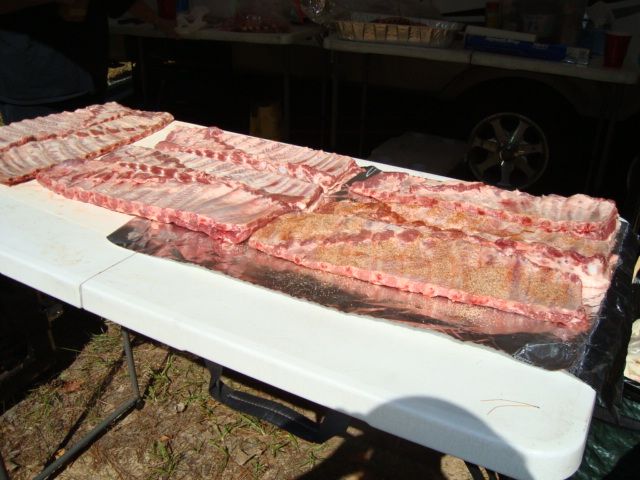 We brought both St. Louis cut and also loin back ribs and I think we had a total of 9 slabs.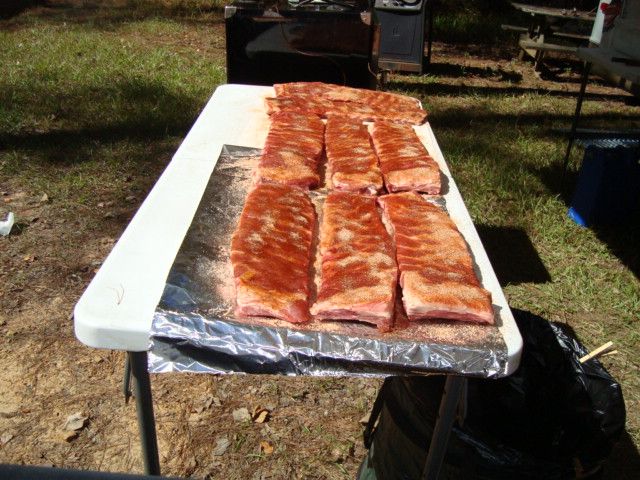 Stripped the membrane of the backs and rubbed them up with some Smokin' Guns hot rub and placed them into the Backwoods Party cooker.
We also prepped our pit beans in a large hotel pan and got them on the cooker.
Foiled the ribs using the same method I would use for competition and then glazed the ribs later into the cook and got them ready for serving.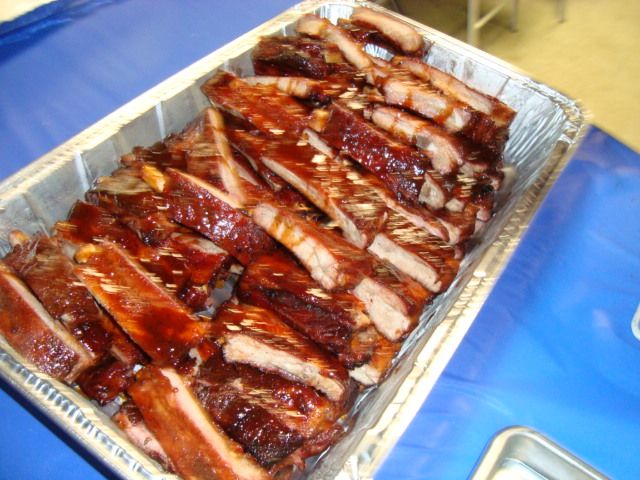 A picture of the ribs at the serving table. I didn't get a picture of the beans but you can see them on the video.
Some more random pictures from I think Saturday.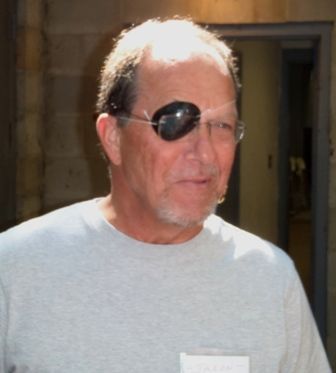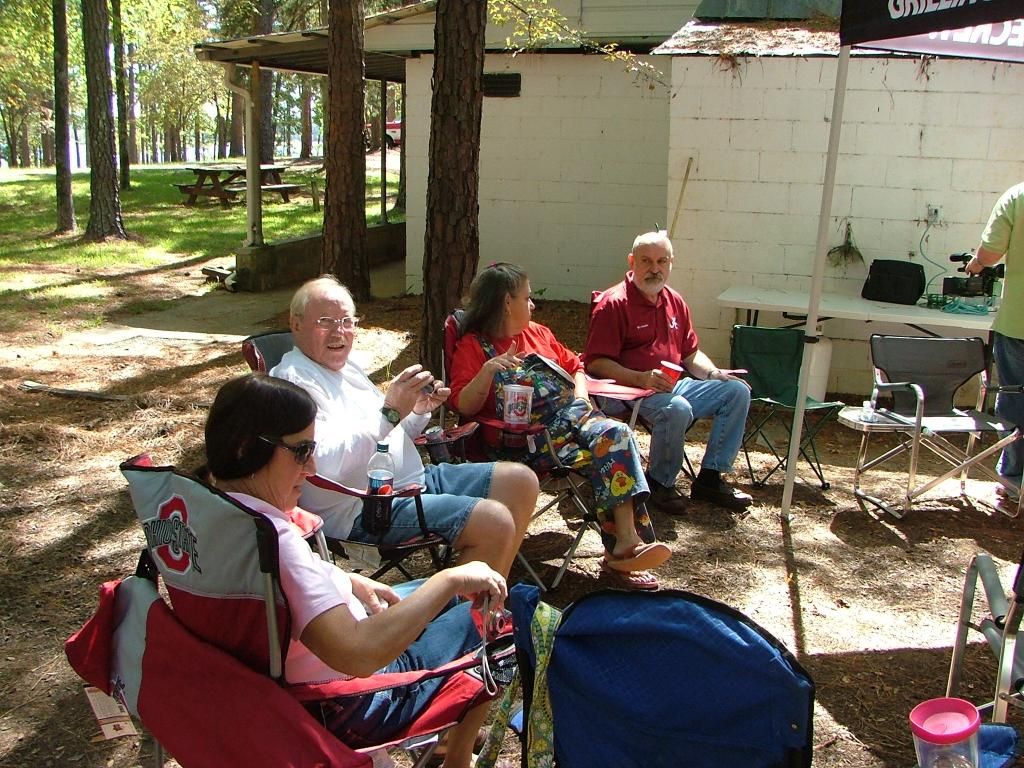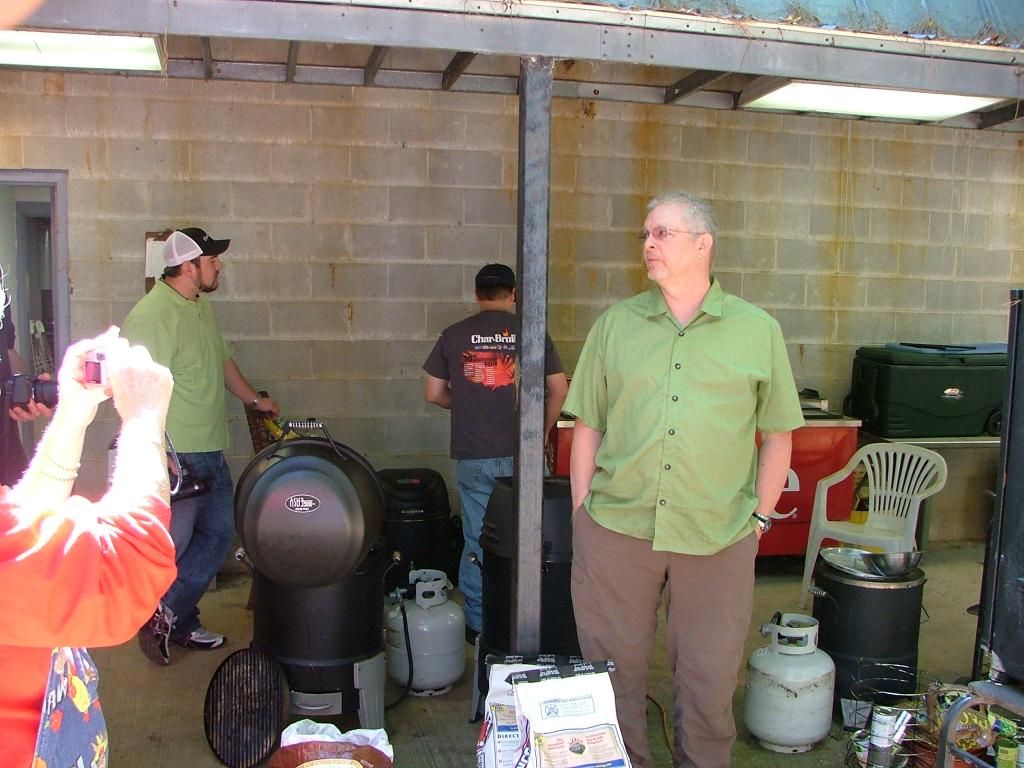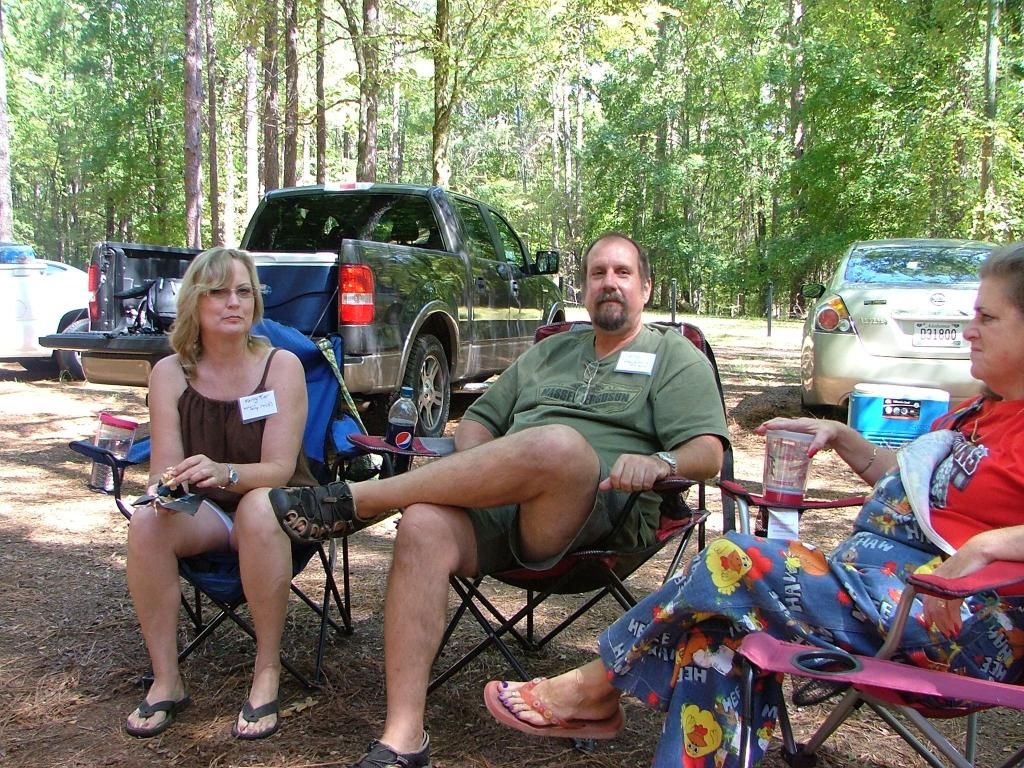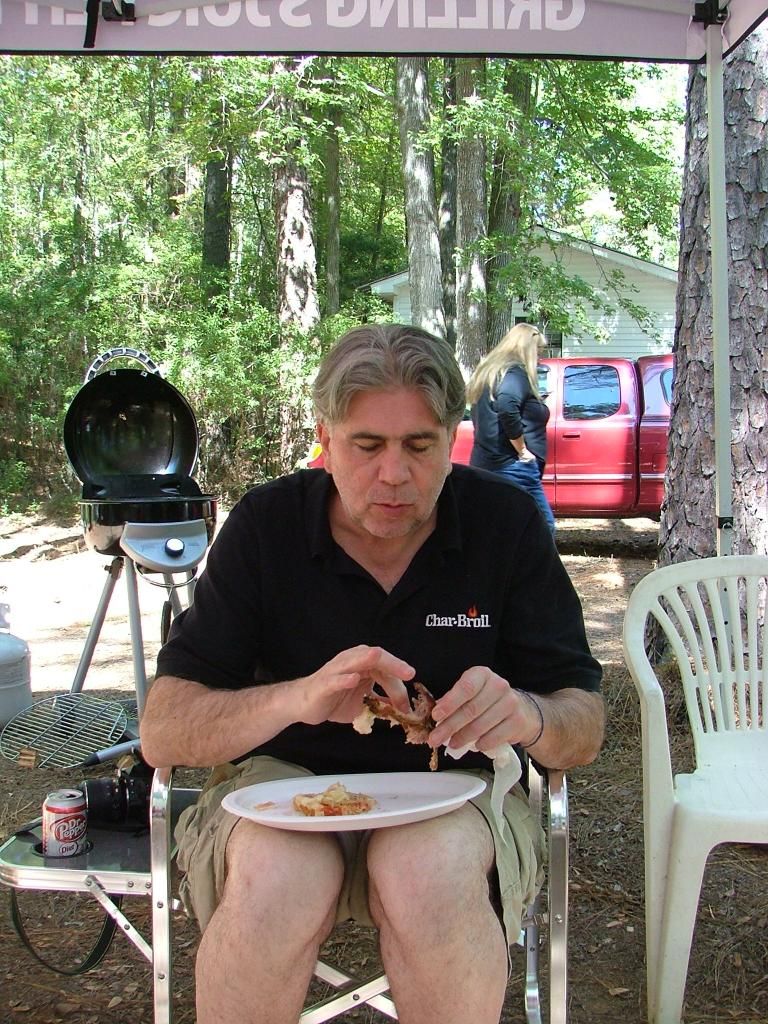 Everyone was having a great time.
There were several folks that attended this event from the Char-Broil HQ and it was interesting talking to them. My interest is in charcoal and wood cooking but it was nice to see some of the other cookers out there and how well they cook. Char-Broil is a leader in several types of grills, cookers, and smokers.
They did a bonfire down by the lake on Saturday evening. These are some of the pictures from this event.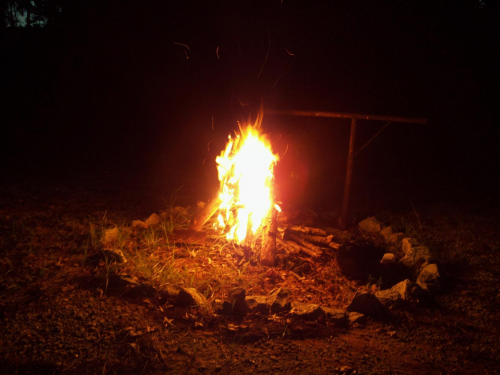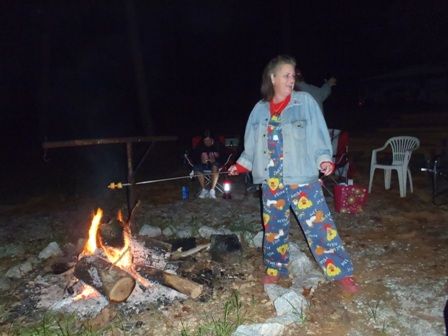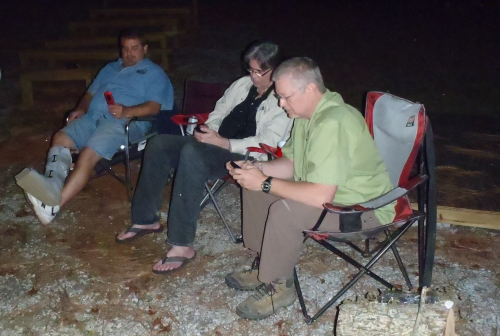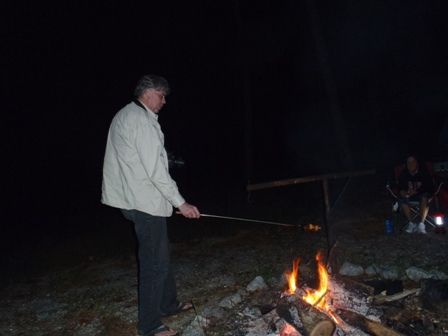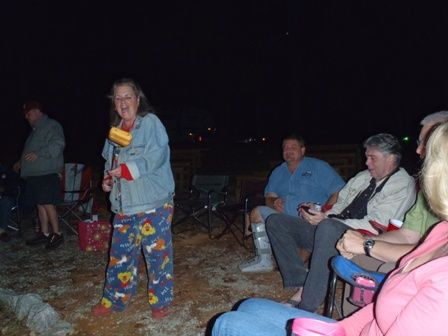 We missed this great part of the event as we were just dead tired and went to bed very early Saturday evening.
We did two large pans of our breakfast casserole for the Sunday morning breakfast. The casserole is made up of hot sausage, hash brown potatoes,onions, bell peppers,eggs, spices and Cresent rolls.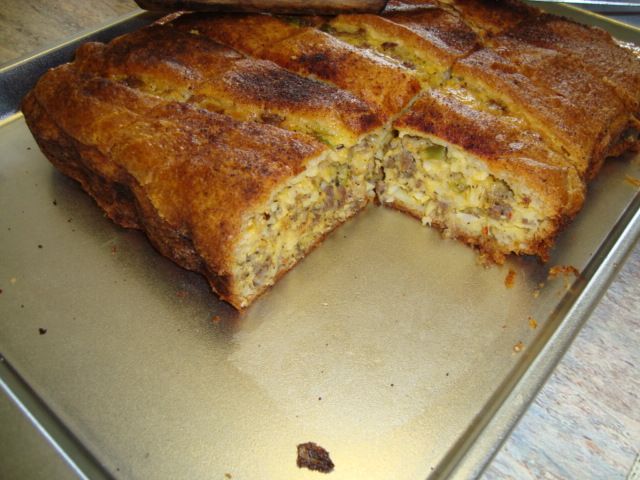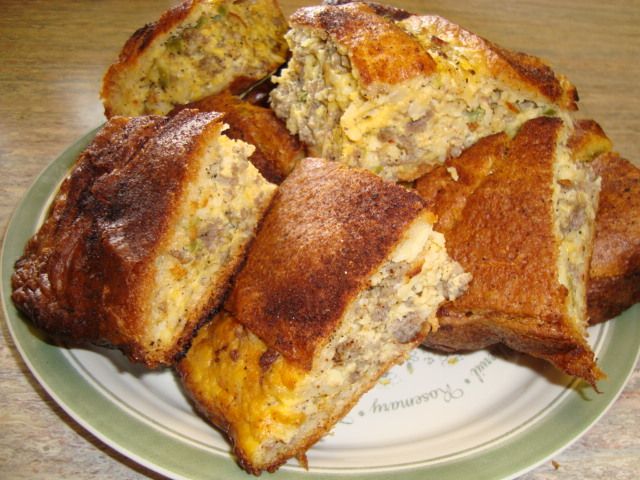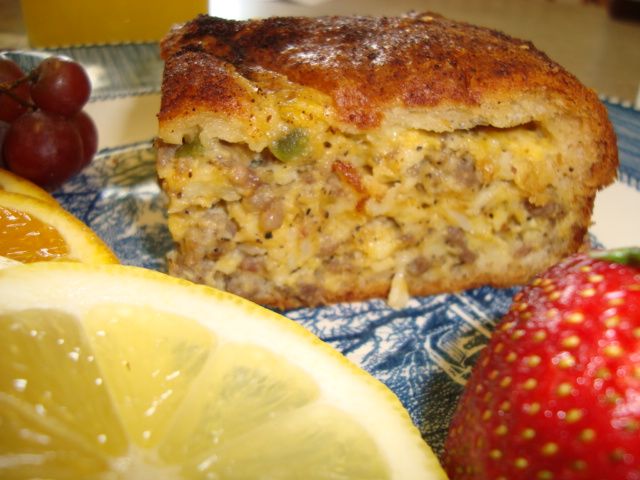 I didn't get a picture down there but this is some pictures from home of the casserole.
After breakfast on Sunday morning, we had a very nice service in the theater down by the lake.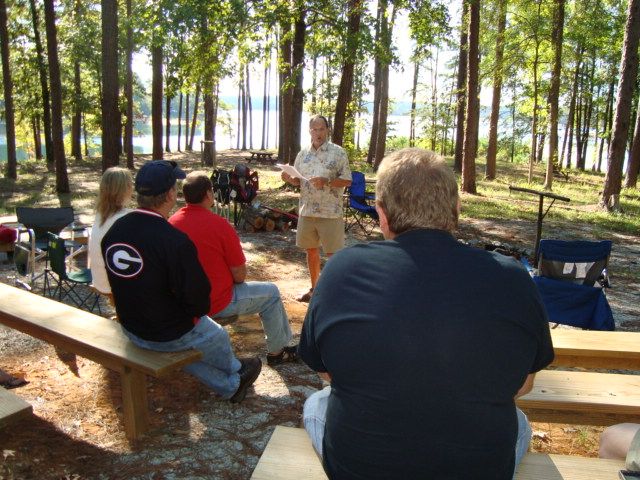 I think that all of the folks that were on site attended this service.
We had much food left over and just served it up again on Sunday. There were several folks still cooking new food and of course, we had to try it all! I am sure I gained 5 pounds at this event. We spent most of Sunday afternoon packing up and getting ready to go home.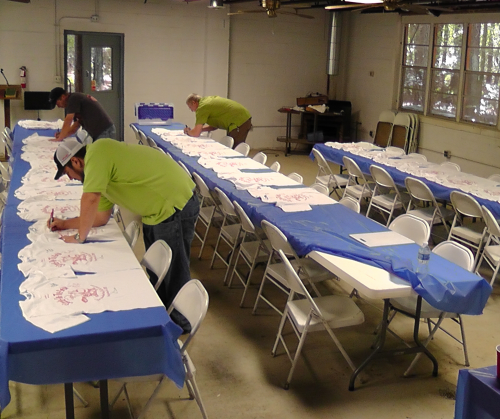 There were a bunch of T-shirts laid out on the tables and everyone signed them so we had a very nice gift to take home to remind us of this first SOTG Fall Gathering.
We had a wonderful time at this event. I had never met any of these people although I did get to know some of them from using the SOTG forum. These folks are just so laid back and easy to get along with and we felt like family being around this group.
While we have tons of fun doing bbq contests, it was sure nice to do this Fall Gathering without all the pressure of a contest. These folks just made us feel at home and couldn't do enough for us. Thanks so much for making us a part of your life.
There were two video's made of this event and they can be found here. They do show some of the items we cooked where we didn't get any pictures.
Video 1. http://youtu.be/bRghotv7AKg
Video 2. http://youtu.be/pRTfzOdDpTA
It's gonna be bigger and better next year....can't wait! You folks that don't own a Char-Broil product better get yourself one and get on the SOTG forum to get all of the details.