I am always looking for an excuse to dig this classic little rotisserie cooker/smoker out of the barn for a cook as it is just a joy to use. I needed to cook about 3 slabs of ribs, 6 pork steaks, about 25 pieces of chicken for some hot wings, and a few hotdogs and this would about fill up this cooker. I also figured that a load of lump will fire this cooker for about 5 hours and this is the time I needed for this cook. Looks like a good match to me! I also have about 200 pounds of Royal Oak lump from offshore that has many chunks that are as large as soccer balls and this fine little cooker will burn about anything including large pieces of lump. Been trying to use this stuff up for about a year.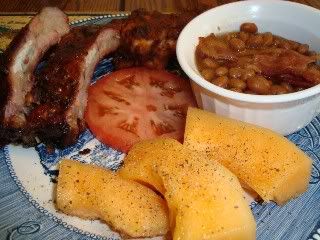 I rolled the cooker out to my cooking patio, hooked it up to electricity, loaded it up with that nasty lump, filled up my charcoal chimney, and got it ready to light.
I have some rather large chunks of seasoned pecan from my friend Mr. Steve Creech (ZZ-Que) that I also used for this cook.
I wasn't ready to light it up as I had some prep to get done before the fire.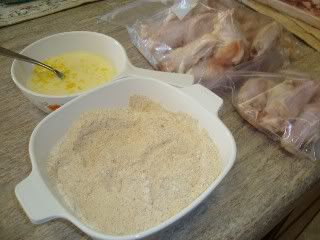 I mixed up some wing breading with some flour, cornmeal, garlic powder, onion powder, black pepper, white pepper, and cayenne pepper. I then mixed up a milk and egg wash for the wings.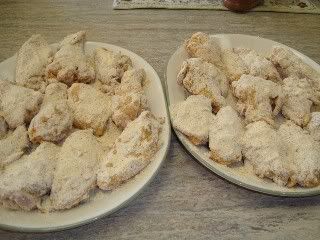 I ran the wings thru the wash and the breading and then placed them in the fridge for about 45 minutes to allow the breading to setup on the wings.
I then fired up the cooker as it will take about 30 minutes to get it ready for the cook.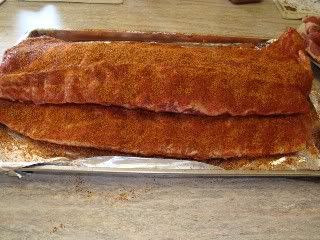 I skinned the ribs and applied a generous coat of Smokin' Guns hot rub.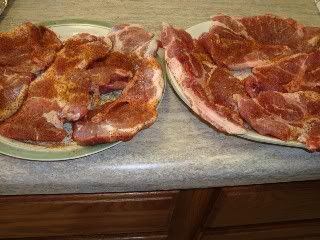 I applied Slabs pork rub to the pork steaks.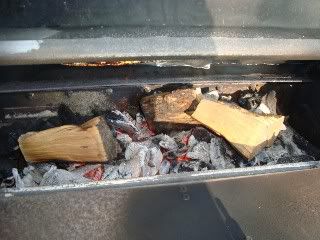 When the cooker got on temp (about 235), I added 3 big chunks of the pecan smoke wood.
I loaded up all the meat and just let the Genuswine do its thing. Once this cooker is on temp, it just stays where I set it and I really don't have to touch it again until it runs out of fuel.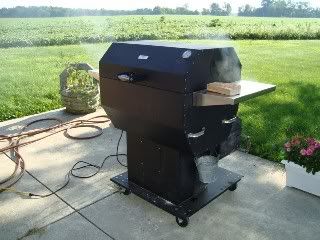 Was a nice day for cooking with the temp around 82 degrees with a very light wind.
I then made up my hot sauce for the wings with some Franks, butter, honey, and more cayenne pepper.
I also mixed up my sauce for the ribs and the pork steaks. I used about 40% Blues Hog, about 40% Tennessee Red, and about 20% Tupelo honey.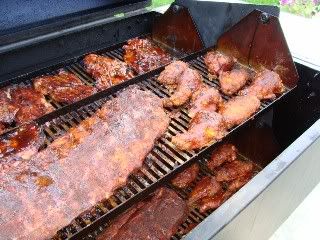 The cooker just does a great job with this type of cook and all I had to do was watch it do its thing. I did wrap the ribs for a short period and sauced some of the meat but that is all I did with the cook.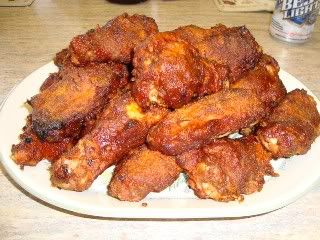 The chicken wings came off first and they are great although very hot.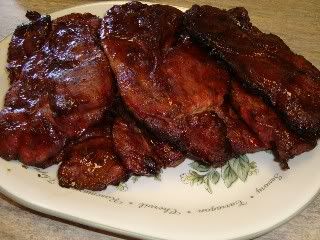 Pork steaks came off next and they looked good.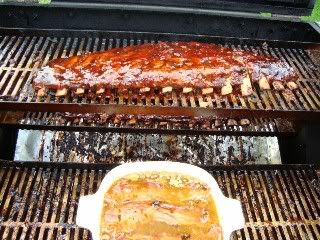 I also added a bowl of baked beans during the cook and they got done about the same time as the ribs.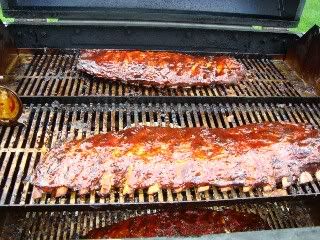 The last step with the ribs was to glaze them on the cooker.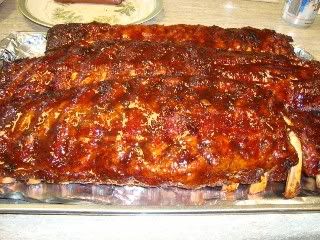 Ribs were last off the smoker and they as well looked great.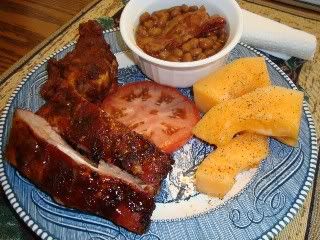 About 3 of the ribs, one of the very large pieces of hot wings, some of the smoked baked beans, and some fruit makes for a nice meal.
You know, I am fortunate enough to own several great cookers and this one is really a favorite of mine. It is just plain fun to use!!