I was cruising around the bbq forums a few days ago and on the "Addicted To BBQ" forum, I found this great looking treat. A gentleman who uses the handle of "a26guy" put up a post with pictures of this great looking personal sized pizza.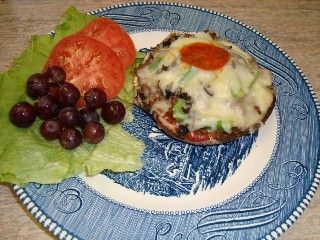 The unique part of this pizza is that the crust is just a plain portabella mushroom which makes it great for all low carbers as it is about impossible to make a low carb pizza crust out of anything that is edible. It is just great for your regular pizza as well and should please all guests.
Anyway, after seeing the post, I couldn't wait to try it for myself. I also did a couple of regular pizzas with this new treat in the pellet cooker using pecan for wood.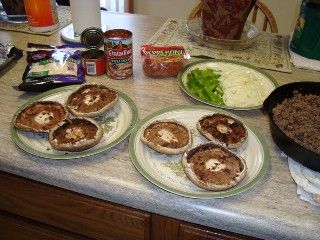 I started by using a mellon baller to cut and scrape the gills from out of the underside of the portabella caps. I then cut each stem off down to the caps. For my toppings for the six portabella pizzas and the two regular 14" pizzas, I browned up a mixture of one pound of hot sausage and one pound of hamburger. I then cut up some onions and bell peppers and opened a can of black olives and the sauce to go on the pizzas. I also used 6 cups of mozzarella cheese on the pizzas.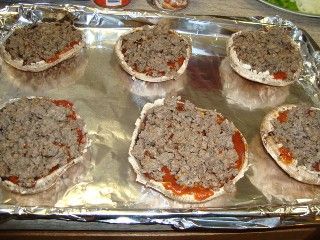 I sauced the caps and then added the blend of hot sausage and burger.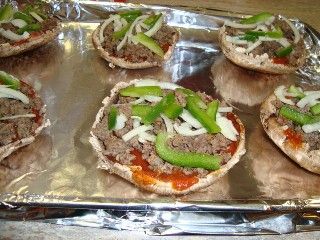 I added the onions and bells peppers.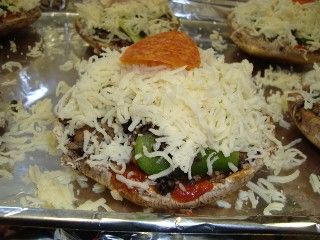 Next came the black olives and plenty of cheese and then I added a piece of pepperoni on top.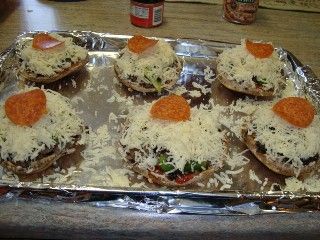 The six portabella caps ready to go on my pellet smoker.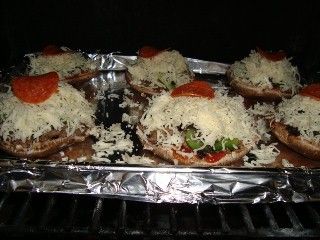 I brought the smoker up to about 350 degrees for this treat and it took about 18-19 minutes to get the pizzas done to my liking.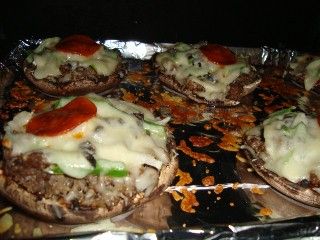 This is just before I pulled them off the cooker.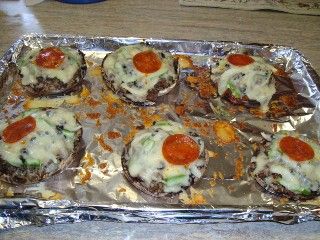 Sure did look great!
After the portabellas came off the cooker, I raised the temp to about 425 for the regular pizzas and loaded them on the smoker.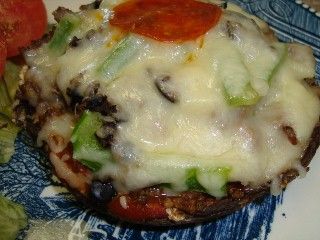 These things are KILLER!!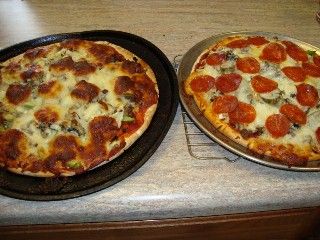 Was a little cold outside to screw around setting up a couple of baking hearths so I did the regular pizzas on a pan.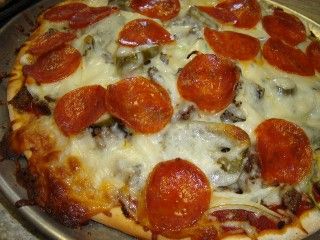 Good stuff!!