While I am not any kind of expert in making sausage, I do make it several times a year. We use my super spicy Italian in many different dishes and I probably make over 60 pounds a year of this great treat. We also like a good sage breakfast sausage, my home made brats, and my Texas Hot Links. This article is about all but the Italian as I have plenty of it in the freezer.
I will make this as simple and easy as I can and maybe we can get some new folks interested in this fun hobby. It sure goes good with BBQ!
Equipment
You will need a grinder of some type and they can be as simple as a hand grinder which starts at about $40 dollars to a larger electric grinder that will start at about $100 dollars. Many of the better electric grinders will also work for stuffing sausage.
A heavy duty food processor might work and a simple Kitchen-Aid mixer with the grinding attachment will do a fine job with the smaller amounts (5-20 lbs) of meat. The Kitchen-Aid is nice in that you can use the mixer to blend all your meat with the spices in the mixing bowl. However, the sausage stuffing attachment for this mixer is not very good. It will work but it's a two person operation.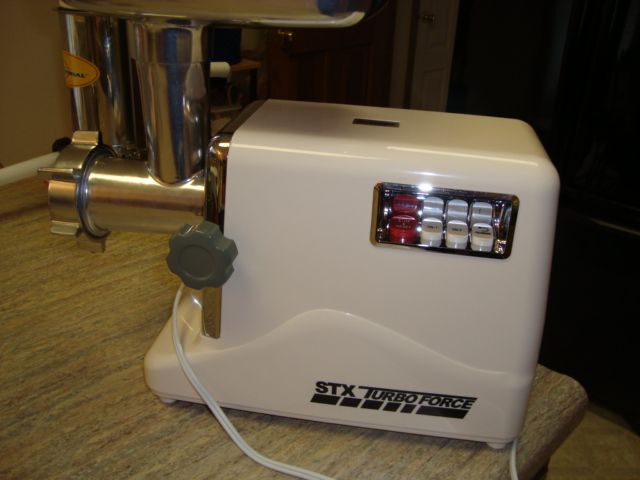 For this batch, I will use my larger electric grinder.
The next piece of equipment you will need is a sausage stuffer. There are many types and sizes out there from about 40 dollars to well over $400 depending on the size. A good sausage stuffer makes this hobby mucho fun. A lousy stuffer will have you talking to yourself and pulling your hair out. If you decide to spend any money on this hobby, start with a good stuffer.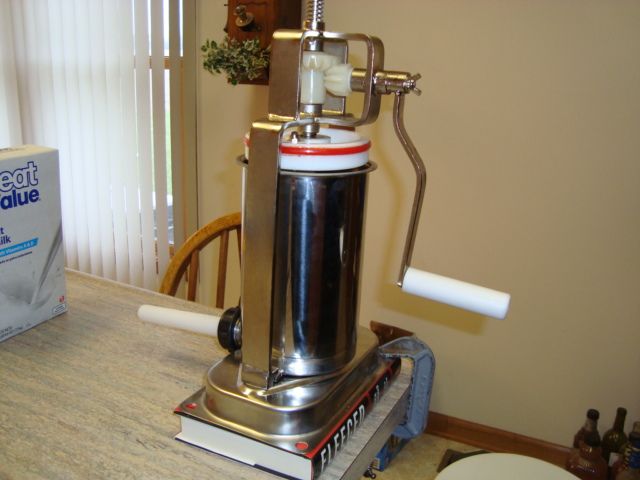 I prefer a tin can stuffer and this one will do 5 pounds at a time. That is about right in that many recipes will call for 4-5 pounds of meat. This fine stuffer runs about $100 dollars.
You will need some kind of scale to weigh your meat for the recipes.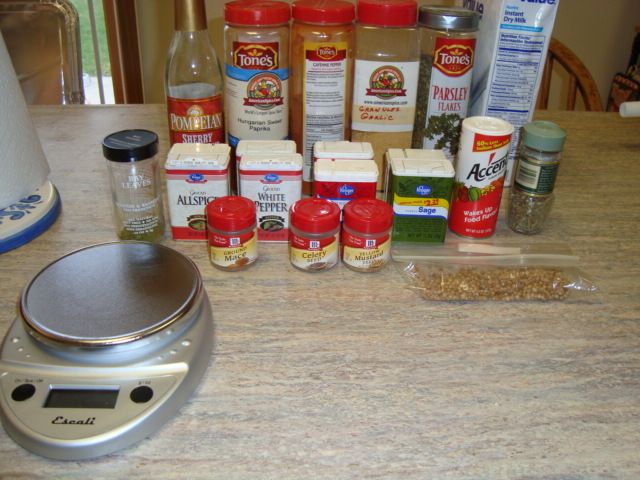 I use a small electronic scale that works up to about 22 pounds.
Nuff introduction...lets make some sausage.
Old Dave's Breakfast Sausage
4 pounds of ground pork butt
1 TBL red pepper flakes
4 tsp kosher salt
2 tsp splenda
2 tsp coarsely ground black pepper
2 tsp dried sage
1 tsp dried thyme
1 tsp ground cayenne pepper
1/2 cup cooking wine or water
medium natural hog casings
grind thru a 1/4 inch plate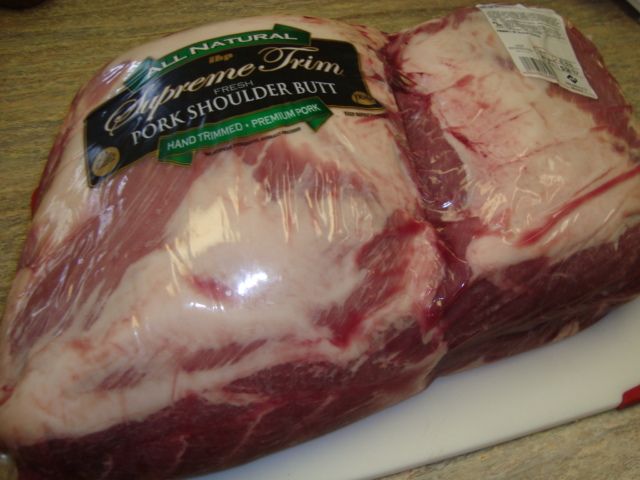 These are two pork butts from Sam's Club that weighed 17.4 pounds.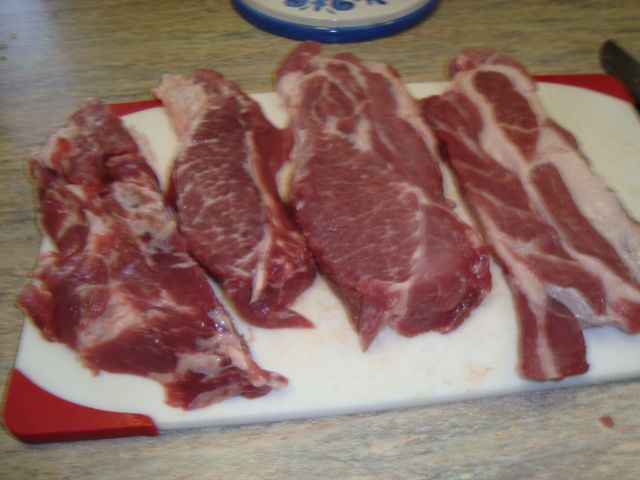 My grinder has a throat that will take meat up to about 1-1/2 by 1-1/2 so I kinda start slabbing the meat off of the butt.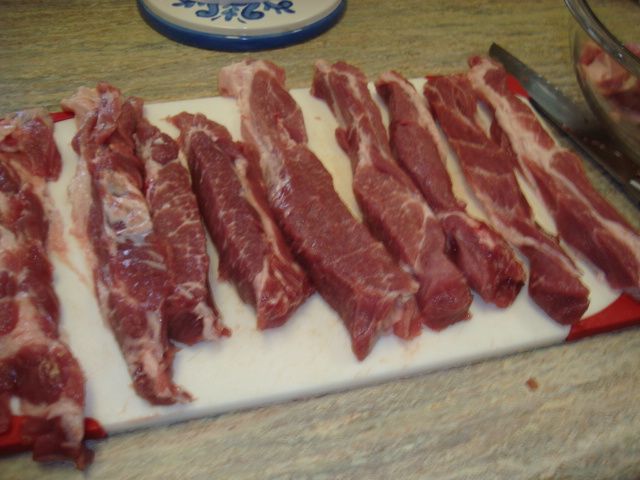 Then I cut the slabs down to fit my grinder.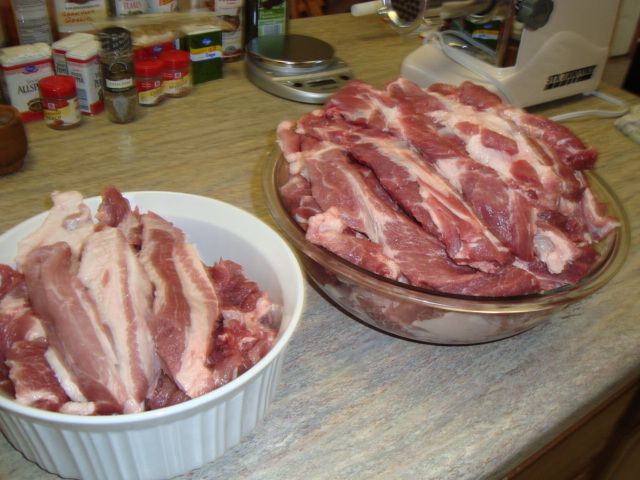 This is both of the butts ready for the grinder. (TIP) Place the meat into the freezer for about 30 minutes or the fridge for an hour or two before you run it thru the grinder for best results. You want the meat cold but not frozen.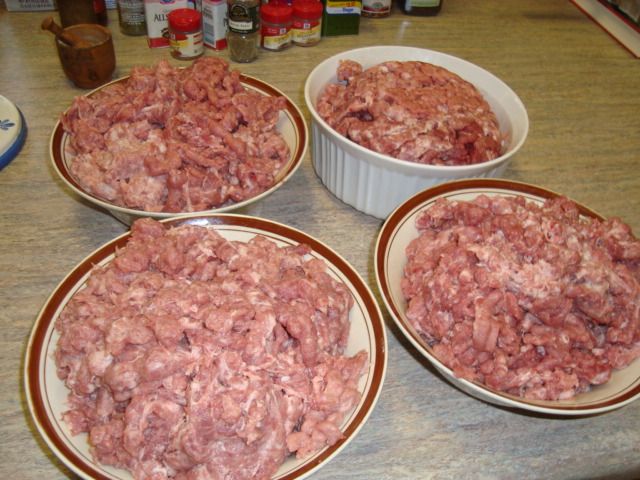 This is the ground pork butt all weighed out into bowls for my three recipes. I netted 15-3/4 pounds of meat from the 17.4 pound of butts.
(TIP) Any pork sausage recipe that uses pork butts can be improved by adding about 20% more pork fat as the butts are really too lean for the best sausage. If you can get it, pork back fat is best if you can find it.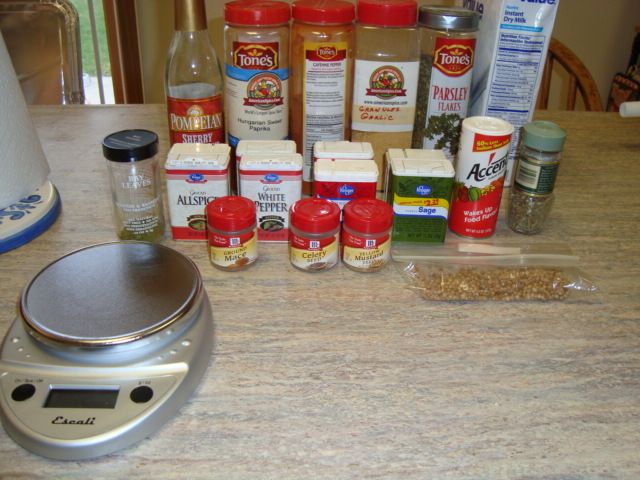 Measure out your wine or water or beer in a bowl or large cup and then add your spices to it and mix it up about an hour before you mix up the recipe. Let this mixture soak and dissolve.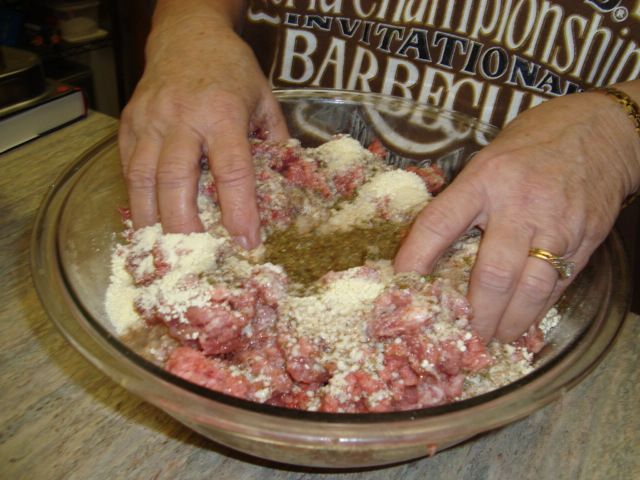 If using the Kitchen-Aid, put the meat into the bowl and then add the spice mixture and mix it up. Usually for a small amount, I just use a larger bowl and put all the ingredients in it and have the old woman mix it up as I don't want to get my hands dirty.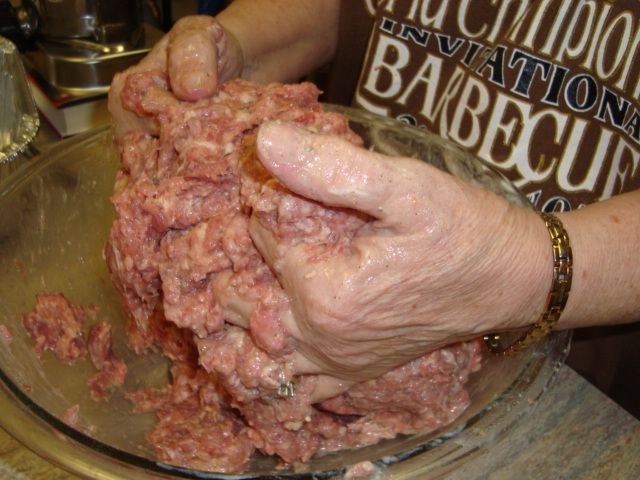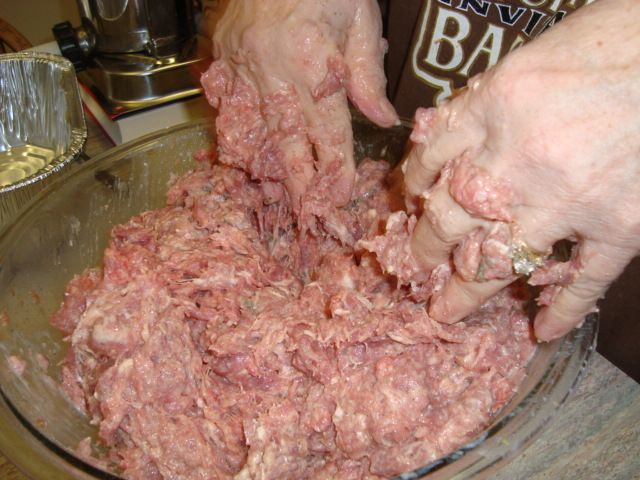 It is now ready to stuff in casings.
You need to wash your gut well and I find the best way for this is to lay it out in the sink and then hook it up to the faucet and run some hot water thru it.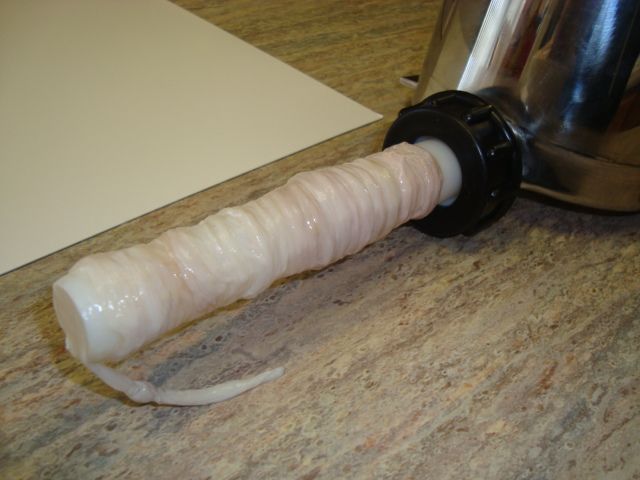 Slide the gut onto the hog casing stuffing tube and tie off the end. We are now ready to stuff the casings.
I usually let my lady drive the stuffer (turn the crank) and I run the tube end of the operation.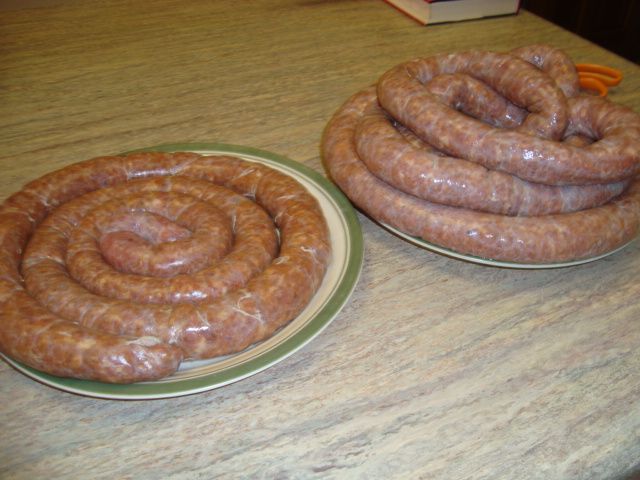 The plate of the left is my 4 pounds of breakfast sausage, the other plate is my 5 pounds of brats all ready to be linked. I didn't get any pictures of the linking process but you just use your thumb and forefinger and pinch off the length you want and turn it a couple of times to seal it up.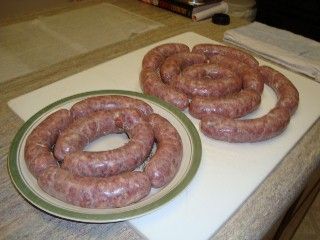 This is a picture of the links from a previous round.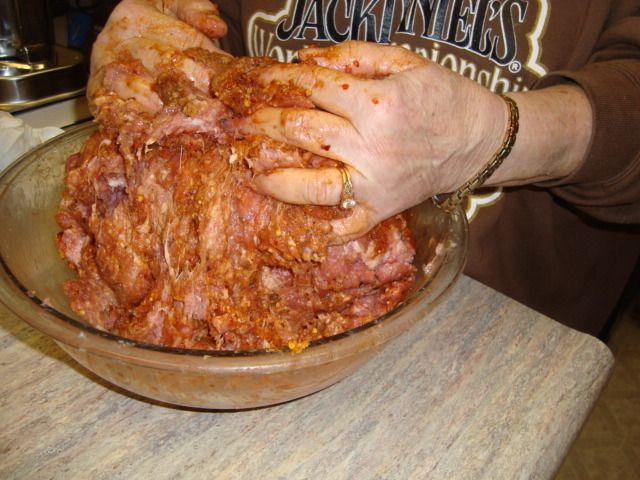 This is a picture of Jan mixing my Hot Links...notice the dark red color on the meat. This come from all the hot and spicy stuff that we put into the meat. If you like hot, this is to die for!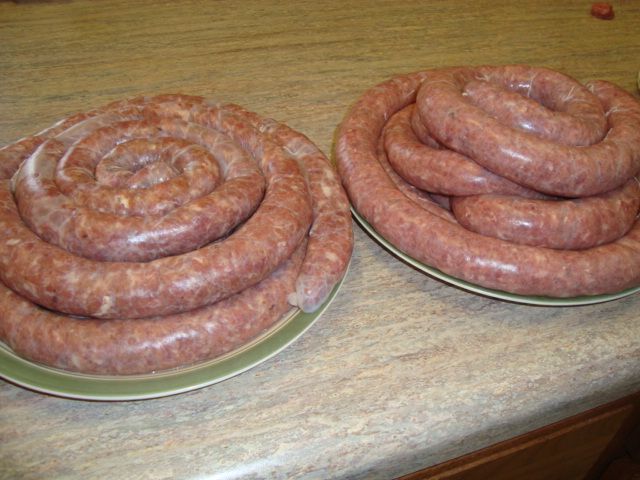 This is 8 pounds of my Texas hot sausage ready to be linked.
This is the recipe for my brats and it is a mild flavor and the best I have ever eaten. It is a work in process with my friend Jim Ferguson.
Old Dave's & Jim's Mild Brat Recipe
4 pounds ground pork butt
1 pound ground chuck roast or just ground beef
3 TBL salt
1 tsp mace
1/2 tsp nutmeg
1 tsp white pepper
1/2 tsp red pepper
1 tsp ground allspice
1 tsp marjoram
1 tsp parsley
1/2 tsp celery seed
1 cup non-fat dry milk
1 cup wine or water
grind thru a 1/4 inch plate.
This is the hot link recipe that I use and it comes from a fellow in Texas.
Bigwheel's World Famous Genuine Texas Hotlinks (version Nov 2002)
6-7 pounds of ground pork butt
1 bottle of beer
2 TBL course ground black pepper
2 TBL crushed red pepper
2 TBL ground cayenne pepper
2 TBL Hungarian paprika
1 TBL Morton Tender Quick
2 TBL Kosher salt
2 TBL whole mustard seed
1/4 cup minced fresh garlic
1 TBL granulated garlic
! TBL MSG
1 tsp ground bay leaves
1 tbs whole anise seeds
1 tsp coriander
1 tsp ground thyme
grind thru a 1/4 inch plate
Use the same method as above for the breakfast sausage to make the other two recipes.
Making sausage is a lot of fun and you can make a better product that you can buy in my opinion. Give it a try!