After a week of just pitiful cooking weather with ice storms, rain, and high winds, Christmas day was a joy to see. Sunshine but very cold with the temp around 13 degrees for most of my cook. I used my trusty pellet cooker for this cook.
My cook was to be a 3 bone in standing rib roast, baked potatoes, green beans, sweet yeast rolls, and the dessert was to be a couple of pineapple upside down cakes. The appetizers were to be 80 ABT's and about 30 hot chicken wing pieces. I planned to do all of the above in the cooker.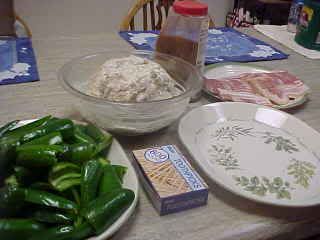 I prepared my ABT's by combining the 4 pounds of cheese with my finely chopped onions and about 2 pounds of pulled pork into one large cheese ball which make doing a large amount of these treats real easy.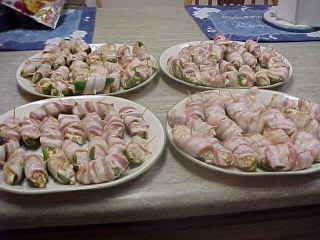 These are the 80 peppers ready for the fire.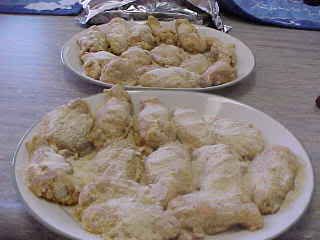 I got my breaded hot wings ready next. The breading was flour, cornmeal, onion powder, garlic powder, black, white, and red pepper. I run them thru an egg & milk wash first and then the hot and spicy breading.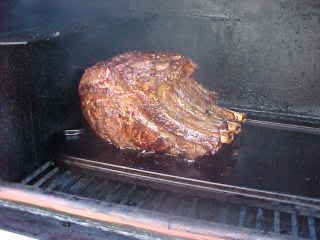 My standing rib roast was graded choice and looked very good. I am not one to apply a whole bunch of stuff to a great cut of meat as I want to taste it so I used a little garlic salt and some fresh cracked black pepper on the outside of the roast. After starting up the cooker, I placed my cast iron griddle on the hottest grid in the cooker and turned the cooker up to 450 degrees for my sear which I needed to do first to prevent a fire in a cooker.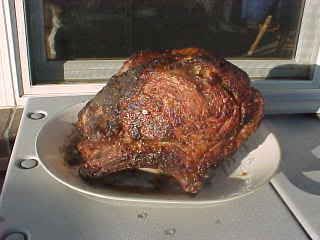 I seared 5 sides of my roast and it came out well. The roast then went into the fridge as I didn't need it on the cooker yet.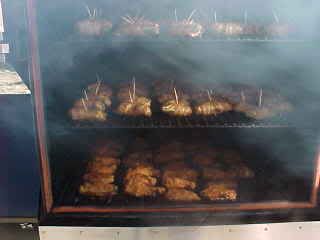 I dropped the cooker back to about 300 degrees for my appetizers. They filled up three grids in the cooker.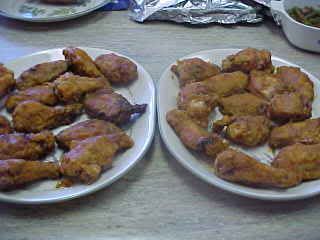 My breaded and crunchy hot buffalo wings came off first. I then put my standing rib roast back on the cooker.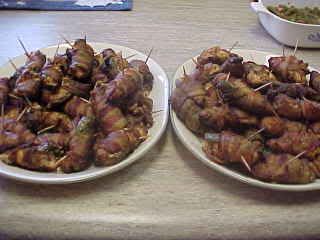 About a half hour later, I got my ABT's off the cooker. Ate 5 !!!
Cheated a little on my green beans as I got my seasoning ready on the stove. I used a couple of strips of bacon and about a quarter pound of some great 2 year old country ham. Rendered it out some in a skillet on the stove and then poured it over my beans in the casserole dish.
Applied peanut oil and some Smokin' Guns hot rub to my potatoes.
Wife fixed up my yeast rolls and then made up two pineapple upside cakes for the cooker.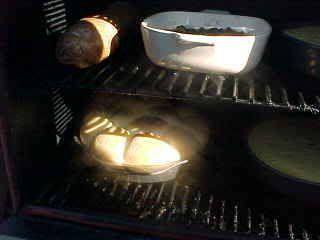 I upped the temp on the cooker to about 350 degrees and loaded it all up on the cooker with my roast.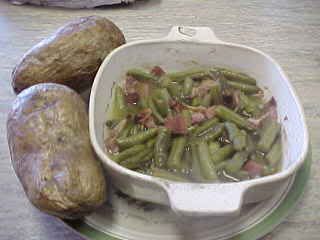 The potatoes and green beans came off next.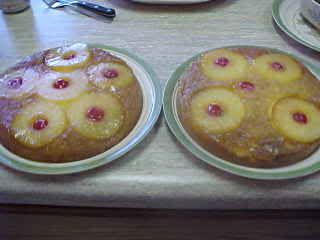 Then came the pineapple upside down cakes.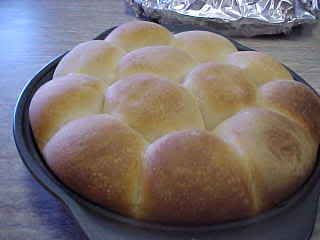 The yeast rolls look great.
Add a little salad, the wine, and a drink and I am ready to make myself sick with this big meal but it was worth it!!