I got in one last cook for the year and it was kinda a mixed bag of stuff. I cleaned out the freezer and come up with this cook.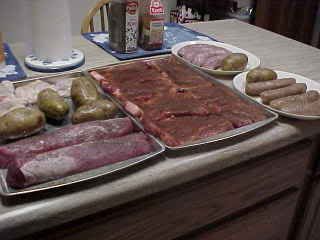 I started with the pork tenderloin and I sprinkled on a little garlic salt and some fresh cracked pepper for my rub.
I had 4 chicken thighs left over from a contest so I trimmed them up and used some salt and pepper on them.
Next were 6 thick 3/4" pork steaks. I sprinkled on a heavy dose of Smokin' Guns hot for the rub on this meat.
The sausage was just fresh stuffed and were big at about 6-7 oz. per link. I used just salt and pepper on my 4 brats and then used the Smokin' Guns hot on my 4 hot Italian links.
I got my 6 potatoes ready next. Washed and then oiled with peanut oil and rubbed with the Smokin' Guns hot rub.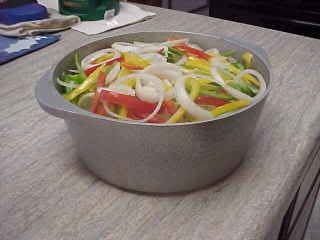 I just can't eat this great sausage without some carmelized onions and peppers so I got a big batch of these ready to go.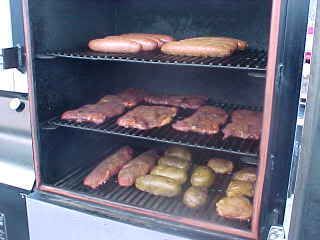 Was a windy day with the sun shining and the temp was up to about 22 degrees when I started the cook. Used pecan for smoke and loaded up the cooker.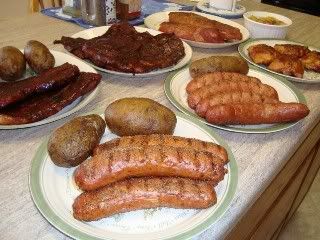 The food come off the cooker in the next four hours and this is what all of it looked like.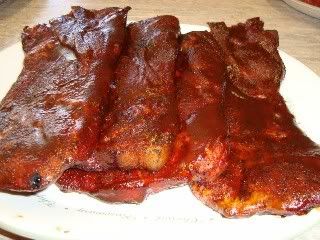 The pork steak.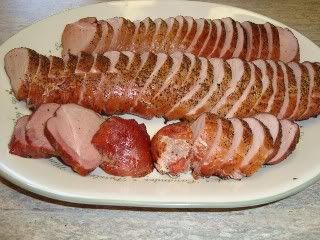 The pork tenderloin sliced up nice and was great.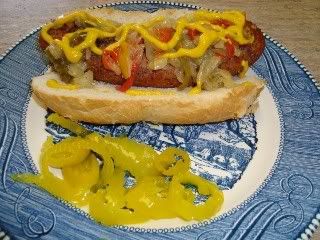 I steamed a hoogie bun and sliced it open and added one of the hot Italian links. Placed some carmelized onions and peppers on the top and added some mustard. On the side, I had some hot "Hunkie" pepper rings. Great sandwich!!