This setup is just great for many different cooks where you need to travel some to do them. This swing out cargo carrier will hold up to about 300 pounds and the cookers or cooker doesn't have to be unloaded at your event as you can just swing it out and cook on it. I used this setup several times a couple of years ago for contests and once for a private party. I would think it would be great as well for tailgating.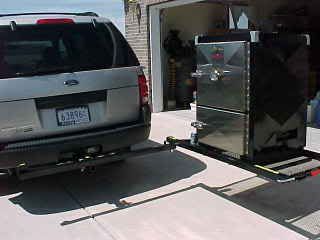 This picture shows my Backwoods Fatboy loaded up on the carrier as I was packing the SUV for a contest. I have two loading ramps and I just slide the cooker up the ramps and position it on the carrier and tie it down and I am ready to go. Many other cookers would also fit on this carrier including a ceramic cooker, maybe a couple of WSM's, a gas grill, etc..
One other nice feature that doesn't come with a standard cargo carrier is that if you need to get into the back of your car after you are loaded or on the road somewhere, you just drop the stabilizer leg and swing the carrier out and raise the tailgate of the car.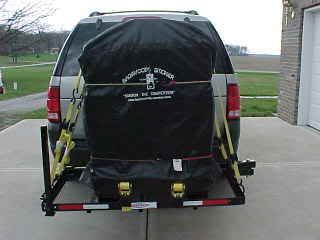 This picture shows the carrier in the locked position, the cooker strapped down, covered, and ready to roll to a contest.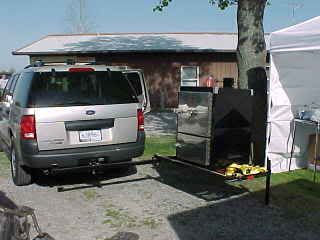 This picture shows the cooker swung out and stabilized at a contest in Missouri and ready for cooking.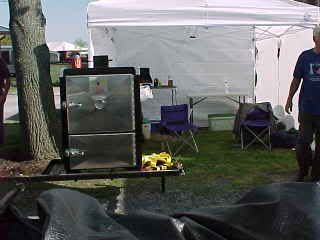 We did this contest out of our EZ-UP and this is our setup.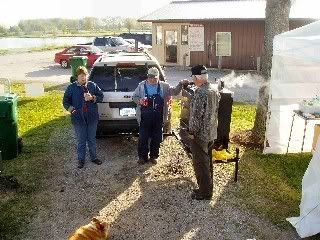 The Backwoods Fatboy sitting on the carrier and doing it's thing at the contest on Saturday morning.
The swing out carrier is made by Kargoholder in Oklahoma and is expensive as compared to a regular cargo carrier but it does work nice for my application.