While there are several ways to handle the Backwoods Party smokers like bolting or welding on castors wheels or just using a two wheel dolly to move them around, I feel this modification will work out great for my application as I do have two of these wonderful cookers and often use them for both backyard and competition cooking.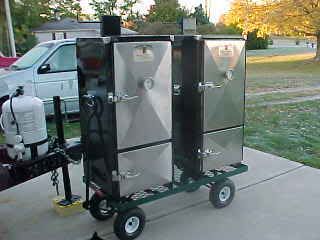 I purchased a heavy duty landscape or nursery wagon from Northern Tool and mounted both of my Backwoods Party cookers to this wagon. The capacity of this wagon is 1200 pounds and it comes with pneumatic 10" tires and has a steel mesh deck material on the floor of the wagon. It measures 48"X24" and is 14" tall so it gets the cookers up to a better operating level.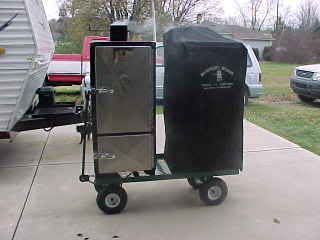 It is a little top heavy so I don't think I would want to roll it around on the side of a hill but it is working out great for my application. You know, the more mobile and easy to handle you can make your cooker or smoker, the more you will use it.