Had a gentleman ask about my breaded hot wings on a smoker or cooker so here is the recipe and method. He is interested on cooking this recipe on his ceramic cooker.
This is my very hot and spicy version of Chef Rd's great recipe for hot wings. This is the best non deep fried recipe that I have ever used for hot wings and you can control the amount of heat you want on the wings with the use of your hot sauce and the amount of cayenne pepper you add to the mixture.
I wouldn't recommend this recipe for wimps, wimmen, children, or any man without hair on his chest!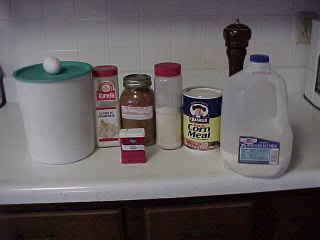 For about 20-25 wing pieces
1/2 cup milk
1 egg
1/2 cup flour
1/2 cup corn meal
1 tsp white pepper
1 tsp fresh ground black pepper
2 tsp garlic powder
2 tsp onion powder
2 tsp cayenne pepper (optional on this amount) Wimps might use a 1/2 teaspoon
I am a chili-head and often double the spices in this recipe if I am cooking the wings just for myself.
Prep the milk and egg wash and then the dry ingredients. Wings into the wash and then rolled in the dry coating. Fridge the wings for about 45 minutes for the coating to set.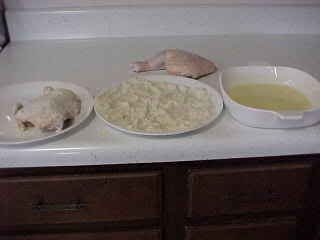 This recipe is great on all chicken parts and this picture shows me doing some chicken quarters.
You can grill these great wings direct on a grill or smoke them indirect on about any cooker.
This picture shows some of these wings on two layers in my contraption and ready to be carried out and put on my large Big Green Egg when it gets on temp. This cook will be done indirect at about 325 degrees. Be sure to Pam your grids before you place the wings on them.
If you grill them direct on the BGE, I would suggest a lower temp of about 250 degrees for this treat.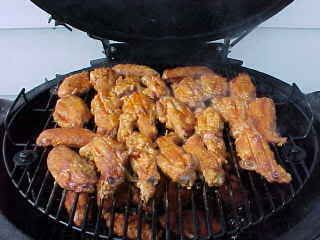 The hot wings on the BGE cooker in my indirect two layer setup.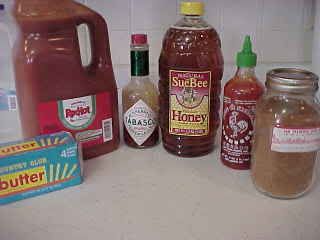 Make up your favorite hot wing sauce for basting the wings. I am sure my mixture will be tooo hot for most folks but here it is.
1 cup Louisiana hot sauce
1/4 stick of melted butter
1/8 cup honey
1/8 cup rooster
2 TBL Tabasco
2 tsp ground cayenne pepper
Nice thing about this recipe is that the breading on the wings will really hold a lot of the hot sauce which is great for the chili-heads like myself. I usually cook the wings until they are starting to brown up a little and then turn them and apply a big dose of my hot sauce. Maybe let them go about 20 more minutes and turn them again and slop on another dose of the wing sauce. Let this last dose set up a little and pull the wings.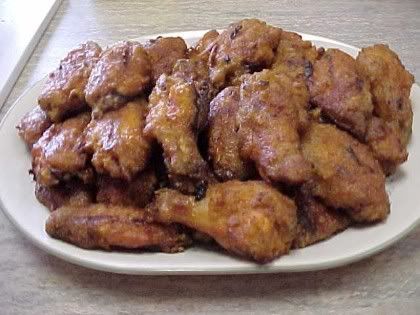 These wings are sure not quite as crunchy as Kentucky fried but they are still very good and are not loaded up with grease like regular Buffalo wings!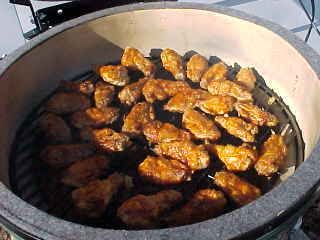 Watch the wings real close if you grill them direct as they will char quickly.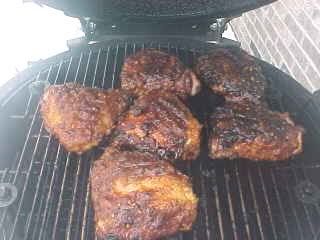 Some thighs on the large BGE using the above recipe.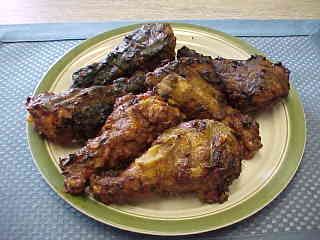 Some chicken legs using the above breaded and hot and spicy process.