This recipe was developed for lazy cooks like myself who wanted a complete meal on Saturday morning at a contest without much work. It is also done in a smoker at about 250 degrees but is best without a ton of smoke. I would think that most folks would have their butts and briskets about done at the time you place this dish in the cooker so the fire should be burning pretty clean. I travel pretty light and this recipe can be made at home on the Wednesday night before the contest and really doesn't take up much space in the coolers. It will feed about 6-8 people and is a complete meal.
16oz or tube of Bob Evans Zesty Hot Sausage
Bout 1-1/2 cups (6oz.) of frozen hash brown potatoes
Bout 1/3 to 1/2 cups of chopped onions
Bout 1/3 to 1/2 cups of chopped bell pepper
5 large eggs
Bout 2 cups of shreaded cheddar cheese ( I use the sharp)
1 tsp salt
1 tsp black pepper
1 tsp leaf oregano
1 can Cresent rolls
1 Nine by Nine tin foil poultry pan
Pam for spraying the pan
Paprika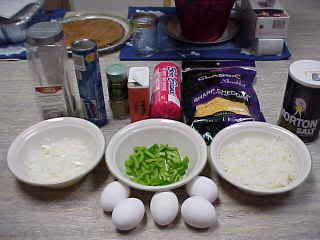 This is all the ingredients ready to go.
Run some hot water into a pan or bowl for the potatoes. Place about 6oz of the potatoes in the hot water to thaw them out. Oil up a skillet and place the onions and bell peppers into it and cook them for about 5-10 minutes and then add the sausage and brown it well. Drain the grease and water. Then add the 3 spices and mix it up well. In the container that you will use in the cooler for this treat, crack the eggs and mix them up. After the sausage and veggies have cooled, pour this into the container. Then add the hash browns that you have strained thru a colinder. Then add the cheese. Mix all of this up and it is ready to go into one of your coolers for your Saturday morning breakfast.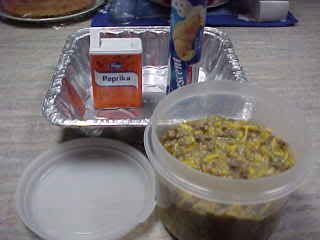 The above picture shows it all ready and all that you need to take to a contest. I often do this on a Wednesday before the contest.
On Saturday morning, spray the tin foil pan with some Pam. Open the Cresent rolls and place 4 of them on the bottom of the pan. Then pour the above mixture into the pan and spread it out. Place the other 4 pieces of the Cresent rolls on top and sprinkle it with a little paprika. It is ready for baking.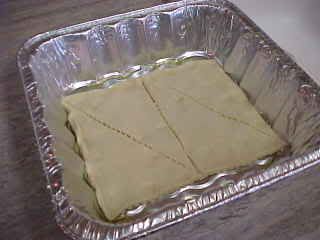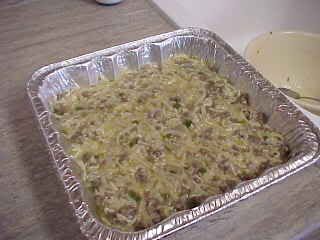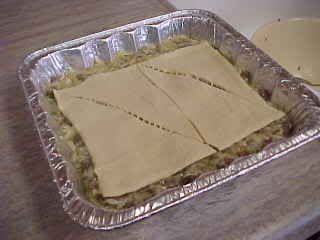 This will take about 2 to 2-1/2 hours in the smoker at 250 degrees or about 45 minutes at 350 degrees. I watch the top for browning and take it out when it looks good.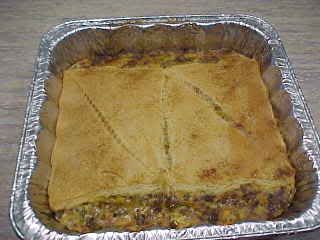 Just out of the smoker.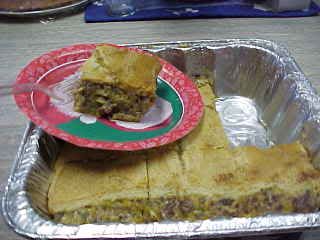 Good Stuff ! !