This was our Christmas dinner a couple of years ago and there just the two of us so I decided to do the complete meal in the Backwoods upgraded Party. The cook and bake took about two hours and all came out great. I ran the cooker at 370 degrees for the whole cook and bake.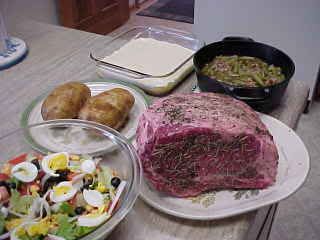 This first picture shows the meal prep for this cook.
The meat was a 2 bone Prime Rib or standing rib roast that weighed 6-1/2 pounds. I salted, and peppered with fresh cracked telicherry pepper and then added rosemary all over the roast. It was to be cooked to an internal of 120 degrees and then tented for a rest which should give me medium rare meat.
The big baker potatoes were oiled heavily with peanut oil and then sprinkled with a generous dose of Smokin Gun's hot rub.
The green beans were seasoned with about 4 strips of bacon and about 3/4 pound of 2 year aged country ham along with salt and pepper and will be brought to a boil with the lid on the Dutch oven and then the lid removed for the balance of the cook for just that hint of smoke flavor.
The cake is a pineapple upside down cake which is always a hit in a smoker.
Not shown are my sweet diner rolls and they will be placed on the cooker when the meat comes off and is resting. The rolls only take a few minutes.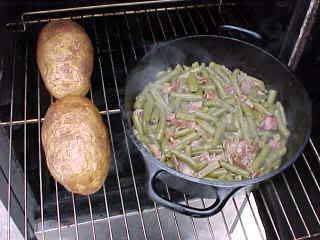 This is about an hour into the cook and after I got the lid off the Dutch oven.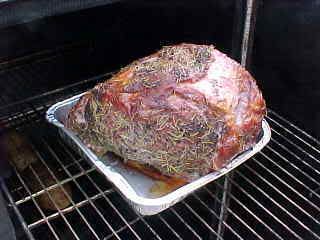 This shows the meat about an hour into the cook and about half done and it did look good.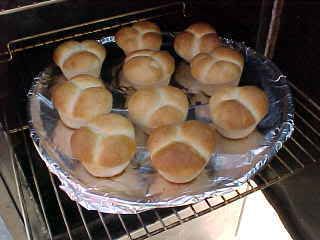 These are the pan rolls I did for the meal about done.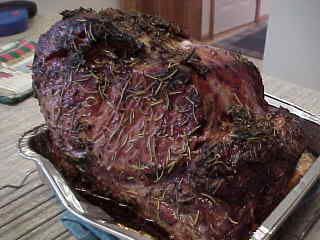 This is the meat off the cooker and just before I cut it for the plate. It had rested for about 30 minutes.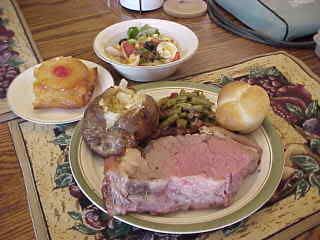 This is the results of the cook and I sure made a pig out of myself on this great meal. A standing rib roast (Prime Rib) is about my favorite meal for the holidays.