There are many methods of doing this fine treat on a cooker or smoker and mine may be a little different than most as I don't care for the bacon to be cooked in its own grease. I cook the bacon on racks as you will see in the pictures.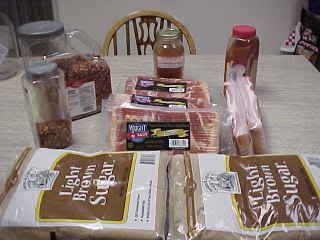 This treat is very simple to make as it only needs the bacon, brown sugar, and your favorite heat. I usually use one or two types of crushed red pepper and a couple of ground red peppers. You want the real thick country bacon and about two pounds of brown sugar per each three pounds of meat. I usually get the bacon from Sam's Club. There are 12 pounds in the picture.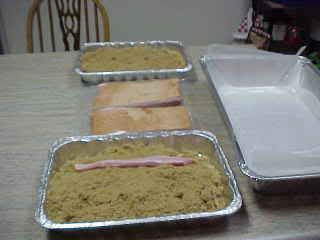 I got Mommie to help and this is the way I set up the prep area. It is more work that a person might think to get 2 pounds of the sugar pressed into the three pounds of meat.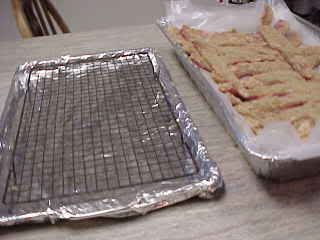 It took about 45 minutes for the two of us to get the first 6 pounds of Pig Candy ready for the smoker. As you can see in the picture, I use a cooling rack in my pans to raise the bacon up out of the grease. You do need to empty the grease out after two cooks.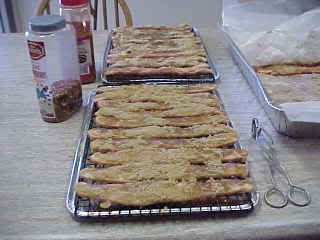 This is a couple of trays ready to go to the cooker. I don't add the heat until halfway thru the cook or most of it would wash off.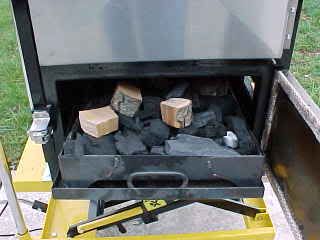 I used some hickory chunks for the smoke wood.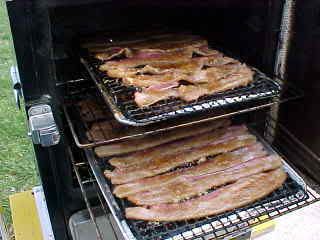 This shows the meat on the cooker which is running at 350 degrees with a dry pan. I also am using quite a bit of smoke wood as the bacon is only on the cooker for about 50 minutes. Wood doesn't last very long at 350 so you need to watch it and add if needed.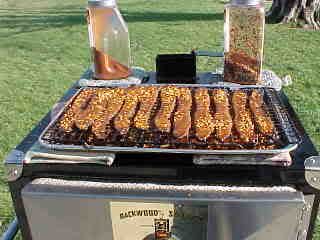 At about 25 minutes, I pull the tray off the cooker for the hot stuff. This round was for my hot so I sprinkled on both the ground and crushed red pepper. I use just the crushed red pepper for what I call my mild bacon. I also reversed the two trays in the cooker at this point to be sure to get both trays cooked even. I then cooked it about 25 more minutes. It comes of the racks and I place it on a pan to cool and the cut each piece in half.
I did about 8 pounds of the mild and 4 pounds of the hot.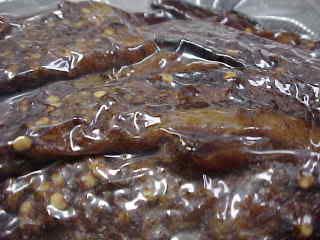 I vacumed packed it into about 10 bags for my gift baskets.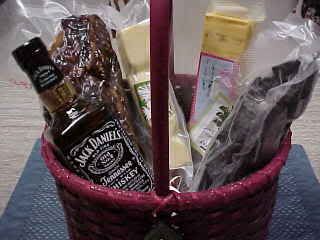 How about that for a gift basket? A bag of my smoked jerky, a bag of my Pig Candy, and a couple of sticks of my smoked cheese along with a bottle of Jack.