This old and fat man just couldn't get along trying to use the Backwoods Chubby as it sits on the ground so I have mounted it to a hydraulic lift table made by Central Hydraulics. This is a heavy duty table at 96 pounds and has a total lift of 27 inches and the capacity is 500 pounds and it does get the cooker up to where it is very comfortable to operate. The table measures 17-5/8" by 27-3/4" and along with the Chubby, would probably work equally as well with the Fatboy. It has a foot operated pump and two locking castor wheels on the front. I purchased the table on sale from Harbor Freight and the cost was $99.95.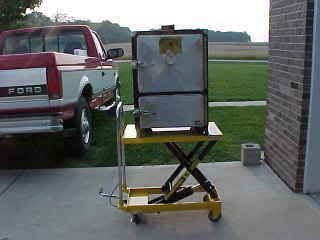 This picture shows the table and cooker in a comfortable operating position.
This picture shows the table and cooker in the lowered position and used when you need to load or move the cooker around. Much more stable than any other type of stand in my opinion.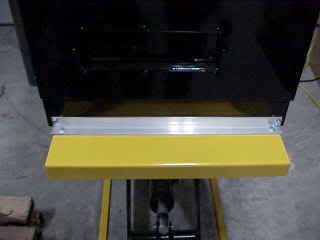 I used a 3 foot strip of 1" angle iron cut in half to mount the cooker to the table.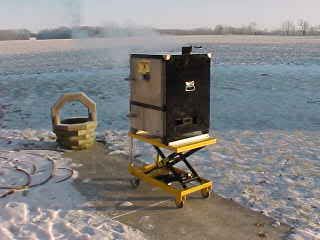 It is so much nicer to just roll the cooker out of the garage and around to my cooking patio and then crank it up to a comfortable operating position.