I did an interesting cook yesterday in the start of a projected big 6-12" snow storm in my low-tech FE100 pellet cooker. The temperature during the cook was about 19-22 degrees above zero with just a light wind.
This cook was to be about 60 Jalapeno stuffed ABT's and 10 very long Anaheim stuffed ABT's for the wife as she doesn't do the hot stuff.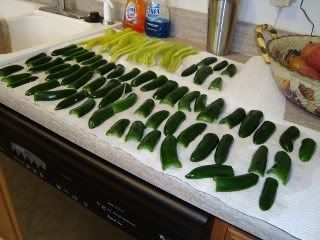 I cut the ends off of the peppers, sliced them into two pieces, cleaned out the seeds very carefully without removing any of the veins in the peppers as I like this treat as hot as possible.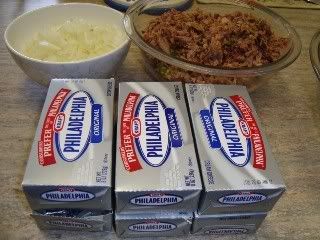 While the pepper halves were drying out, I got the balance of the cook ready. I finely chopped up a medium onion and placed it into a bowl. I got a 1-3/4 pound bag of pulled pork out and chopped it up as well. Figured I would need about 5-1/2 pounds of cream cheese for the peppers so I got that ready for my cheese ball.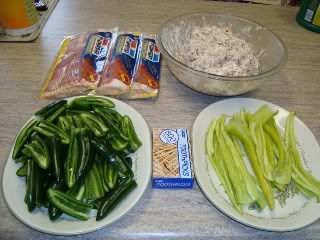 Made up the large cheese ball with the cheese, onions, and the chopped pork which makes stuffing these things real simple. Got the bacon out and a box of toothpicks and we were ready to stuff the peppers.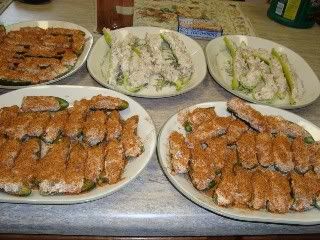 We got the 70 ABT's stuffed and ready for the next step in the process. I then applied a coat of Smokin' Guns hot rub to the Jalapeno's and then dusted them with ground cayenne pepper. Mommy didn't want any rub or hot stuff on her peppers.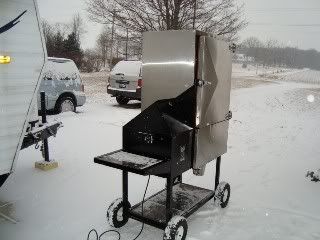 I rolled the cooker out of the garage and onto the snow covered garage apron and fired it up with pecan logs and set the temp to "smoke" for the first 45 minutes.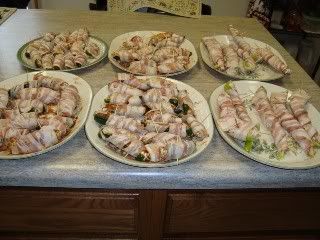 Finished up the ABT's by wrapping them in Plumrose bacon and they were ready for the cooker.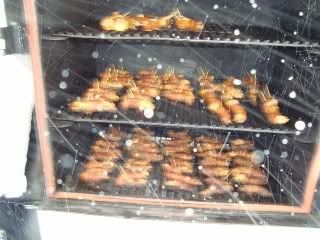 After smoking for about 45 minutes I raised the temp up to 275 degrees for the balance of the cook. Snowing pretty good at this time.
As soon as the bacon was cooked right, I took the ABT's off of the cooker for my next step. I dusted my counter top with some flour, and then I popped open a tube of Pillsbury Pizza Crust dough and rolled it out on the counter top. Cut the dough into strips about 1 to 1-1/2" wide for my wraps. I then wrapped up the ABT's until the dough run out.
Pulled a layer of foil out of the cooker to get rid of all the bacon grease so I wouldn't start a fire and raised the temp to about 425 degrees.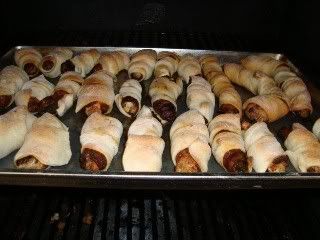 Placed the ABT's back into the cooker for a few minutes to get the dough wraps baked to suit me.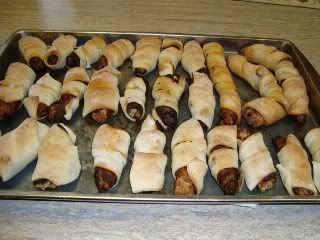 These are the results of my wrapped ABT's.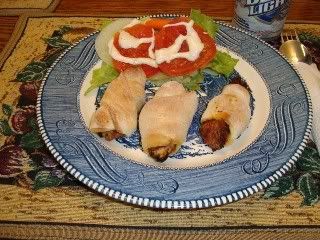 Made for a nice supper and these things are very good.