Rotisserie cooking over a charcoal fire is something that I like to do and I am always looking out for new methods and recipes for this great treat. From something as small as a Cornish hen to a large hog, I have never gotten a bad meal off of my rotisserie cookers or smokers.
For this article, I will deal with the large 22-1/2" Weber kettle which is a great cooker for most backyard cooks. I will be showing both the Weber and the EZ-Que rotisserie setups for this smoker and some after market cooking baskets.
This first cook is my Shish Kabobs and it was done on the kettle with the Weber rotisserie setup with an after market Grill Pro Shish Kabob contraption which works great for this type of cooking.
I am real cranky about my kabobs and want each piece of this wonderful meal cooked right and that just can't be done with everything on one stick and cooked for the same amount of time. Imo, the meats and veggies just won't all get done RIGHT at the same time!!
This cook was to be ribeye steak for the meat, onions, peppers, mushrooms, Italian tomatoes, and pineapple. A great combination for Kabobs!
The 1-1/2" thick ribeye steak was cut into chunks and put into a marinade and put in the fridge for overnight.
For the veggies, I used chunks of red onions, red, green, orange, and yellow bell peppers along with mushrooms, pineapple, and Italian tomatoes. These also went into a different marinade overnight.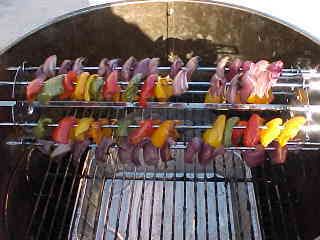 After getting the Weber kettle up to cooking temp at about 400-425 degrees, I started this cook with all the onions and peppers as they take about the same amount of time to cook. They came out looking good!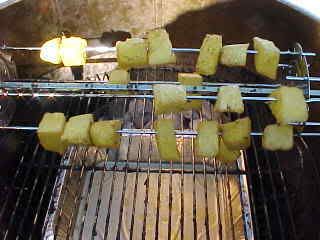 Next, I loaded up the pineapple and this is the quickest cook at just a few minutes and really can't be done with anything else in this cook.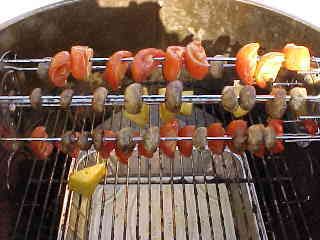 Next load was the Italian tomatoes and the mushrooms as these as well take about the same amount of time to cook.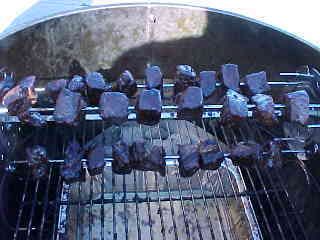 Last load was the steak chunks and they only needed to be cooked about 8 minutes.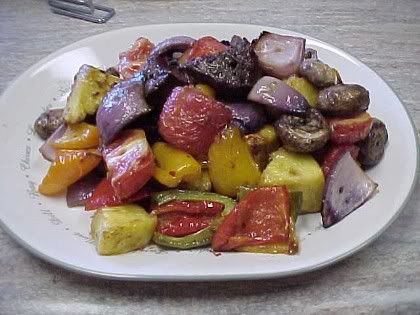 This is a great meal and also low carb for the folks that like to count their carbs.
Another great cook that I like to do on the Weber kettle is my Shaved Ham and we do this cook quite often as the wife loves it and likes to keep this great meat in the freezer so it is available for use as often as needed.
I found what looked like a good low carb ham glaze on the web and tried it on my ham which will be served up on New Years day. This glaze only adds 6 grams of carbos to the whole ham and it was very good.
It is called a "Maple-Orange-Mustard Ham Glaze"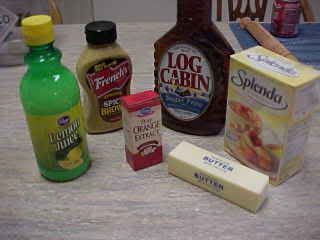 1/2 cup sugar-free pancake syrup (I used the Log Cabin brand)
1/4 cup lemon juice
1 tsp Splenda
1/4 tsp orange extract
1 TBL Spicy brown mustard
1 TBL butter
Combine all ingredients into a small saucepan and simmer for about 5 minutes stirring often. Baste the ham during the last hour of cooking.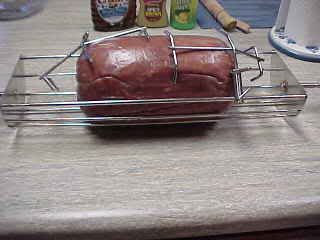 We can usually find the Cumberland Gap boneless hams on sale in our area for about $1.99 a pound and these work great for this treat. I mounted the ham in my 6" EZ-Que rotisserie setup for this cook on my Weber kettle.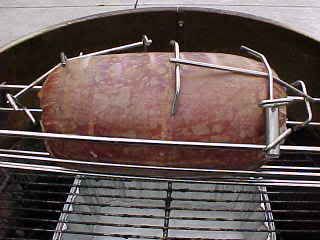 Spinning away on the kettle.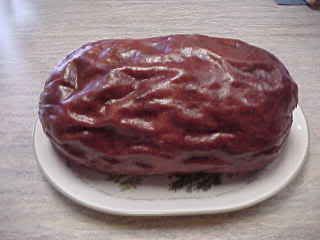 Completed ham after the glaze and cooling on a plate so it could be sliced.
Setting up the slicer for real thin slices for sandwiches.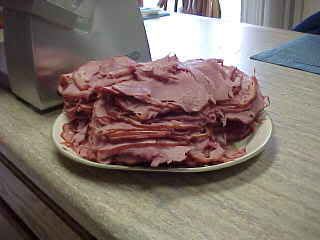 The results of the cook. Should make for a great low carb tortilla and ham & cheese rollup which I will bake in the oven for just a few minutes to melt the cheese. Will also make for a great ham and cheese sandwich.
Roast beef is another cook I like to do on my rotisserie setup. I usually start with some type of round roast for this treat. This cook was a bottom round roast which does make up some good pit beef sandwiches.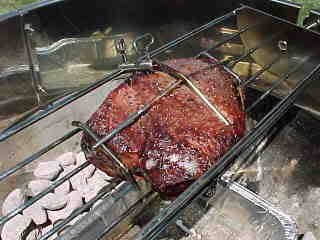 This cook was done on my 6" EZ-Que rotisserie setup on my Weber kettle. I usually just use some garlic salt and some fresh ground pepper and maybe some fresh rosemary for my spice on this meat. It was loaded on the Weber kettle cooker which was running at about 425 degrees. I like to cook this meat to about 110 internal as at this higher cooking temp as I know my finish temp will gain about 15 degrees and this will get me to about med rare and this is what I like. Well...I must have been "in my cups" as I got the meat a little too well done! It came out closer to medium as you can see in the picture but was still great.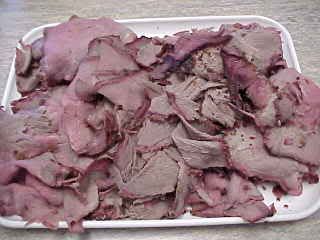 It sliced up nice and will make for some great roast beef sandwiches.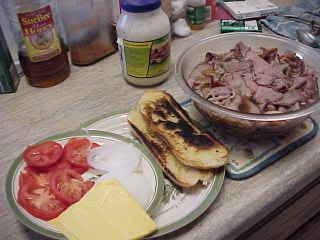 I like to grill a hoogie bun for my roast beef sandwich and then add some tomatoes, onions, cheese, and some horsey sauce on the top of my shaved roast beef.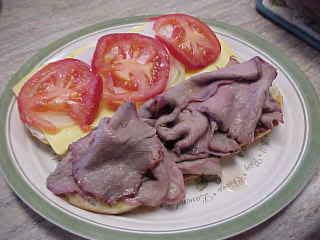 The sandwich is starting to look good...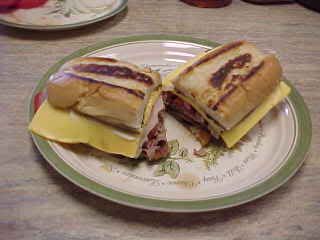 It doesn't get any better than this for a great roast beef treat!
Poultry is another great meal that can be cooked on a rotisserie cooker. There must be a gazillion recipes out there for this treat and I don't even remember what was used for this cook.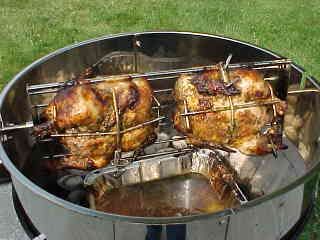 These two whole chickens which are about done on the Weber cooker are loaded into my 6" basket on my EZ-Que. This cook always come out great regardless of the recipe.
Another way to spin something on my Weber Kettle rotisserie setup is by using this after market flat basket from Grill-Pro.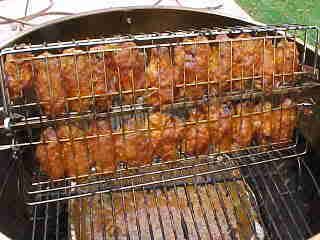 The basket is loaded with my breaded and super hot chicken wings and this basket is great for all cut up chicken, abt's, meatballs, and several other smaller treats.