As I think some of you know, this old fat man low carbs thru the Winter months. Have been doing this since 1972. While it is difficult to stay on this diet, this is one of the treats we do about once a month and we look forward to it as it is really as good as anything you can prepare. Forget low carb, this burger is better than about anything out there even if you are not on a diet.
This cook started out with two pounds of fat burger with about a 30% ratio of fat to lean. I made up two half pound patties and 3 one third pound patties for this cook and added some salt and pepper and placed them on the ceramic cooker.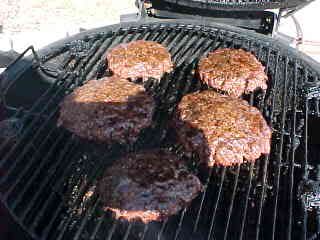 While thes patties were cooking on the first side, I prepared my buns. Of course, it would be nice if I could have used real buns but I couldn't do it so I used portabella mushrooms caps for my buns. Cut all the stuff (gills) out of the underside of these caps and stuff them with the following. Creamed cheese, chopped onion, roasted peppers, a blend of sun dried tomato cheese, cheddar cheese, and some chopped Prosciutto for some additional flavor. The mushrooms were stuffed and placed on the cooker when I turned the burgers over. This is the same recipe I use for my regular portabella mushrooms and is "killer".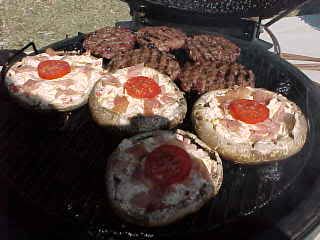 Cooked the burgers to an internal of about 165 degrees and took them off the cooker. I then cooked the caps to where all the cheese stuffing had melted and I felt that they could be used as buns.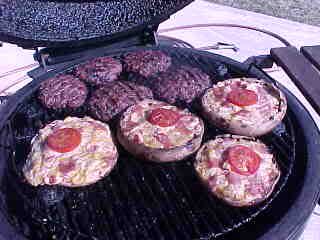 I took this treat off the cooker and prepped it for our meal. Placed a mushroom cap on the bottom of the plate and put a half pound burger on top. Covered with some chopped lettuce, onion slices, and a tomato slice and closed up the sandwich. Added a cottage cheese salad and it was ready to eat.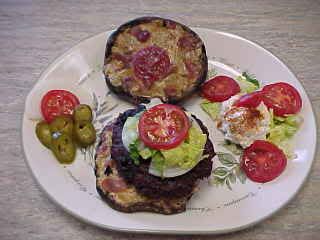 Makes a real nice low carb meal and is probably better than most other burger meals as it is very tasty without a ton of carbs. Hard to beat a fat burger with mushrooms! Yum-Yum