This contest cook was done about 6 years ago in Marshalltown, Iowa using all ceramic cookers and was to be the first attempt in the country using all ceramic cookers in a KCBS contest. At this time, there were a couple of teams using a ceramic cooker for their chicken, but no team was using the cookers for All their meats.
Marshalltown worked out great for me as I had a good friend there that had the cookers so I didn't have to take mine for this first time adventure.
The team consisted of myself, my long time friend and cooking buddy Mike Zinkan, and Fred Meyer (Char-Woody) who was my friend that lived in this city. This would be our first time cooking together for this "Over The Hill Gang" so we left early on a Tuesday for this 470 mile trip to the contest and planned to use the extra couple of days to kinda do some practice for the event.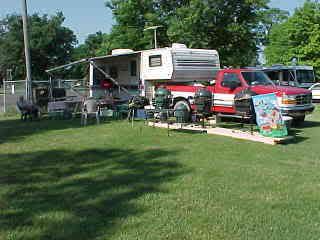 Marshalltown is a great contest and one of my favorites. The contest is held in a city park that has overnight sites with hookups, nice clean inside bathroom with showers, and even a swimming pool. Great place for a contest.
We got a very early start on Tuesday and got to the contest site at about 2:30 in the afternoon and by dark, we had the cookers all hauled to the site and were about completely setup for the contest. It was very hot at about 95 degrees and I was sure glad to have this done.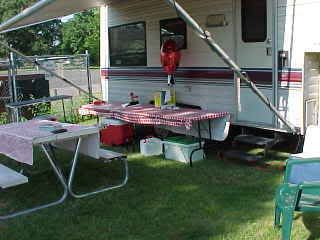 We were the first team to arrive so we did get a good site and this picture shows our kitchen area at this event.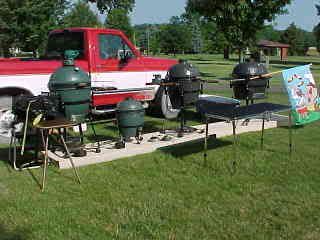 C~W had built some rather unique wooden platforms that were used for both loading the cookers up into the truck and also to use at the contest site. Really worked out well for these fragile cookers.
We had 5 ceramic cookers including the large Primo Oval, the standard Round Primo, the large Big Green Egg, the small Big Green Egg, and the BGE Mini-Egg which is not shown in the picture.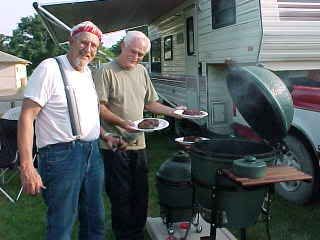 One of the nice features of the ceramic cookers is that you can just about cook anything on them so they are very handy at a contest for your regular food as well as the contest meat.
This picture shows C~W on the left and doing the cooking and Mike on the right just taking a couple of big Prime Amana Ribeyes weighing about 19-20oz each and about 2" thick off of the ceramic cooker. With a baked potato and a salad, was just a killer meal.
C~W cooked us up several great meals including buffalo burgers one day and also a big prime rib diner on Thursday evening. C~W also got us a couple of the Maid-Rite sandwiches in town and brought them to the site for one lunch. I just won't go to Iowa without eating a couple of these wonderful sandwiches.
This picture shows the Prime rib diner that C~W cooked for us and they were just huge and very good. I think we had a baked potato and a salad of some type with this meal.
On Friday afternoon, we started to put together a big party for C~W's family and friends as we had planned to do both pizza and calzones with all fresh dough and fresh ingredients. I had brought several pounds of my homemade Italian sausage along with several other ingredients and C~W made up all the fresh pizza dough and also brought a bunch of different cheeses for the pizza. Had two ceramic cookers running and we were getting a pizza off of the cookers about every 8-10 minutes. Great Party!!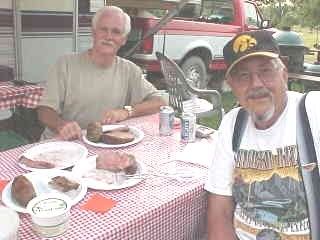 Another picture of C~W and Mike and our prime rib diner.
This was a very hot week in Marshalltown with all the days over 94 degrees and was just toooo hot for the "Over The Hill Gang" to do any practice cooking and we really got "pounded" at this contest and didn't get any meat in the top ten but sure did learn a lot about cooking with these cookers.
Was a great adventure and we sure had a wonderful time.