I needed to do about 15 racks of loin back ribs for a small party and decided to do them in my upgraded Backwoods Party. It states in the info on the web page that this cooker will cook 15 slabs at a time. I really didn't figure that I would get very good ribs with the cooker maxed out with 15 slabs of ribs but I did give it a try. It does take air flow thru the cooker to yield the best results and 3 slabs of ribs per grid sure does not leave much room for good air flow.
I removed the membrane and my ribs were a little too long to fit my grids without scrunching them up and I didn't want to do that. I ended up by cutting two bones off of eack slab which really cleaned them up nice as there are always a couple of bones on each slab that could be removed.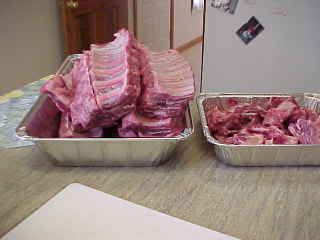 I will save the bones I cut off for my next rib tip cook.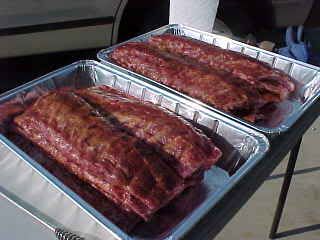 Rubbed the ribs with Smokin' Guns hot rub and then placed them on the cooker. All these cookers seem to run slightly hotter in the back of the grid so I loaded the larger meat side to the rear.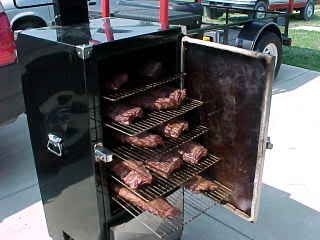 I loaded the top grid with 2 slabs and then alternated each gid with either 2 or 3 slabs. Ended up with 3 grids with two slabs and 3 grids with 3 slabs.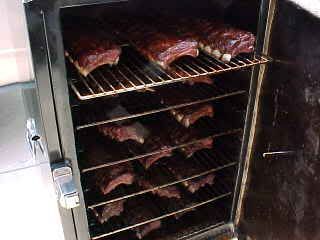 Filled my water pan about half full, added some hickory chunks, and dialed the cooker in at 225 degrees. I cooked the ribs about 3 hours straight without rotating them and then foiled them but did put the top two grids on the bottom and the bottom on the top. I used apple juice and Turbinado in the foil and put the meat side down. I cooked them for another 75-80 minutes and then took them out of the foil.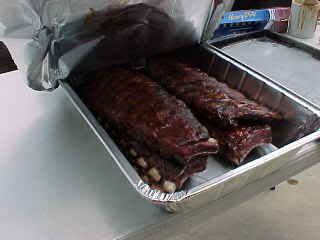 The ribs then went back on the cooker for my glaze. I used two light coats of Blueshog mixed with some secret stuff. I think the glaze took about an hour so the total time on the cooker was about 5 hours and 20 minutes.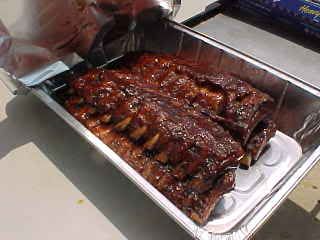 I was pleased with how well this large load of ribs cooked in this cooker. Just about as good as if I would have done them in the Backwoods Competitor.