This is a great casserole dish that can be done on a cooker/smoker or even in your oven but I think it is best in an outside cooker with a clean burning fire for that great light smoked flavor. Since everything is cooked that goes into this casserole, it can be cooked from a low of about 250 degrees to a high of 375 degrees so it will work in about any type of equipment.
Here are the ingredients and this dish is an "artery slammer".
2-16oz packages of ground beef
1-med white onion finely chopped
1-envelope taco seasoning mix
3/4-cup water
1-16oz jar taco sauce (medium heat)
9-12 six inch flour tortillas
3-cups cheddar cheese
1-16oz can refried beans
2-cups sour cream
1-cup green onions
2-2oz cans of sliced black olives
You can adjust the heat in the recipe by using the hot taco sauce and also by the addition of some cayenne pepper if you wish.
In skillet, add a little oil and then the finely chopped onion and cook for a few minutes. Then add the ground beef and cook until is is all browned up a little, and drain off the grease. Stir in the taco seasoning, any type of heat (cayenne pepper) that you want and water. Then add the taco sauce and simmer for 7-10 minutes or until it is slightly thickened.
Spray Pam on the bottom of either a 14X10 or 13X9 oven dish and then cover the bottom with 3-4 (6") tortillas tearing them into pieces if necessary. Add about half of the meat mixture on top of the tortillas and spread it around.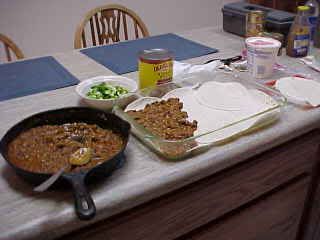 Then sprinkle on about one cup of the cheese. Layer with 3-4 more tortillas and spread the refried beans out as even as you can get them.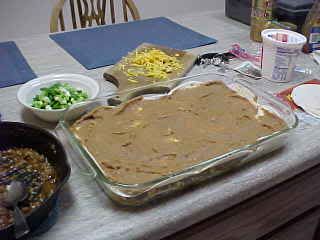 Then add the sour cream on top of that evenly. Sprinkle with the green onions and also the drained black olives.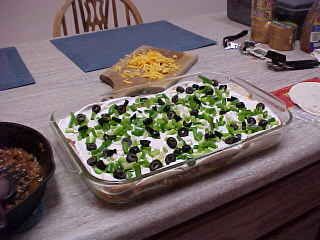 Layer another round of tortillas on top. Cover with the remaining meat mixture and sprinkle on the balance of the cheese.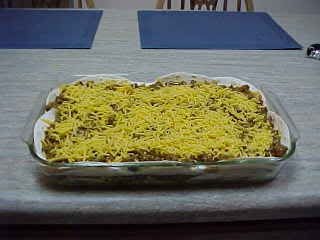 Place this casserole in your smoker and cook until an internal of about 140-150 degrees and then let it cool for about 10-15 minutes before cutting and serving. This recipe will serve about 12 folks or 6 hungry men.
If using a kitchen oven, use a temp of about 375 degrees and it should take about 40 minutes but if you can, check the internal and pull at about 140-150 degrees.