The Weber Smokey Mountain Cookers (WSM's) are a very popular starter competition cookers and are still winning many contests each year. They are really foolproof and will cook overnight without much attention and produce a winning contest product. They are inexpensive as compared to many other contest cookers, lightweight and easy to handle, and can be used for contests out of the back of your van, car, or pickup truck. With some careful planning, a good 5 day cooler, a fellow can do a whole KCBS contest on just one of these cookers!! However, most folks use at least two of these cookers for their contests.
I always keep a couple of these cookers around as I never know when I might want to do a contest without my RV that might be some distance away and at the high price of fuel, might just take the SUV and the WSM's and save a little money.
This is my lightweight and compact setup using the WSM's ready to head down the road. The car is a medium size Ford Explorer and we are heading for Charleston, Missouri which is a 335 mile trip.
I use 3 large plastic garbage cans for my two WSM cookers and this allows me to also pack up the center of the cans with other contest equipment. I have one of the cans inside the SUV and two on the back in my cargo carrier.
This is the back of the SUV all loaded up and ready to go with plenty of stuff to do a contest.
This is a picture of our site after we got it all setup and ready to cook.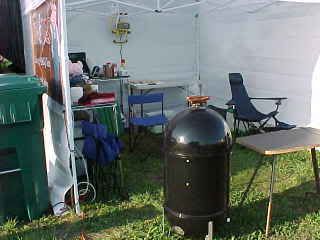 A couple of other pictures of our cooking area.
We usually setup a cot inside the EZ-UP at night for my co-cook and then I use the SUV to sleep in and this works out great. We use about 1/2 the space in the SUV for our storage and the other half for sleeping.
This is my long time friend and co-cook Mike Zinkan in front of our site.
The site next to us had the Ulcer Acre BBQ team of Randy and Marla Twyford and they as well were using the WSM cookers.