Slab potatoes are a great side dish that can be grilled, smoked, or cooked direct or indirect on about any smoker or cooker. They will go well with about any type of cook or meal. Just takes a few minutes to prep with some everyday herbs and spices found in most kitchens.
Some of the herbs and spices that will work would be chives, dill, thyme, tumeric, basil, garlic, oregano, rosemary, tarragon, and of course, salt and fresh ground black pepper.
Wash the potatoes and then slice them length-wise into slabs about 1/4 to 1/2 inch thick. Brush a coat of peanut oil on the potatoes and then pick out a couple of your favorite herbs and sprinkle them on the slabs. Maybe add some garlic salt and some fresh ground black pepper and finish them with a light coat of Parmesan cheese. For an even better side dish, slab and onion or two and fix them the same way to be served with the potatoes.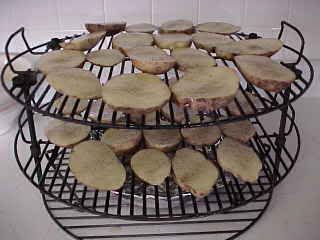 This is two layers of my slab potatoes in my cooking contraption about ready to be carried outside to be put on my ceramic cooker. I did this cook at about 350 degrees but lower temps as well will work but will take longer.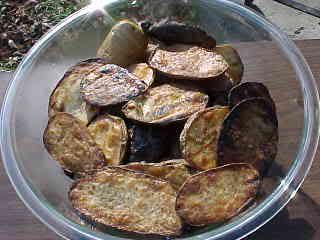 This is what they look like coming off the cooker. These things are soooo good and I can make a meal out of them!