This is a great recipe that we often use at home and at BBQ contests for our Friday evening parties as it is very simple to make and always gets great reviews.
My recipe is based off of a great recipe from a friend a Mr. Kevin Taylor (Stogie) ie. the BBQ Guru and does have some changes for my style of cooking and presentation.
I will start with the introduction from the original recipe...
Couzan Billy's Jambalaya
From the kitchen of Kevin Taylor, the BBQ Guru
"I know there are many Jamba recipes out there. This one is unique in that you throw everything into the pot and cook. No making a roux, no browning the meat, no cooking the rice. It is ideal for doing on the grill. Matter of fact, I cook this for Friday night supper at the cook-offs! This recipe I adapted from one given to me by my good friend Bill Conklin…Couzan Bill, a real Cajun"
Old Dave's version of this great recipe does use much more liquid or broth as we like to serve this treat in homemade bread bowls and we also need more liquid as we do it in an open pot on the smoker for the total cooking (boiling) time which will use up some of the broth.
1 pound converted rice, uncooked
1 can French onion soup
1 (8 ounce) can tomato sauce
1/4 pound butter, cut into pieces
1-1/2 cup onions, chopped
1 cup green onion, finely chopped
1 small green pepper, diced
1/4 cup fresh parsley, chopped
5 large garlic cloves, minced
1 teaspoon crab boil
3 tablespoons Cajun seasoning
3 tablespoons Tabasco
1 pound smoked sausage
1 pound of fresh or frozen package of crawfish tails (Walleyworld has them in the seafood freezer) or as a last resort, substitute shrimp but it won't be near as good.
3 pieces chicken breasts, cubed
8 cans of chicken broth or about 100-110 ozs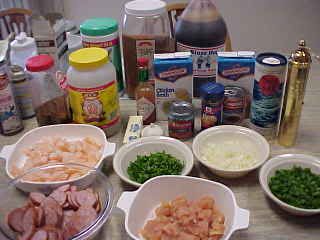 Combine everything in a 5-quart or larger ovenproof type of pot or just use a Dutch oven without the lid for the cook.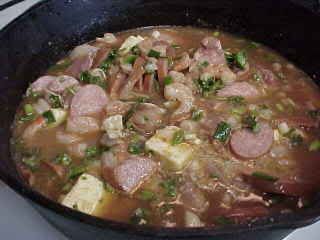 Place the pot into the cooker or smoker with no lid and be sure that you get the pot up to a low boil or simmer and then cook at the low boil for at least one hour stirring about every 15 minutes.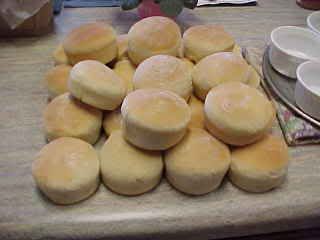 I use a bread bowl of this size to serve this dish as an appetizer. I hollow out the center of the bread bowl and then fill it with the Jambalaya.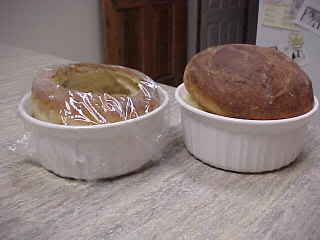 To make this dish a total meal, I like to use a much larger bread bowl. The bowl on the left in the picture shows how I hollow out the center of the bowl for the Jambalaya.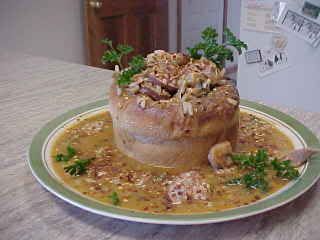 We serve it with some extra broth or juice as the bread really needs the extra "soppie".
The orginal recipe can be found here..http://www.recipegoldmine.com/bbqgurucass/couzan-billys-jambalaya.html