I am an avid breadmaker and have baked much of our breads over the years on several different smokers, cookers, and of course, the kitchen stove.
I purchased my first ceramic cooker, a large Big Green Egg for just that purpose and am really happy with the cooker for this task. It has produced great bread for my family for close to ten years and is still going strong!
The large Egg will do a wonderful job with about any type of bread including about any European breads. It is very easy to use for your baking and produces bread with just a light hint of smoke flavor just like an old fashioned wood oven or from an upscale bread shop using a wood oven of some type.
The large Egg can be setup for both pan baking and hearth baking and will do a great job with both and just won't work you to death like an old fashioned wood burning outside oven. In my opinion, the results off of my Egg are as good as what I get out of my wood oven at about 1/10th of the work.
I will start with some pan baking as this is very easy to do and will give you great results with very little effort.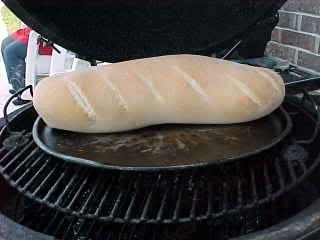 This is a large loaf of French bread about done on the cooker. You can make this bread in small loaves or the larger loaves like you see in the picture and just picture yourself with a big hunk of this bread fresh off the cooker with some real butter dripping off of it and my friend, you got yourself a real treat.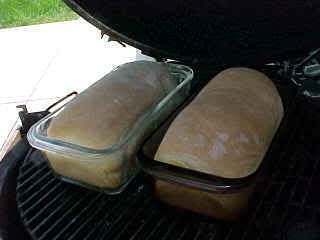 This is our everyday bread and is an old Amish recipe and is just wonderful!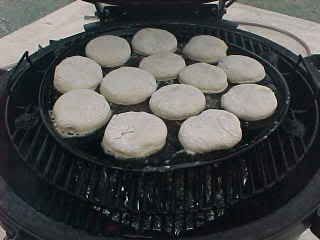 These are my sourdough pan biscuits just going on the cooker. A great Treat!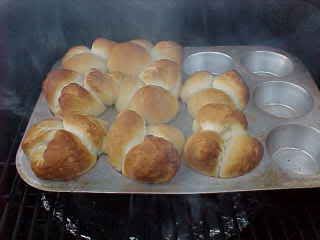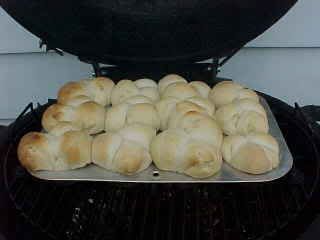 These are my yeast rolls on the large Egg and this recipe uses mashed potatoes in it and is a winner. We make them about any time we have a smoker running at baking temps. Wonderful Rolls.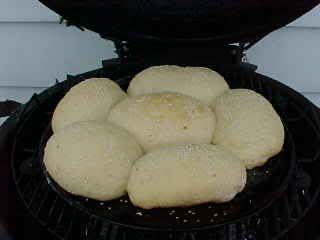 These are my hoogie rolls about half done on the cooker and we use these great rolls for everything as this Father Dominic recipe is really good and easy to make.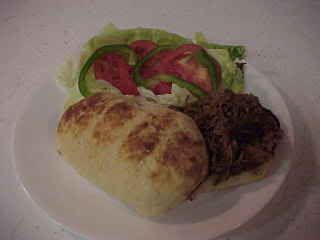 Sure does make a nice sandwich.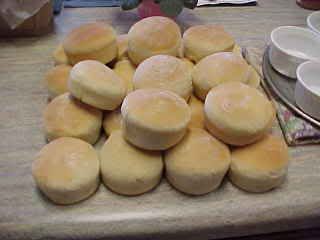 These are my bread bowls which I make on a pan in some small ceramic bowls. I hollow out the inside of each bread bowl and then fill with some gumbo, jambalaya, or maybe some red beans and rice. Makes a great appetizer and I always get great reviews with this dish. I have also done them in larger bowls for a main dish.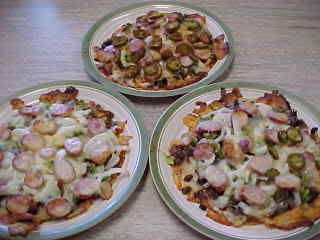 As an always fat fellow, we often use a low carb diet over the Winter months. These are three low carb pizzas just off the cooker. I use a low carb tortilla for the crust and just make up the pizza like I would my regular pizza. It ain't real pizza but really not too bad after maybe a few months of low carbing.
This pretty much covers some of my pan baking and now we will get into some hearth baking on my large Egg.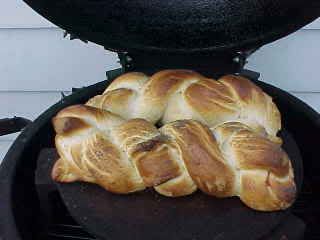 This is a couple loaves of my Challah bread ready to come off of the large Egg. This is a very rich bread and presents very nice at a party.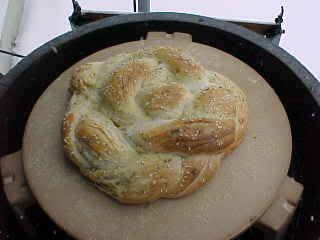 This is my Kolach bread and is another very rich bread.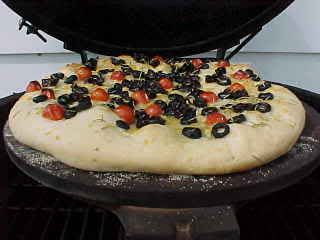 This is a loaf of some special focaccia bread ready to come off the cooker. Was done for a party.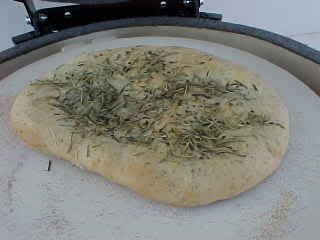 This is another loaf of some focaccia bread on the cooker.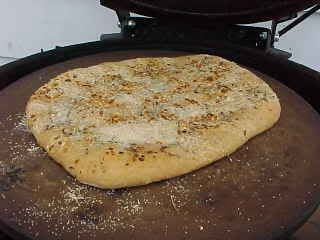 More focaccia as we do this bread often for snacks.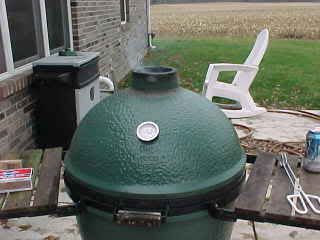 Remember now, we are doing all this baking on this one large Egg!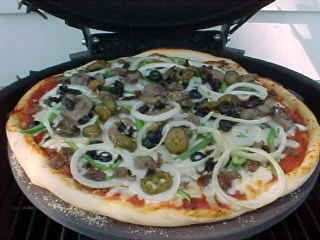 I guess I had better cover some pizza as most folks that have the Eggs don't have the foggiest idea of baking unless you are talking about pizza. They just don't know what they are missing!! The Egg will sure do a fine job with a real hearth setup using the proper techniques for this treat.
Believe it or not, this pizza was used in some BGE advertizing about 10 years ago. Real nice pizza.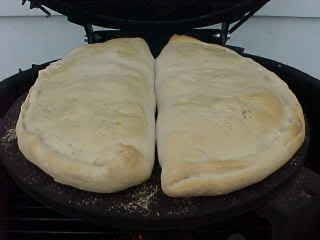 Calzones are another great treat on the ceramic cooker.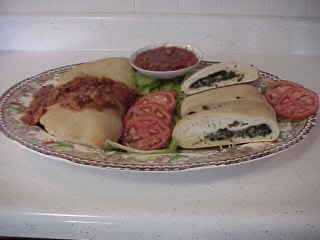 A nice treat when you have another couple over for a meal.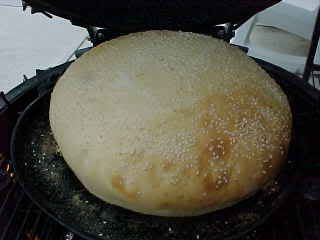 This is a very large bun on the cooker just before I spun it about 180 degrees to get even browning as it was one large piece of dough.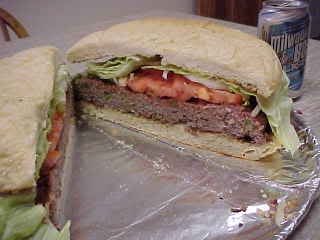 The bun was used to make up a large 3-4 pound burger which was served to several guests.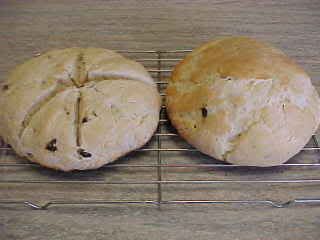 This is a couple loaves of Damper bread just off the cooker. This bread comes from down under and is their everyday type of bread...I Think?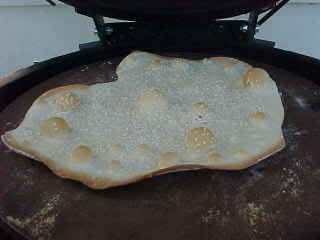 This is Naan bread and really bakes quick.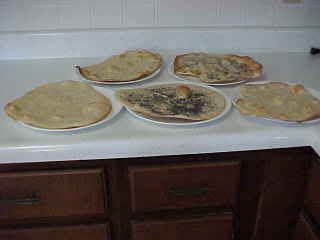 I make this bread with many different toppings and is a crowd pleaser.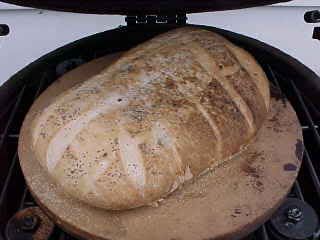 This is a large loaf of my sourdough hearth bread on my small BGE cooker.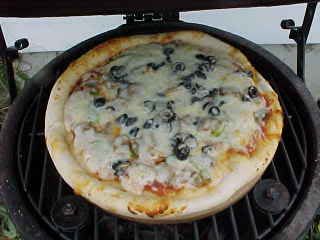 Pizza on my small BGE cooker.
Bread...Good ! !