There are many methods for this meat and it looks like most folks on the forums take the shortcut and just pastrami a corned beef but I think I get better quality by starting from scratch. However, it does take a few days to complete the process.
The following is one of my favorite recipes and method for this treat. It is based off an old DTM recipe that I have used for about 11 years.
I start with a large brisket flat and trim all but 1/8" of fat from the cap and then cut the meat into no more than 4 pound pieces. The smaller pieces will cure better and more even with this method.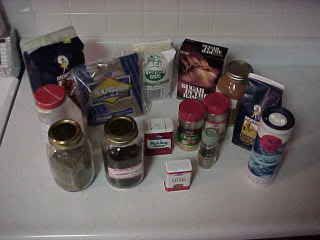 I make up the brine first..
28 oz water
1.5 oz Morten's Tender Quick
2 TBL brown sugar
1 tsp garlic powder
Heat this mixture up in a pan and then cool in the fridge.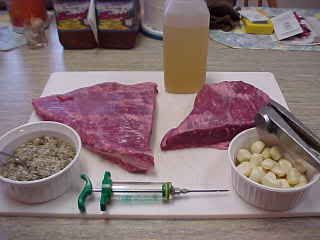 Inject the meat with the brine at 1" intervals both horizontally and vertically and get 2.5 oz of the mixture into the meat for each pound of meat.
The first rub..
1/4 cup Morton's Tender Quick
2 TBL brown sugar
3 TBL fresh ground black pepper
2 TBL dried parsley
1 TBL dehydrated onion
2 TBL sea salt
3 TBL pickling spice
1/2 tsp ground cloves
Garlic...
GOBS...you just can't put tooo much garlic on this meat. I used about 40 cloves for this 7-1/2 pound flat.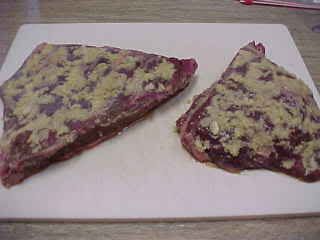 After the meat is injected I put the garlic cloves thru my Suzy and then pack on the garlic on both sides of the meat being careful to not press too hard on the meat and push the cure out.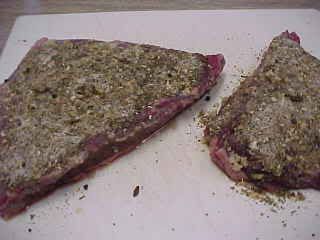 I then apply a heavy dose of the first rub on both sides of the meat.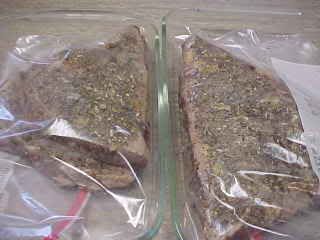 I put the meat into Zip-Lock bags and get as much air out of the bag as you can and then into a baking dish and then into the fridge for 4 days. I turn the meat over twice a day.
On the day of the smoke, take the meat out of the fridge and out of the bags and wash all the garlic and first rub off under the kitchen sink faucet. Get it as clean as you can and then paper towel it off well. Place it on a rack on the counter top to air dry for about an hour.
Make up the final rub ..
3/4 cup fresh cracked black pepper (not ground) *
4 TBL fresh cracked coriander seed *
4 TBL brown sugar
* The pepper and coriander need to be cracked into about 4 pieces per each seed or peppercorn for best results. You can use a mortar and pestle or maybe a spice grinder but you do need the larger pieces of this spice. This meat should have a hard crust when the process is complete.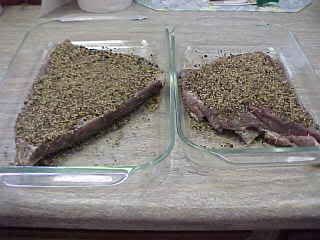 Apply the final rub to both sides of the meat.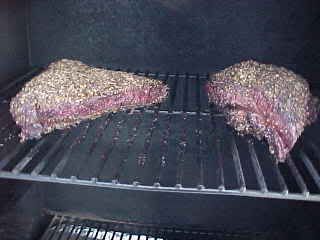 Place the meat into a cooker running about 225 degrees with a good deal of hickory for smoke and cook the meat to an internal of about 175 degrees.
I use my slicer to slice the meat real thin.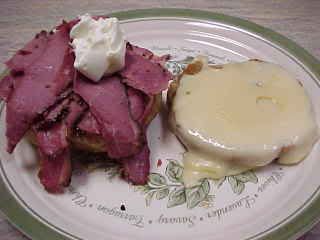 I like to use a rye bun but didn't have one so I used a dark wheat Kaiser bun which I toasted. I then put a couple of Swiss cheese slices on one side of the bun and put it in the nuker to melt it a little. I loaded a big pile of the pastramied beef on the other side of the bun and then put a dollop of horsy sauce on top of the meat.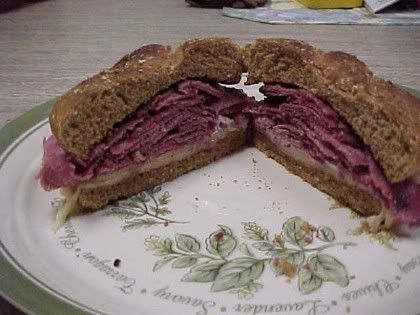 It just doesn't get any better than this...what a treat!!!!
I shared this recipe several years ago with a friend who lives close to New York City and often eats at all the famous deli's in the city and he said that this recipe was better than anything he could get in that city. Sure was a nice compliment and did make my day.