This is my attempt at making a Chicago Style Hot Dog in Indy as it is difficult to find about half the ingredients you need to make up this wonderful treat. The folks up there are super "picky" about what goes on their dogs!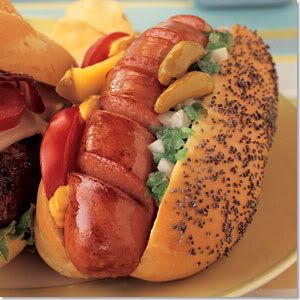 I sure don't know why anyone would cut up a dog like this but anyway, the hotdog itself must be a high quality all beef and best if about a 1/4 pound in weight. The bun must be a poppy seeded bun and must be steamed before loaded up. The toppings in order must be regular yellow mustard (none of that foo-foo stuff), chopped onions, neon green sweet pickle relish, sport peppers, dill pickle spear or the even milder cucumber spear, tomato wedges (never slices) and celery salt.
I started with the bun and there is nothing close to what I needed on the West side of Indy so I decided to just make them up.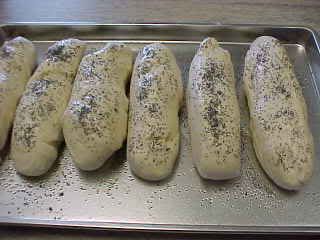 I used an Amish bread recipe to make up my poppy seeded hot dog buns. Not very pretty but should work good.
Had the FE100 pellet cooker in use so I just cleaned it up a little and upped the temp to about 400 degres and baked up my buns.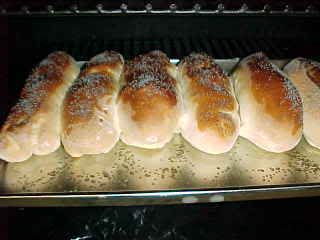 The hot dogs were ordered from Allen Brothers in Chicago and were the Great Steakhouse Steak Dogs with the natural casing and weigh 1/4 pound each. These are rated by the Chicago Tribune as the best dogs in Chicago and the best in the US by Forbes Magazine.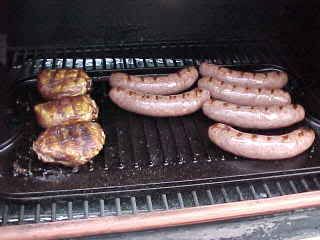 I cooked (warmed up) these very carefully on the FE100 on my cast iron grid to be sure to not crack the skin and loose all the juice.
After steaming the buns I put the dogs together.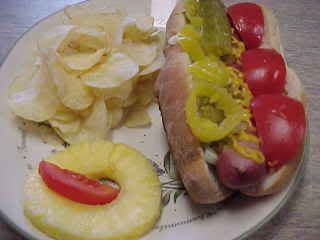 Put the dog in the bun and then added a light stream of regular mustard back and forth across the dog. Next went on the chopped onion. Neon green relish is not available in my area so I used just regular sweet relish. Next came the Sport Peppers??-I know these are fairly hot so I would guess they are seranno peppers but none could be found so I used some rings of the hot yellow wax peppers as they have a wonderful flavor. Added the dill spear and the tomato wedges. Last came the celery salt for that unique Chicago taste.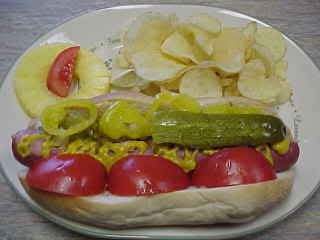 Was a pretty good meal but probably not worth all the trouble.