It's about that time in the year when folks are looking for diet recipes and this recipe is a very good low carb method for pulled beef. This great smoked treat can be used for salads, casseroles, sandwiches, and many other dishes.
I prefer just plain chuck roasts for my pulled beef and it is one of my favorites so we do it often. One of the reasons I like it is due to the lower cost in my area as compared to other cuts of beef. Another thing, the smaller roasts cook quick and of course have more bark.
This cook was 17.81 pounds. I did find them on sale at $1.79 a pound.
I trim all the fat I can out of the roasts and then apply my no-carb rub.
I use this rub on everything when I am low carbing.
2/3 cup salt
2/3 cup Splenda
1/2 cup paprika
6 TBL chili powder (the blend)
4 TBL fresh ground black pepper
2 TBL ground cumin
2 TBL garlic powder
2 TBL cayenne pepper
Mix it up in a bowl to blend it together.
The meat is loaded into my Backwoods Chubby which is running at about 250 degrees with a few chunks of cherry for the smoke.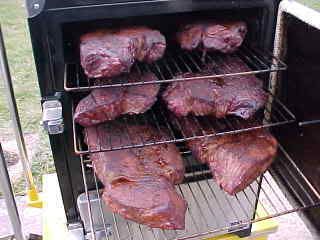 I smoke them for about 4 hours and then wrap them in foil with 1-1/2 oz of beef broth so they can braise until done. I then take them to about 205-210 internal and pull them off the cooker being very careful to not tear the foil as you will need the drippings. This is usually an additional 3 hours. I then rest them for about an hour or two and then very carefully over a large casserole dish, unwrap them so all the juice goes into the dish. After they are unwrapped, I pour the drippings into another smaller container and place it into the fridge or freezer as I want to get the fat off the top of this wonderful broth or gell.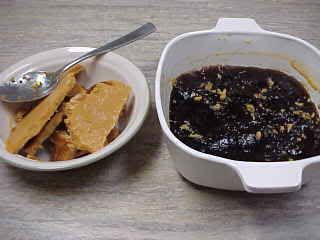 This is what it looks like after taking the fat off the top of the broth.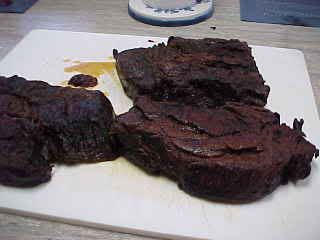 This is some of the meat before I pulled it.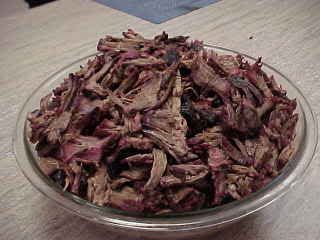 This is some of the meat before I added any of the liquid broth or gell back into the meat. If I am going to use it for bbq beef, I mix about 1/3 broth with 1/3 my low carb bbq sauce and about 1/3 water and mix this back into the meat. If I am putting the meat up, I use the straight broth or gell mixed back into the meat.
This is my low carb sauce and it makes about 32 oz. A three tablespoon serving is just under 2 grams of carbs. This recipe is based off an old PK recipe.
4 (8 oz) cans of Contadina sauce...do not substitute
1 cup Splenda
1/2 cup prepared yellow mustard
1/2 cup cider vinegar
1/4 cup chili powder (the blend)
2 TBL liquid smoke
1 TBL fresh ground black pepper
1 TBL Worcestershire sauce
1 TBL garlic salt
2 tsp Tabasco sauce
1 tsp celery salt
Place mixture over medium heat and simmer for about 10 minutes stirring constantly so it won't burn. This sauce is great on everything and is very good. Your guests will never know it is low carb.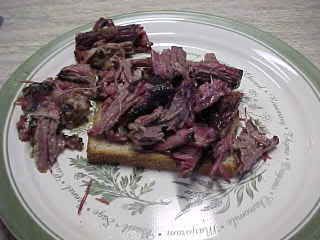 I like to use one slice of low carb bread on the plate and then some of the pulled beef over the top. I then add about 2 TBL of my low carb sauce on top of the meat which is not shown in the picture. Add some cheese and onion slices on the side and you have a nice low carb meal that only about 6-7 grams of total carbs.
One great smoked meat!