Wanted to do a contest over in the East somewhere to meet some e-mail friends and compete against some of the cooks we know but don't see very often and did this contest in August of 2004. The contest was in New Holland, Pa which is in the heart of Amish country and is a great event.
This contest is about 620 miles from the Po-Farm so we decided to go with just the SUV and a lightweight setup and use my Backwoods Fatboy and one WSM cooker.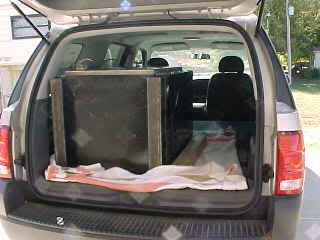 Loaded up the Backwoods Fatboy and begin to wonder if we will be able to get it all in this car??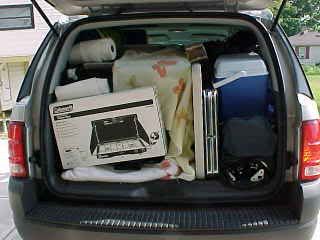 The back of the car just before we closed it up and finished packing the garbage cans on the cargo carrier.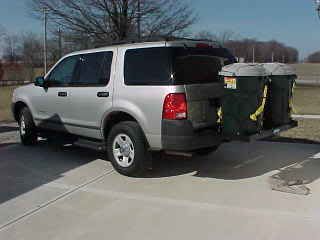 Ready to get on the road.
Was a long drive but with our early start, we did get in to the contest site pretty early in the afternoon and got setup before dark on Thursday.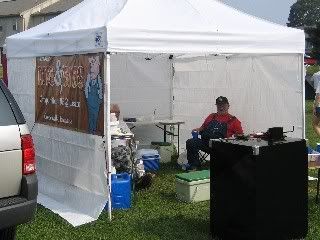 Was a hot evening and we did get to visit and meet with several other teams that arrived on that day.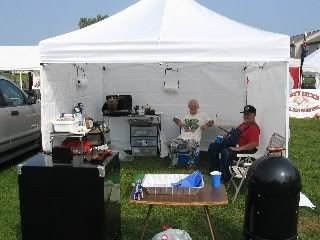 My co-cook on this trip was my good friend Mike Zinkan who claims to be the Indiana Grand Champion Micro-Wave Cook and a friend from New York came down to hang with us and run our boxes.
We had planned to use the Backwoods Fatboy for our butts, brisket, ribs, anything butt, and the WSM for our chicken and also a holding oven. On Friday, one of the teams had an accident on the way to the event and lost the use of their big offset cooker and we loaned out our WSM to them for the contest. Had to double up some on the Fatboy but that cooker was designed from the ground up to do the KCBS contsts and it did us proud at this event.
We did Jambalaya for our Friday evening party and served it out of my homemade bread bowls. Was a nice treat along with a cold beer on this warm evening.
Had a few problems early Saturday morning with a Thermo-Pen that was reading about thirty degrees high and after I discovered it, had to get some meat back out of the cooler and place it back on the cooker to get it done correctly!
Anyway, got the meat all turned in and started to clean up and get ready for our trip home which was to start early on Sunday morning.
We went to the awards later in the afternoon and did very well considering my screw up on the overnight cooking.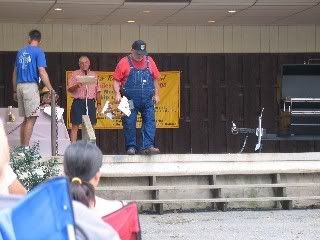 We got one real nice trophy for our ribs that has an Amish Buggy on it along with some money.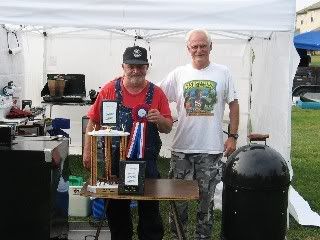 We also received a nice plaque and a ribbon to go with our trophy along with some more money as we got 3 of our 4 meats into the top ten and ended up placing 4th overall out of this more than 60 contest team event.
Got to meet several new teams and visit with some friends and with a good finish, sure made for a nice trip home. Was a great contest and will probably go back in the future.