This is one of my favorite treats on an outside cooker/smoker and I make it both regular and low carb. Low carb doesn't contain any pasta but you would never know it as I can fool all my guests with that recipe.
The meat I prefer to use is my super spicy home made Italian sausage.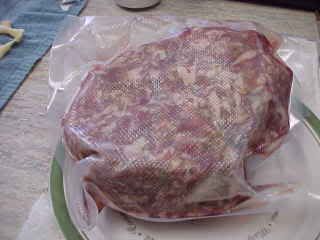 This is about a 1-1/2 pound package of my Italian sausage that was ground and mixed in my Kitchen-Aid mixer.
I also like to make my own home made pasta noodles for this regular dish. Fresh is always the best for this great treat.
This is the start of my home made noodles coming out of my Kitchen-Aid mixer.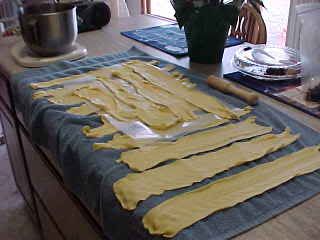 This is enough fresh home made lasagna noodles for two casseroles.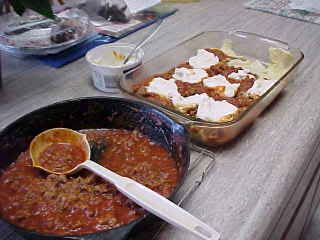 I brown the sausage and then pour off the grease and then add all the ingredients to make up my home made sauce and simmer it for about 10 minutes. I then layer the noodles, my home made sauce with the meat, the cheese which might be some mozzeralla, ricotta, maybe some romano, and parmesan into a large baking dish.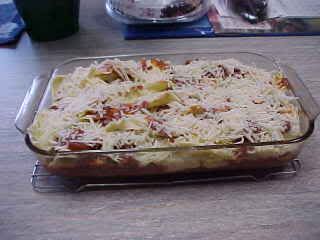 This is the lasagna ready to go on the cooker. I like to bake it at about 325-350 degrees with a very clean burning fire and NO smoke wood in any of my cookers. I take it to about 160 degrees internal and pull it and let it rest before I cut it.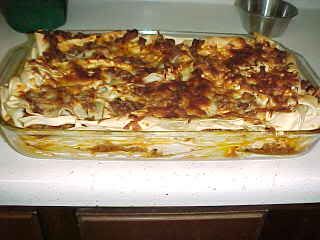 This is what it looked like coming out of my Backwoods cooker. I don't have a picture of my regular lasagna recipe on a plate but I do have a picture of my low carb recipe on a dish.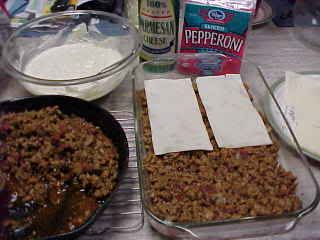 I make up my low carb lasagna without any noodles or pasta products. For every layer that would need the noodles, I substitute a layer of sliced mozzarella cheese. I carefully bake this casserole to about 160 degrees internal and this won't completely melt the sliced mozzarella and will leave the dish with the same consistency and texture of a dish that was made with the noodles. My guests never know the completed dish doesn't have a pasta product in it.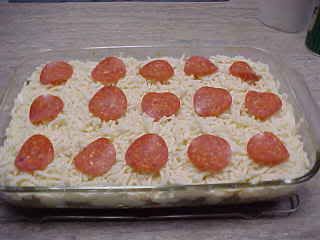 This is my low carb lasagna going on the cooker and this is about as good as the high carb but only has about 4-5 grams of carbos per serving.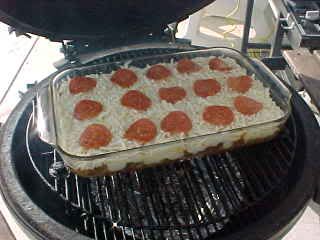 This bake was done on my large Big Green Egg at about 325 degrees without any smoke wood.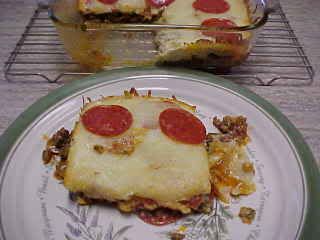 It is a very good low carb treat.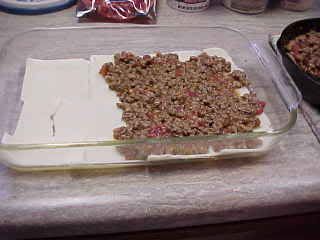 Here is another low carb lasagna as I prepared it for the cooker. After I Pam the dish, I usually start out with a layer of the mozzarella slices and then add a layer of meat.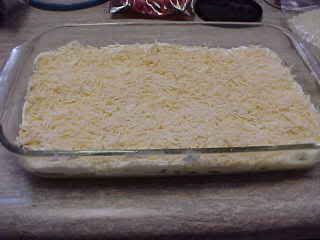 More layers going into the dish.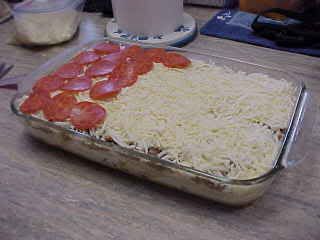 Dish is about ready for the cooker.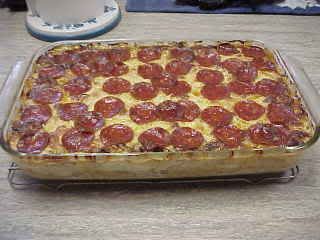 Just coming off the cooker.
Both of these recipes are great for lasagna.