I did a cook about a week ago which included a bottom round roast which will be used for MY "Chicago style" Italian beef sandwiches. Included in the cook were a big pan of Rick Salmon's BBQ Pit Beans, a couple of pork butts which will be used for sandwiches and sundaes, and a grid full of my super hot and breaded buffalo wings. The cook was for a small party of about 20 people.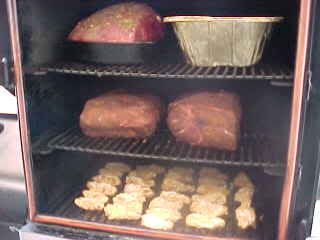 I did the cook on a very cold day with the high around 16 degrees with spitting snow and the cooker did a fine job.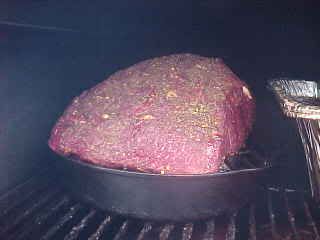 The bottom round roast weighed 6.3 pounds and I cut some small slits all over the surface of the meat and inserted garlic slivers. I then applied a rub of some onion powder, crushed red pepper, black pepper, oregano, and some basil to the meat. I have the meat on a raised grid in a large iron skillet as I need the drippings for my au jus or gravy for my Italian beef sandwiches.
The roast as cooled and just before it went thru my slicer. I smoked the roast to an internal of 120 degrees and with my lower smoking temp of about 250 degrees gives me a finish temp of around 125 internal which is perfect for my beef.
It sliced up pretty nice. I took the skillet with the drippings and then added some beef broth, more Italian seasonings, a packet of Lipton onion soup, and a little corn starch and made up a quart of gravy for the meat. I planned to serve the beef just out of the au jus on a small crusty hoogie roll along with some heated giardiniera and green peppers.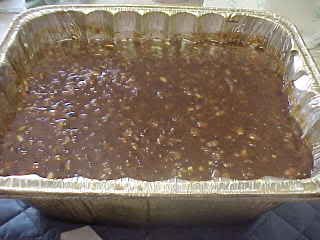 Rick Salmons BBQ Pit Beans always come out great.
These breaded and very hot and crunchy buffalo wings are for the cook as I am a "chili head" and I do these on about every cook when I have the room on a grid in the cooker.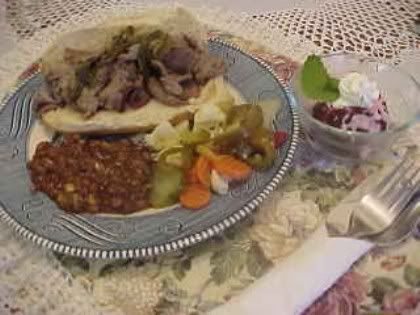 This is my version of the Italian Beefs as I served them. Wife did the dessert which is her "Cherry Tarts".
I didn't include a picture of my pulled pork sandwiches as everyone does them but I do have a picture of another treat I served to my guests.
This is my Pork BBQ Sundae as served which I did for the folks that wanted them at my little party. I start with the BBQ Pit Beans in the bottom of the glass, on top of that, I place some slaw, next comes the dill pickle spear and my pulled pork, and the last thing I do is dribble on some dark bbq sauce so it looks like chocolate syrup on the top of the sundae.