Dutch Oven cooking and baking can be done on about any cooker or smoker and can be a real treat with my open pot method. I really don't see any reason to cook with a lid on in a smoker as you might as well cook this way in your kitchen oven as it adds nothing. With the lid off and cooked on a smoker with a clean burning fire gives you that great light hint of smoke flavor on the contents of the pot. It can turn a rather bland soup into something that is kinda different and very tasty.
I do have to change the amount of liquid used in all my recipes for my cooking without a lid but this is not a real problem with this method of cooking.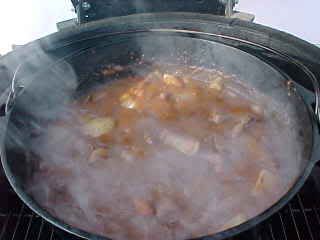 Here is my version of hot beef stew about done on one of my ceramic cookers. I use the Spicy Hot V8 juice as my base for my broth. This is a great treat at a barbecue contest or in a campground on a cooler evening.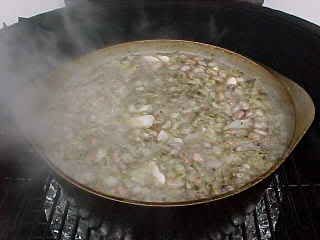 This is a pot of pinto beans on the cooker.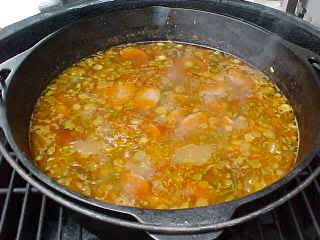 This is Bigwheel's Texas Hot Ranch Beans on the cooker. These are killer!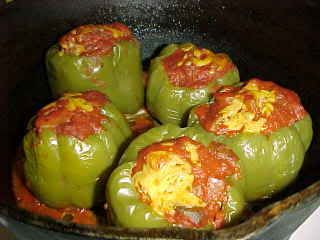 These are my low carb stuffed bell peppers about ready to come off of the smoker.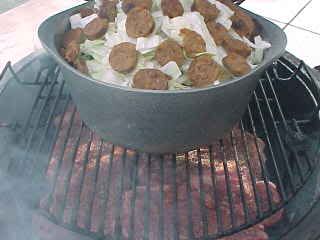 This is my cabbage and smoked sausage over a full grid of pork steak in my large Big Green Egg.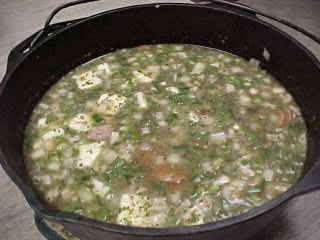 This is a black bean and meat dish ready to go on the smoker.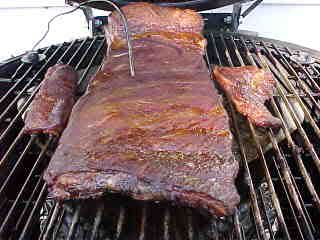 This is a slab of ribs over a full pot of beans. You will have to look close to see the pot of beans under the slab of ribs. The ribs dripping into the pot of beans just adds a great flavor to the beans. The probe you see in the ribs is not taking the temp of the ribs but is pushed all the way thru the ribs and is into the pot. I like to keep my open pot cooking at a very slow boil or simmer for the best results.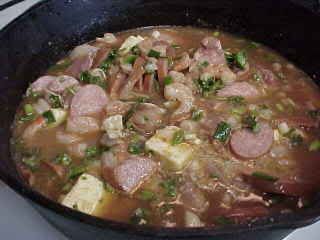 This is my campground jambalaya about ready to go on the smoker. This is very easy to fix and always comes out great.
Again, I love my open pot cooking and do it on all my cookers.