Here in Central Indiana, they are just about giving away whole pork loins at both our local Marsh and Kroger stores. For the last month of so, they have been running about $1.32 to $1.36 a pound and that is a bargain. Most of the whole loins weigh about 5 to 7 pounds. Heck, you can't even buy burger for that price!
You know, you can cook em whole, cut them up for roasts, kinda fillet them open and stuff them with whatever, have the store cut and cube them for great sandwiches, pound em out for your deep fried loin sandwiches, and many other great methods for this wonderful cut of pork. At this price, I have been filling the freezer.
One of my favorite ways to do the loins is to just cook them whole and then slice them up and freeze the slices in bags for the freezer. They re-heat nice in the nuker and make for a quick and tasty meal along with some of Rick's wonderful Pit Beans.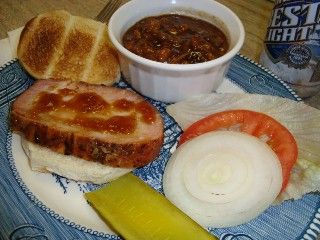 I usually start by laying the loin out and giving it a light coat of my favorite rub which is Smokin' Guns hot about 30 minutes before I put it on the smoker.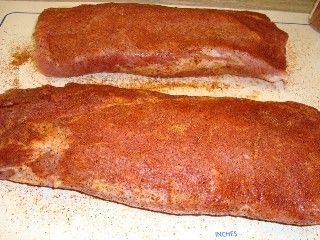 Rick's Blue Ribbon Barbeque Pit Beans are KILLER!!! While I do love about all kinds of baked beans prepared in a smoker, these are much different and have a very unique flavor. They have a slight celery taste that really is great and goes with about all types of meals. I do many other beans but this one is most requested and very simple to prepare as it starts as a canned bean.
I will start with Rick's recipe and we can go from there.
Rick Salmon's Blue Ribbon Barbeque Pit Beans
(as Rick originally posted over on the BBQ Forum sometime back in early 1993)
Two 28 oz. & one 15 1/2 oz cans of Bushs original baked beans
1 12-to-16 ounce bottle barbeque sauce (I use KC Masterpiece)
1/2 onion, finely diced
1/2 green pepper, finely diced
3 celery stalks, finely diced
8 tablespoons of prepared yellow mustard
About 1 pound brown sugar (or what ever it takes to adequately cover)
2 tablespoons powered hickory seasoning (or bbq rub)
2 tablespoon celery seed
1 to 2 pounds of smoked pork or brisket
1 aluminum half steam pan (roughly a 9x13)
Put all the above ingredients in the pan. Mix well. Cover with brown sugar, about 1/2 to 1 inch thick and do not stir in the brown sugar. Put in smoker for about two to three hours at 200 to 225 degrees, I use hickory wood. Let the brown sugar melt down into the beans. Stirring it in is not necessary.
Can be done in the oven.
Use one of the big industrial cans for two half-steam pans. "end quote"
For our home use, I usually do a double batch of these beans in a full sized hotel pan as the beans do freeze well and heat up great. A great side dish for my pork loin.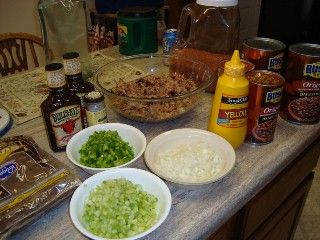 For this batch, I used a couple of cans of the 44oz and a couple cans of the 28oz regular Bushs original baked beans. I also used about 5 pounds of pulled and chopped pork butt. This picture shows the brown sugar going on the top of the bean mix.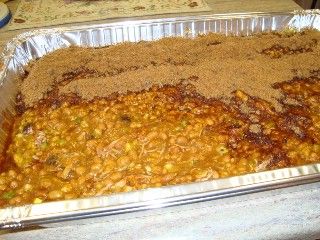 I also doubled all the other ingredients in Rick's recipe and then added a little cayenne pepper to the pan as I like a touch of heat or a little kick in my beans. Probably best to leave this out if you don't like a little heat in your beans.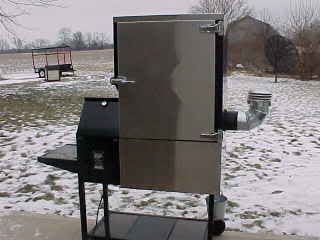 I started the beans first in my old school Fast Eddy pellet cooker and set it on smoke for about the first 90 minutes to be sure I got some smoke flavor in the beans. I used pecan pellets for this cook.
At 90 minutes into the cook, I added the whole pork loin and let is set in the smoke for an additional 60 minutes before I turned up the temp to about 325 degrees to finish my cook. I can't remember for sure but I think it took about 90 more minutes to get the loin to about 140 degrees internal and then I pulled it off the cooker and wrapped it in foil and placed it into a cooler for about two hours.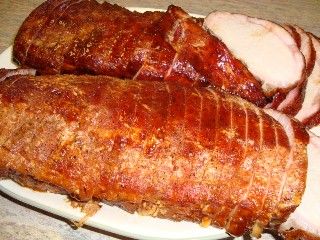 I sliced the loin up and kept out a few pieces for lunch and breakfast and then put the balance into freezer bags and froze it for later use.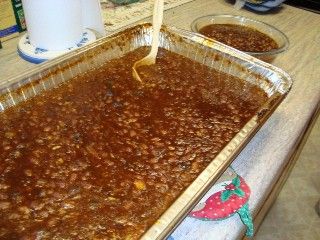 I dished up a large bowl of the beans for our use and then froze the balance in quart containers for future use.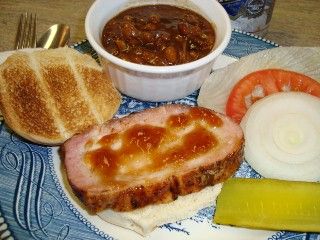 I served my loin up on a toasted bun with some special home made hot sauce along with some veggies and pickle and then added some of Rick's wonderful pit beans for one great meal.