I am always looking for an excuse to do some rotisserie smoking on the Weber kettle and did another ham a few weeks ago and here are the results.
I started with a Cumberland Gap Hickory Hills hickory smoked boneless ham that weighed 10.46 pounds. These are great for a rotisserie setup.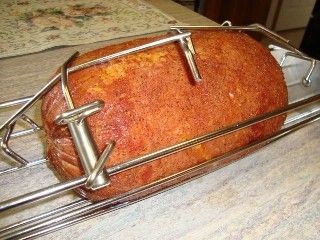 Wasn't much to do to prep the ham other than to sprinkle on a little Smokin' Guns hot rub and place it into my EZ-Que 6" rotisserie setup. A real shame that this company went out of business as they made great products.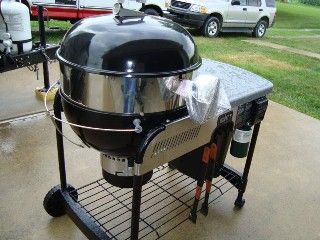 I decided to use the Performer as it was closest to the door and got it all setup with a drip pan and lit it up to have ready for the ham. I used some cherry wood for the smoke and used my battery powered motor for the rotisserie and then covered it with a plastic bag since it was raining.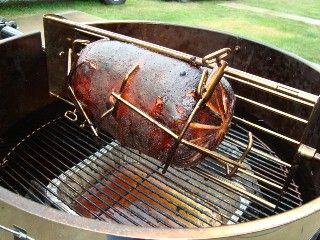 Checked it a little later and it was going good so now it was time for a drink and wouldn't you know it, there is a story behind this drink.
As a competition cook, we usually pick parsley (and all the cooks will know what I am talking about) about 7 to 8:00am on Saturday morning at a contest. My friend Jeff Neals from the Shigs in Pit would bring me a great Bloody Mary drink that was very hot and spicy (he knows I am a chili-head) about this time in the morning and it was wonderful. I really don't do very many mixed drinks as I do like my beer but this was an exception. I asked him to give me the recipe or teach me how to do this great drink as it is killer!
Jeff told me that the first thing I had to do was to infuse the vodka and he got me started with this step.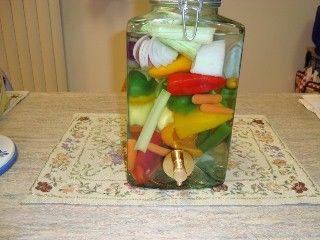 I purchased an infusion jar that holds about 1-1/2 gallons and loaded in several kinds of peppers. Mild peppers like ancho, bell peppers, and bananna peppers, hot peppers like the hot bananna, jalapeno, seranno, and a couple of habenero peppers. Looks better if you select some for the color. Then I added some onions, baby carrots, celrey, and a couple of cloves of garlic. I then filled it up with vodka and let it infuse for about 4 days. I poured it back into the bottles and I was ready to go with the infused vodka. Them used up veggies would probably make a heck of a good pot roast!
For the mix, Jeff suggested several different brands but after trying them all, both Jeff and I prefer the Mr & Mrs T's Bold and Spicy.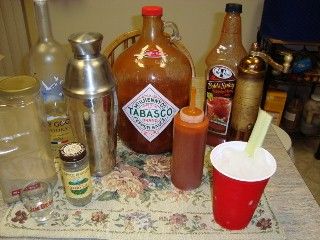 Jeff would suggest that you garnish the rim of a 16 oz cup with lime juice and maybe a rub of your choice or some celrey salt but I usually leave this step out. I usually just fill up the cup with ice and then pour about 1/4 of it into my shaker. I then add about 1-1/2 oz of the infused vodka and about 6 oz of the Mr & Mrs T's Bold and Spicy mix to the shaker. Next comes a 1/4 tsp of celrey salt, and a 1/2 tsp of celrey seed and then a very generous shot of Tabasco sauce. I then grind in generous amount of fresh ground Telecherry black pepper to the shaker. Shake that all up and pour into the cup. Then add a celrey stick, or maybe a Slim Jim sausage stick or pickle or whatever you have.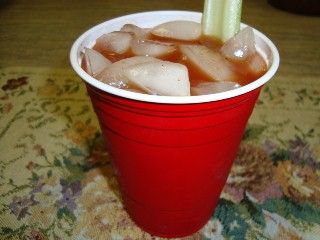 I don't think you can drink a better Bloody Mary. I think the infused vodka makes all the difference in the great taste of this drink.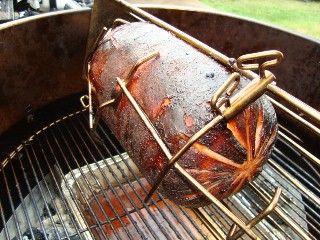 I made up a glaze with some bbq sauce, real maple syrup, and some honey and brushed it on the ham about 30 minutes before it came off the cooker.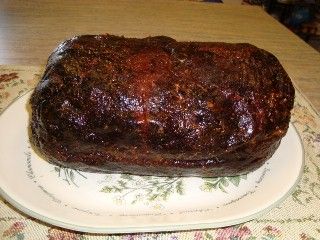 Looked pretty good coming off of the Weber kettle and I let it rest covered with foil for about 30 minutes.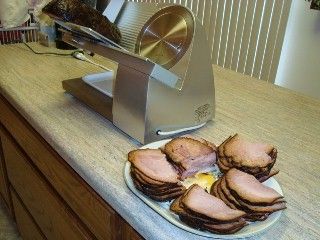 Set my slicer up for thin slices and started slicing up the ham.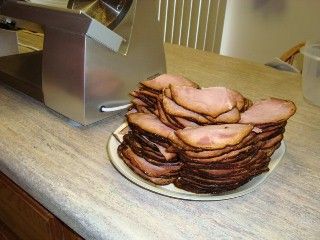 Made up a nice plate of sliced ham and then I got it ready to send out.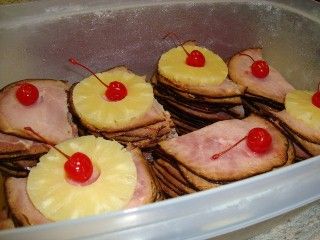 Placed it into another container, added some pineapple slices and juice along with some cherries and sent it on its way.