I had been kicking around the idea of hosting a competition cooking class at the Po-Farm for a couple of years and finally decided to do it this year. I did share this idea with a few friends and they were all for it and said I shouldn't have any problem filling up a class if I could get a great instructor to come in and do it. Well, I only had one person and team in mind all this time and I sure hoped I could get him to fly in and do the class. I had met this fine gentleman a few years earlier when I went East to compete in the New Holland, Pa contest. He and his Father and team were cooking on the same brand of cookers we were using at the time and they did quite well at this big event. It's just got to be Mr Steve Farrin and his "I Smell Smoke BBQ Team." This is a picture of some of the trophies that "I Smell Smoke" has won over the years.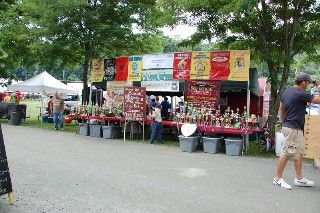 Steve is from near Boston and is a long time competition cook with a tremendous record and has been terrorizing the East coast and other areas for a number of years. Steve has over 30 Grand Championship wins in his career. He has cooked or qualified in the Kansas City Royal about 10 times, the Jack Daniels 7 times, the Gab, and has several 1st place wins in the contest categories. He has many top ten calls and many high overall finishes in the more prestigious and larger contests. Last year, Steve went down to the wire against all the other cooking teams which is over 4700 teams and did finish 3rd and just a few points out from winning the coveted Team of the Year award.
I met Steve at the Jack Daniels and we discussed what I had in mind and he said he would be interested in doing a class at the Po-Farm and just let him know the details and we would work it out.
Since the Po-Farm is out in the sticks and about 30 minutes from the nearest motel, I decided I would need to try to put together a class that could be done in just one day...but would include all the details and information that one would receive in a normal hands on two day class. Would require cooking extra meat and starting a day in advance of the class getting there but could be done with an early start and an intensive day of instruction.
Now, the ball was in my court and I had a lot of work to get done to help pull this off.
I got my friend Jeff Toler to help with setting this class up. We needed tables, chairs, a big coffee pot, to name just a few items. Needed to jury rig a sink in the basement for cleaning and washing hands. Jeff also helped with the purchase of some of the meat. Another friend Steve Creech stopped at the famous Longs Donuts in Indy and brought us some great morning treats.
Steve gave me a list of the products he uses and I had to purchase most of it to be ready for the class.
My wife Jan was in charge of planning the snacks, drinks, and lunch for the event. She also did all the running and picking up the products for me and that was a big plus. Items like notebooks, pens, tablecloths, nametags, trash cans, and this list just never ends.
I sent out a note on the class to about 27 friends explaining that we were hosting a KCBS type of competition cooking class with Steve Farrin as the instructor and included this paragraph in the note.
"The class is about KCBS contest type of cooking and will cover all 4 meats from the selection and cut of meat to the presentation of the meat at a contest. Steve tells me that he will give it all up. We will learn how he cuts and trims and prepares each cut of meat. We will learn about the rubs that he uses, marinades, injections, products used in the foiling process, sauces and sauce blends, methods, how he presents the meat in the presentation boxes, and all the other tips and tricks from his arsenal".
I got a quick response back from most of them and it filled up very quickly as we only had room for about 20-22 people. We ended up with several people from out of state with one fellow from South Carolina who would travel the longest distance. We ended up with 23 people taking the class and that was about right for the space that we were working with.
We has set the date for the class at Saturday December 4th and I was hoping for good weather. Didn't happen!! First snowstorm of the year and expecting about 3-6 inches of snow.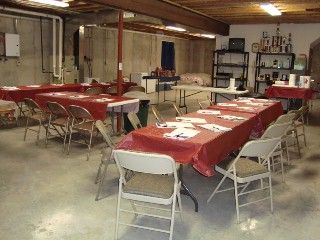 A few days before the event, we did have the basement setup for the class.
I also moved the cookers he wanted to my cooking patio which included the Backwoods Party, the FE 100, and a Weber kettle.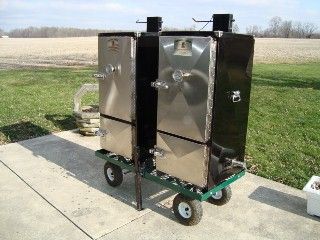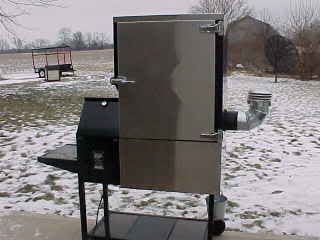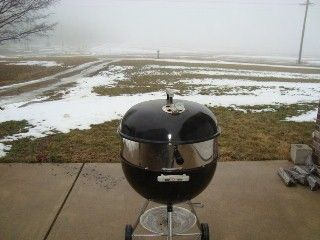 Jan picked up Steve and one of his team mates Charlie Pini at the airport on Friday morning before the contest and brought them out to the Po-Farm. Got them settled in and they went to work as they needed to trim, inject, and rub the over-night meats and get them into the cooler. We needed one round of both the pork butts and briskets done by 7:00am on Saturday morning and into the holding cooler.
Everyone showed and on time for our 7:00am early start class.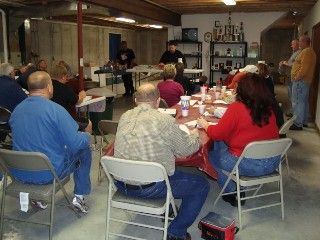 This is a picture of Charlie and Steve ready to start the class.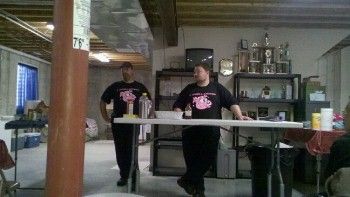 From my point of view, the class went very well and I sure learned a lot that I will use in the coming year. Steve and Charlie were great instructors and covered everything that they do in a contest. From selecting and trimming the meat, to the rubs, injections, marinades, the handling of the cookers along with the smoke woods, the products used in the foil wrapping, the mixing of the sauces, prepping the turn in boxes, and presenting the meats. We also received pass out sheets on the products they use along with the recipes used for mixing up these products. Since the class was done a little out of contest order to get it done in one day, Steve also sent us his timeline for a normal contest.
I will include one of Steve's pork presentation boxes to give you an idea of what he turns in at a contest.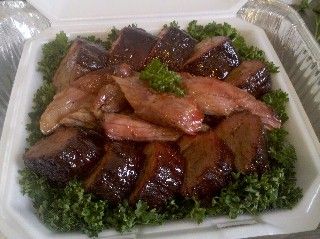 Steve and Charlie did a great job with the class and cooking in the cold and snow and I sure would recommend this cooking class to any competition team interested in improving their cooking skills and getting into the winners circle quickly.
Steve can be reached at ismellsmoke@verizon.net
I would also like to thank Stephanie Wilson of www.theslabs.com for furnishing some sample packs of the Slabs products for the class.