For this cook, I needed maximum indirect grilling space so I chose my classic Char-Broil 940X and then added a second grid to this cooker to get even more space. I planned for about a 5-6 hour cook so I used a smaller fuse burn so I wouldn't have to fool with it all day.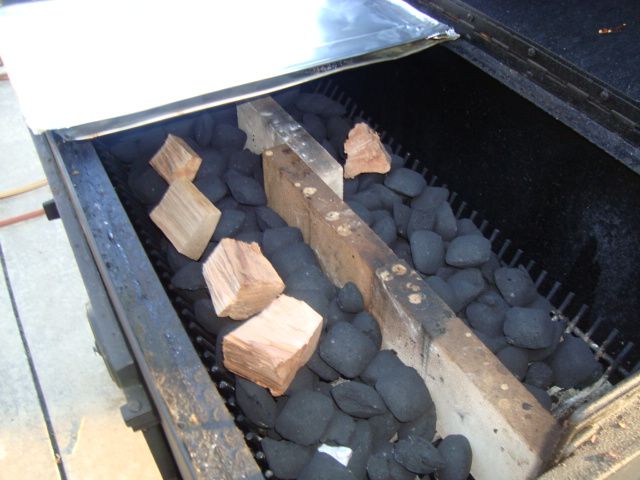 I poured in about 13 pounds of the Wicked Good all natural brickettes into the firebox which I had divided out with 3 firebricks and then added some hickory chunks for flavor wood. Used a Weber fire cube to start it off in the front end of the cooker.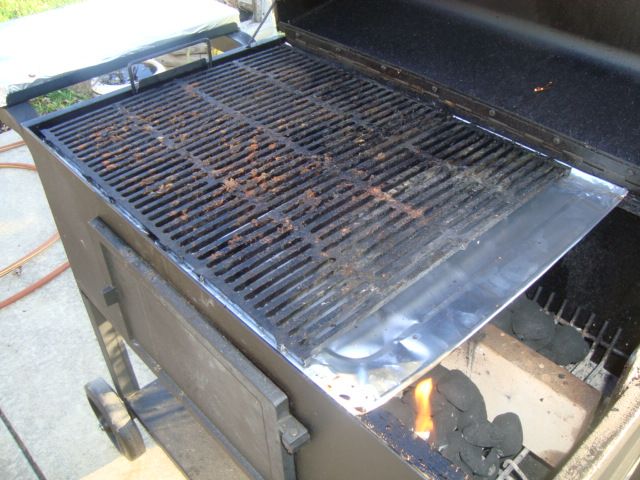 Since I needed maximum indirect grill space, I used two full hotel pan covers right under the cooking grids on the left side of the cooker and this just left me with about 1/4th of the cooker direct and I needed this to keep the cooker flowing correctly. With the smoke and heat coming up on the far right side of the cooker, I planned to use only the exhaust vent on the Left side of the cooker which will pull all the smoke and heat back across my food for the best flavor. As with all my fuse burns in this cooker, I used the front service door for my air intake to the fire.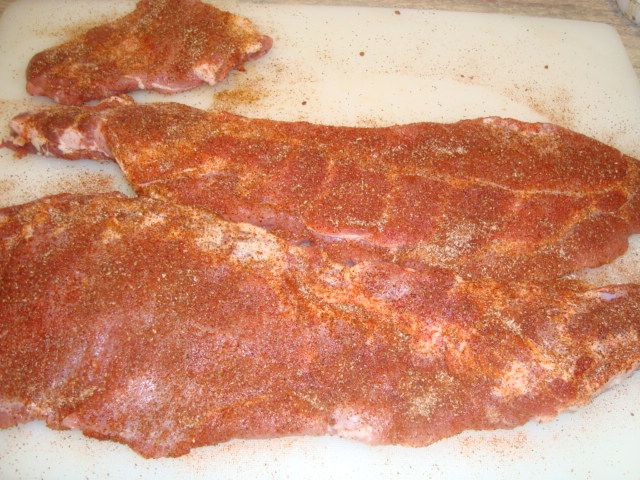 These rib tips were trimmed off of those big "bronto" spare ribs I get from the Kroger store which I store in the freezer until I make sausage or just want some tips. I gave these a good sprinkle of my no-carb rub and they were ready to go.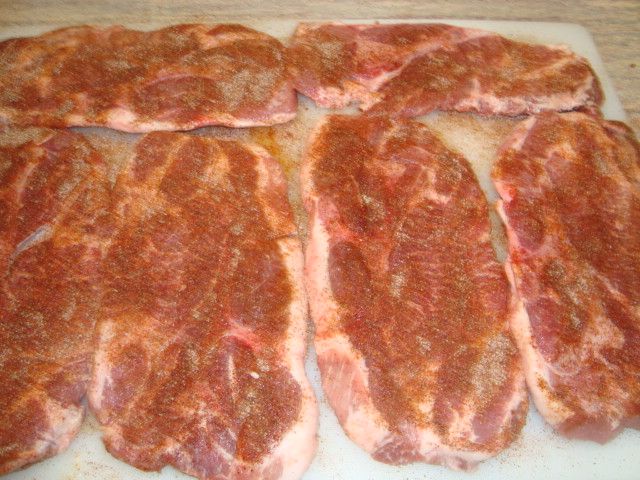 This package of pork steaks has 6 nice slabs and they as well were prepped with my rub.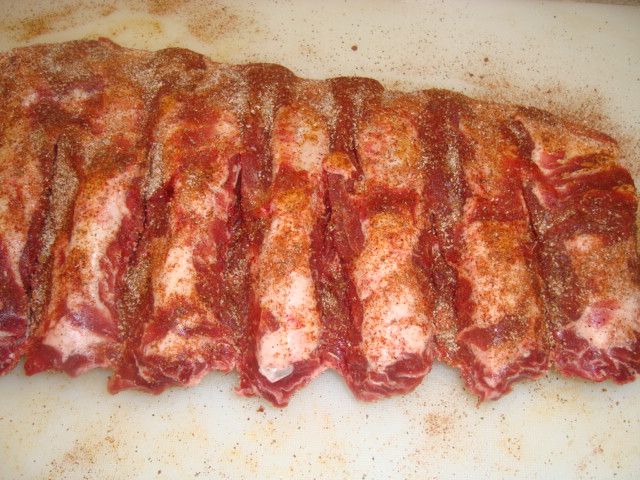 Good meaty beef ribs are about impossible to find in my area so I usually fall back on these lousy looking beef ribs from wallyworld. They are injected with salt water and trimmed way to close to the bones. I do live with them once in a while as I guess they are better than nothing. I used my no sugar Texas rub on the beef ribs.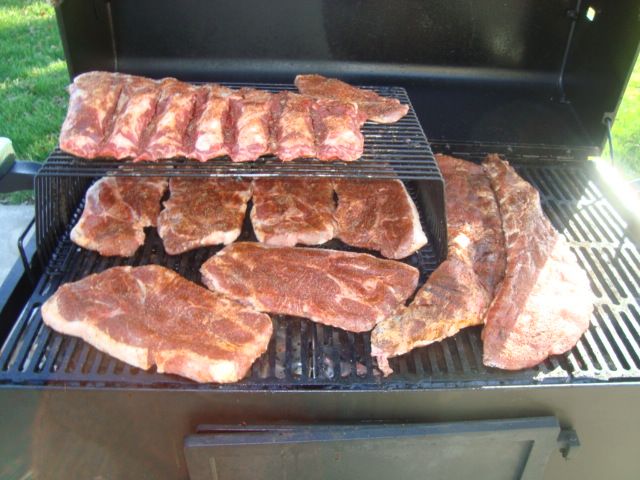 I managed to get it all loaded on the indirect part of the cooker and it took up all the space I had allocated for the cook. I had the beef ribs which I think will take the longest on the raised second grid which runs a little hotter that the standard level in the cooker.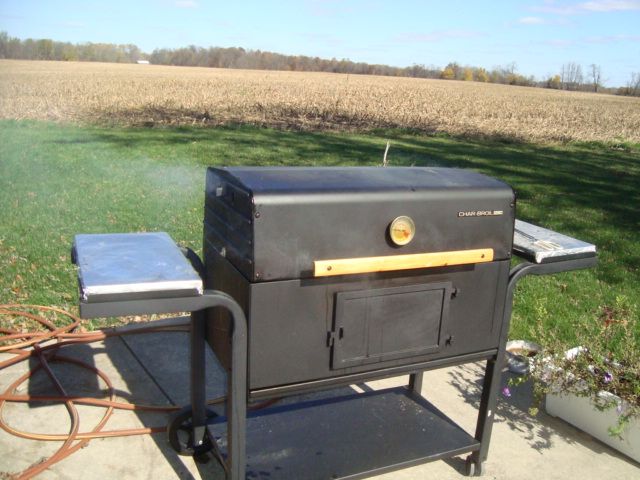 Nice cool sunny morning with just a light frost and a great day to be outside and cooking something.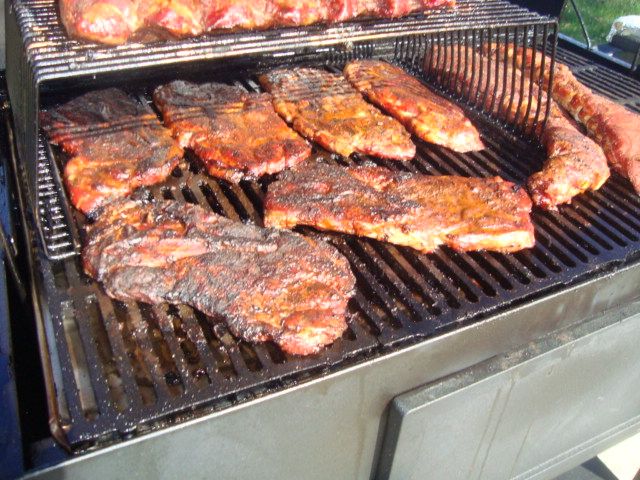 Pork steak about done so I slopped on some low carb bbq sauce and then let them glaze for a few minutes until they were done to suit me.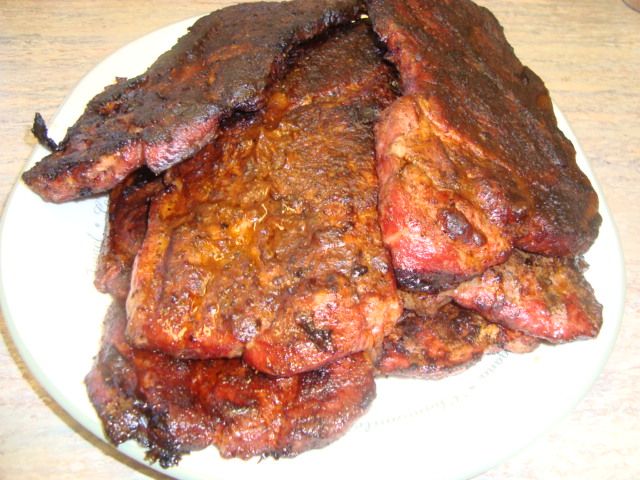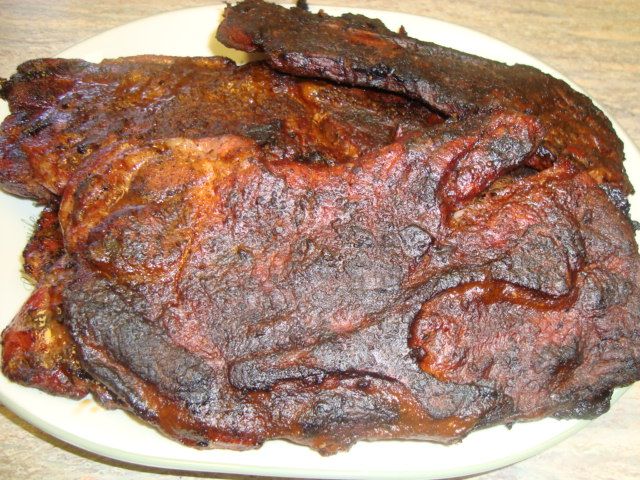 Hard to beat the taste of a well prepared pork steak in my opinion.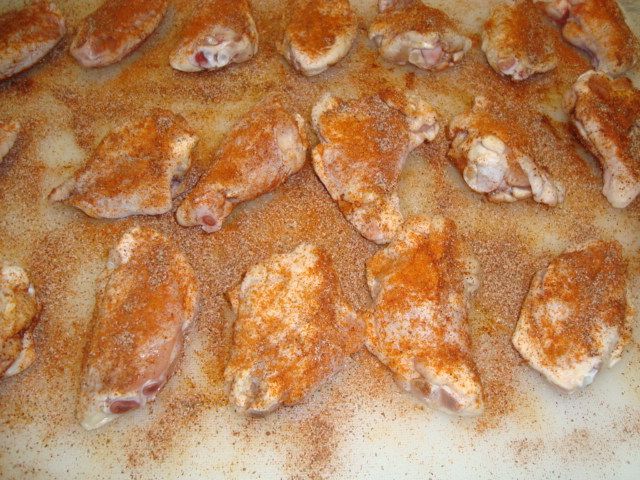 With the pork steak off, I had room for my hot wings so they got a dose of rub and a heavy sprinkling of ground cayenne and they were ready for the cooker.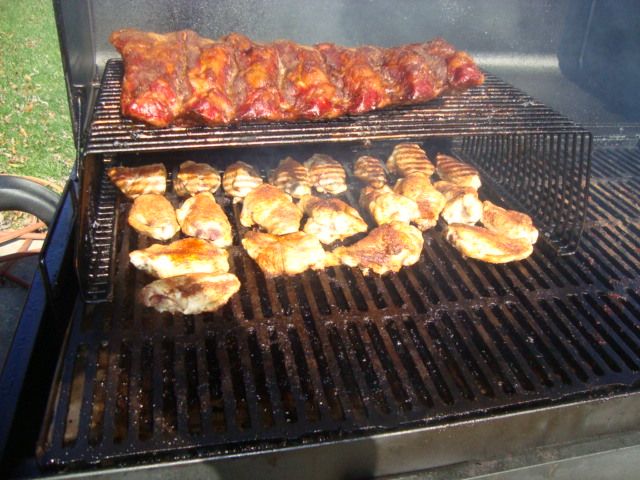 I got them on under my beef ribs.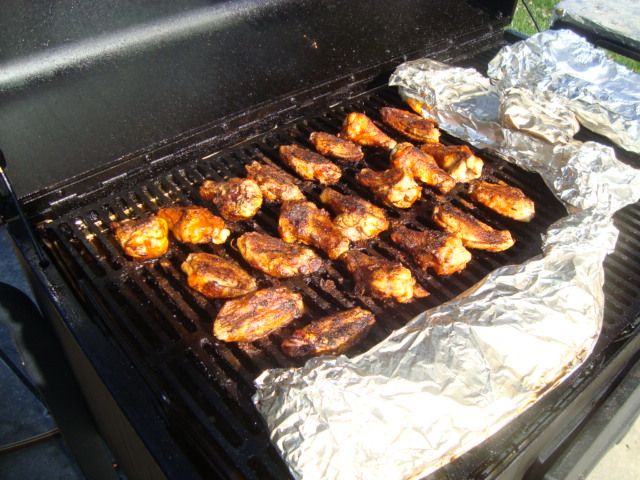 Next step was to wrap the beef ribs and I used a little broth and some Splinda in the foil for additional flavor.

The rib tip pieces were wrapped as well with the above broth and sweetener.

About the same time, I slopped on a heavy dose of my hot sauce which consists of a large cup of Frank's hot sauce, bout 1/3rd stick of butter, one tbl Splinda, and 2 tsp ground cayenne pepper.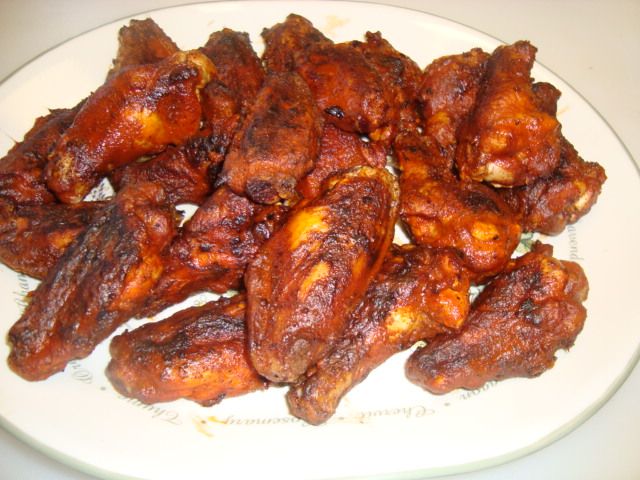 Hot wings just of the cooker and I couldn't wait and ate one....oh my!!!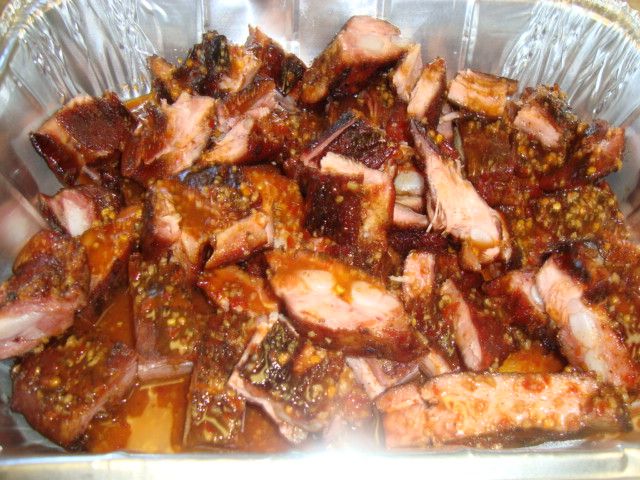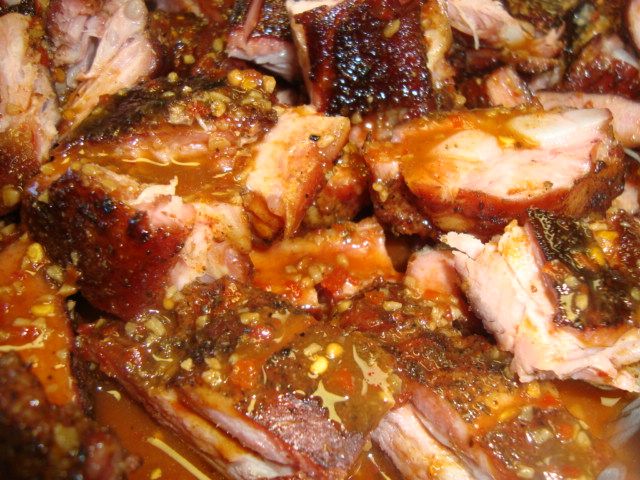 Later into the cook, my rib tips came off the cooker and I cut them to size and placed them into my pan. I added a little pork marinade and mixed it all up and then back on the cooker.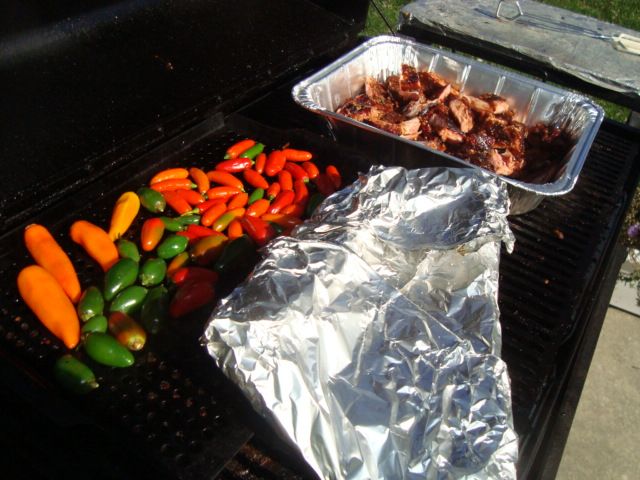 Had a few peppers left so I added them to my cook.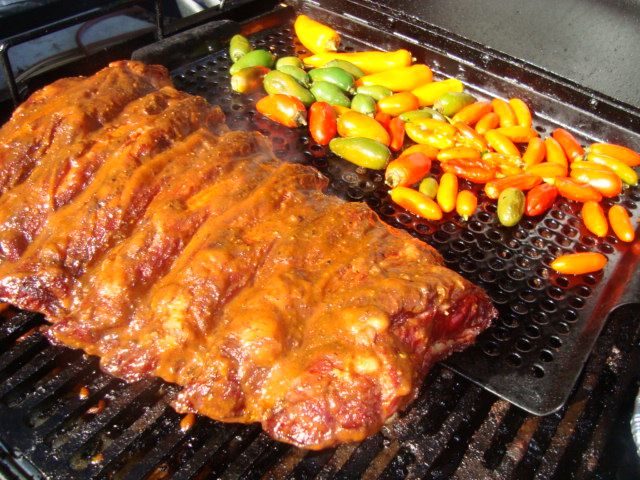 Later in the cook, I unwrapped the beef ribs and slopped on a heavy dose of my low carb sauce.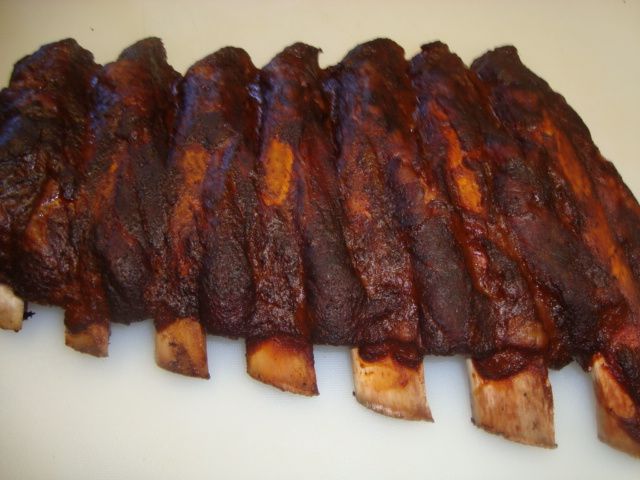 The beef ribs come off the cooker looking good. At this time I poured some sauce into my rib tip pan and stirred them up real well.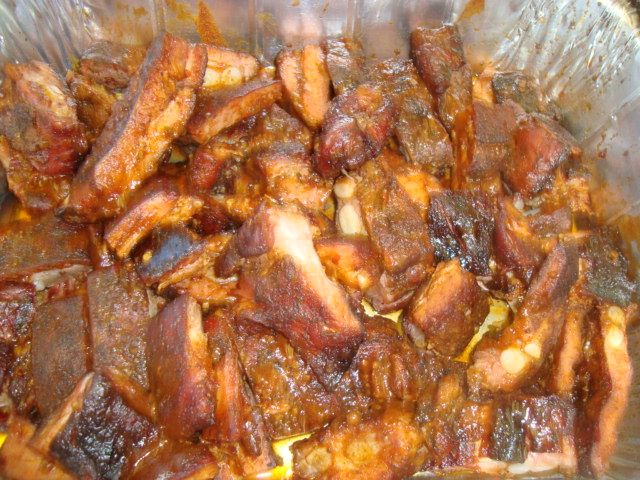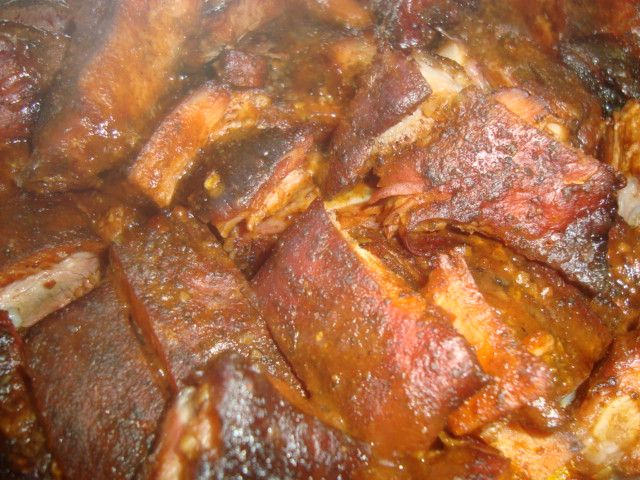 After my tips come off the cooker, I plated up my meal.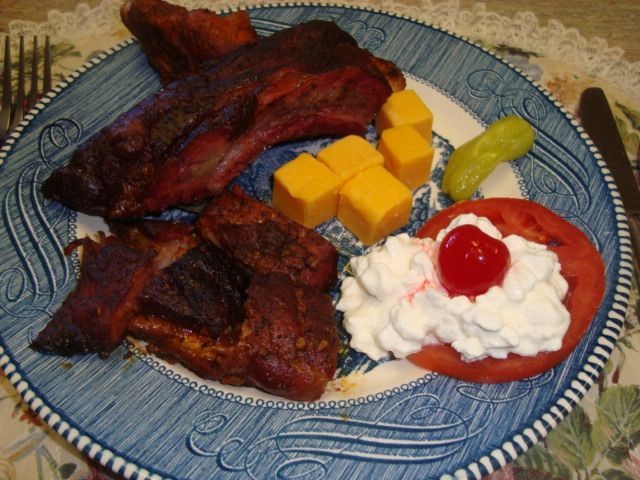 I had one big beef rib, 4-5 rib tips, one hot wing, and some salad, cheese, and veggies. Made one nice low carb supper.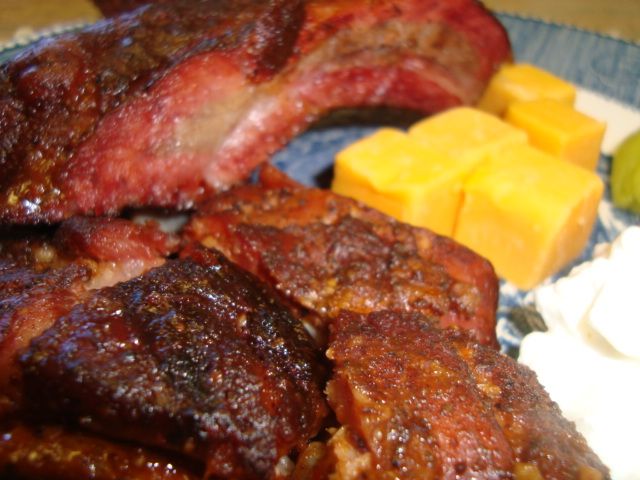 Not that it means anything, look at that smoke ring on those beef ribs.