This spicy chuck roast treat makes for a fine sandwich or is very good as a main entree on a plate with some veggies.
Ingredients:
2-1/2 pound chuck roast
1 large bell pepper
1 large onion
1/2 jar sliced smoked red peppers
2-3 jalapenos sliced
3-4 cloves of garlic minced
1/8 cup Worcestershire sauce
Salt, pepper, granulated garlic
About 12 oz of beef broth, water, or wine, or beer, or your favorite liquid for beef. I made up some beef broth for this cook.
Small can of sliced mushrooms
Swiss cheese
Horseradish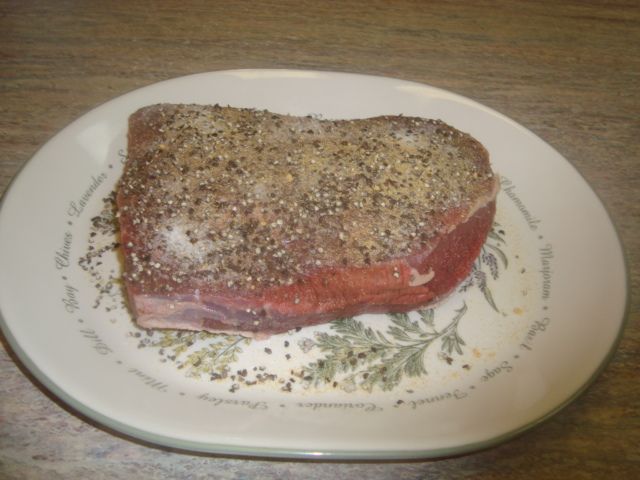 I prepped the roast by trimming off some fat and then applied some Kosher salt, butcher cut black pepper, and some granulated garlic and let it come up to temp for about 45 minutes.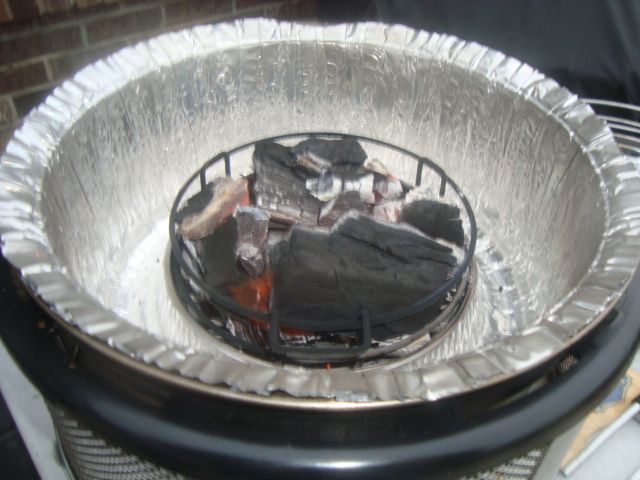 Put a foil liner in my Cobb grill and then added a full charcoal basket of lump charcoal and on top of the charcoal, I placed my foil packet of Jack Daniels wood chips for my smoke wood.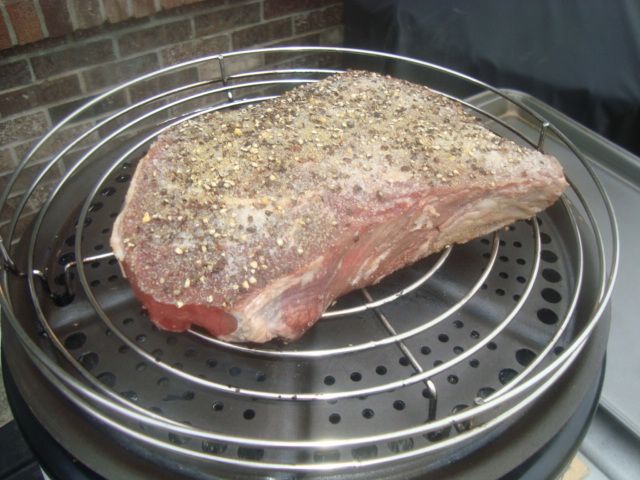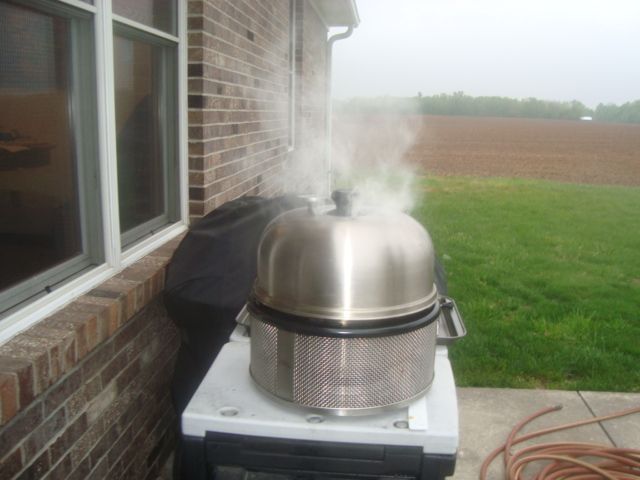 Placed the meat on the roast rack and started my cook.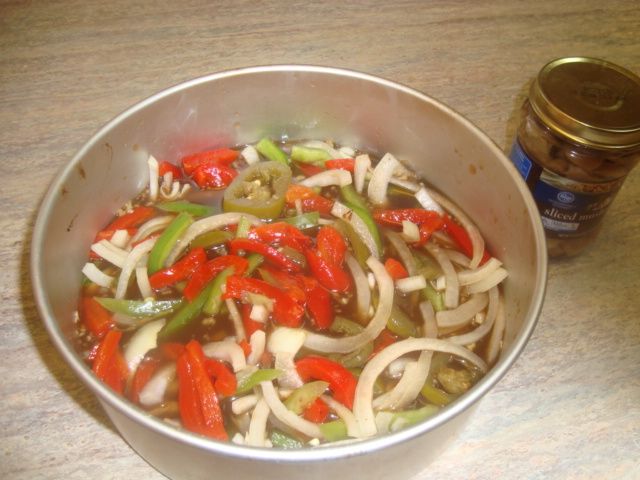 Next step was to cut up all the veggies and get them into a container that would fit my little grill.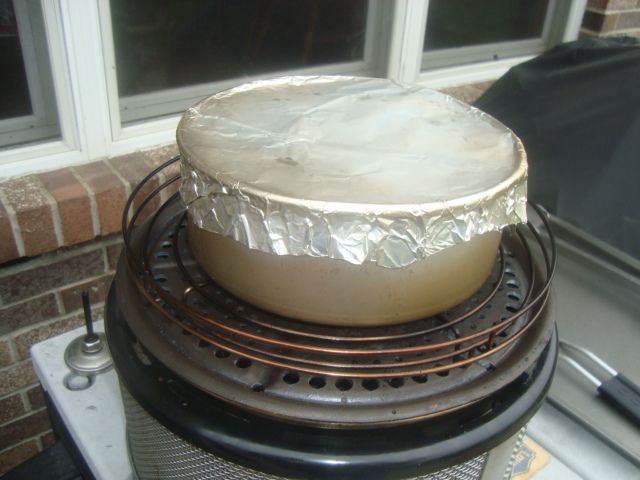 I cooked the roast to about 165 internal and then placed it in my pan over the veggies for the remainder of the cook. I also foiled the pan at this point into the cook.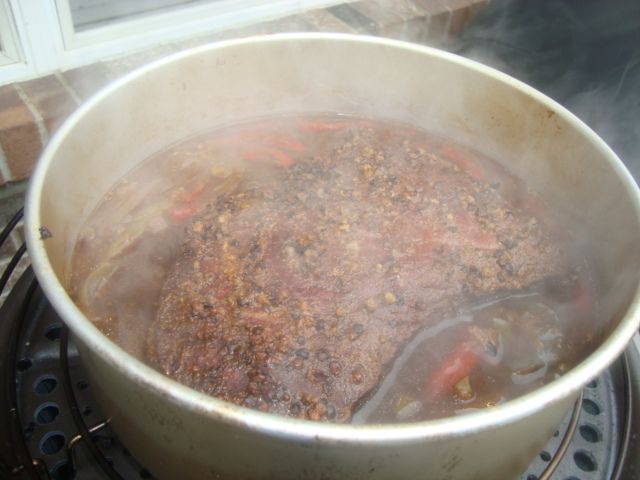 I cooked the meat to an internal of about 210 degrees to be sure it would pull or shred like a pork butt.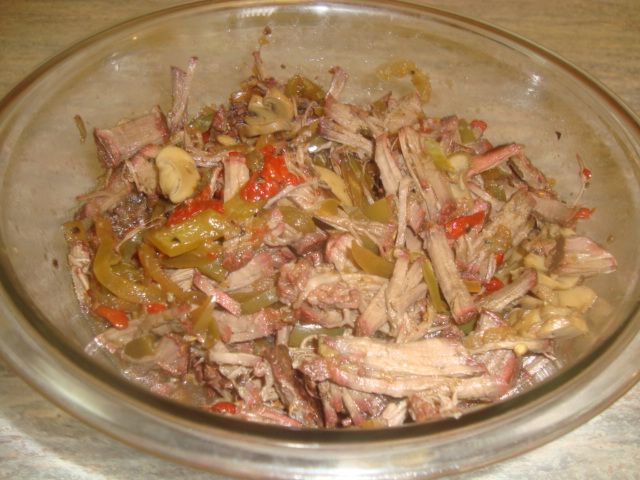 Pulled the meat and then added my sliced mushrooms and stirred it all together and my treat is ready for a meal.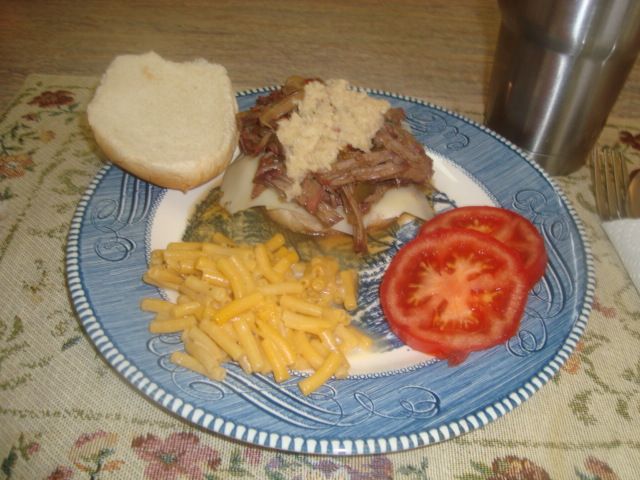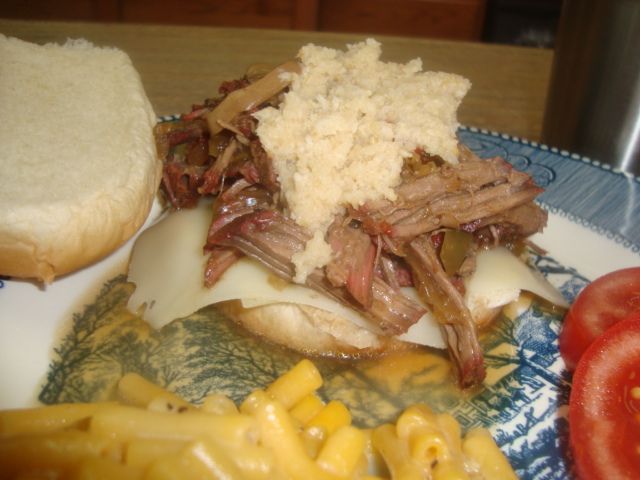 I started my sandwich by placing a couple slices of Swiss cheese on the bottom of the bun, then added a generous portion of the peppered beef, and then on top of that, I added a huge dollop of horseradish. I then dipped some of the juice (soppy) from the pan over my treat. It was so juicy that I had to eat the sandwich with a fork.
It's gonna make one hellaciously good Beef Manhattan today!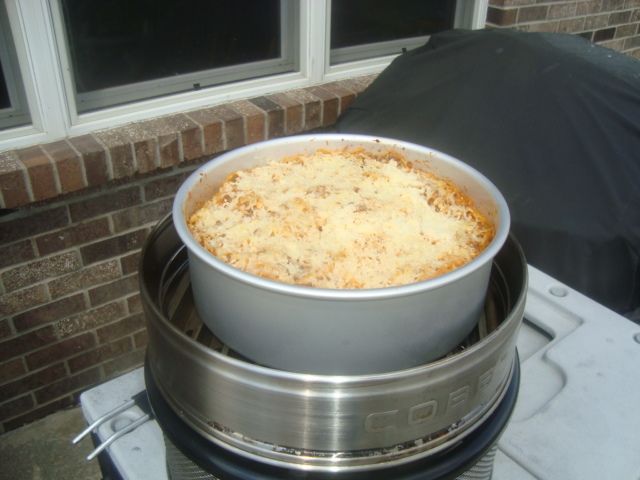 Saw a recipe on the web for spaghetti pie from the Food Channel and it looked pretty good so I decided to try it. The dish consisted of ground beef, onions, pound of pasta, marinara sauce, eggs, ricotta, mozzarella, Parmesan, and some Italian spices.
Anyway, put it all together and poured it into a cake pan that would fit the Cobb Grill and baked it about 45 minutes at a temperature of about 285-300 degrees. Recipe called for 30 minutes at 350 but the Cobb didn't get up to that temperature with the big load. I think the pan was about 1" in diameter too large for good air flow on the cooker.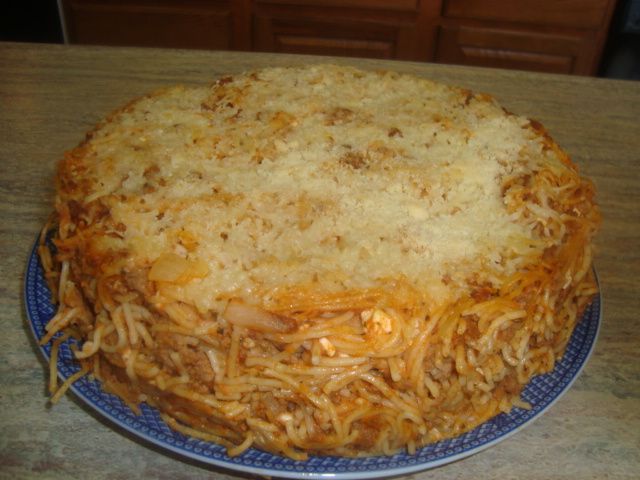 Got that big blob out of the pan and it looked great.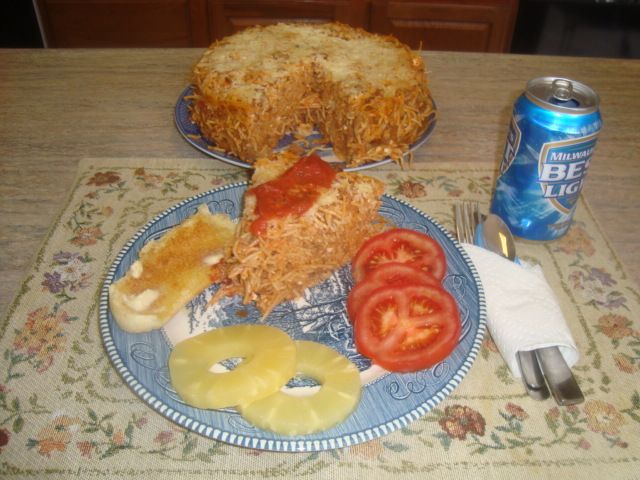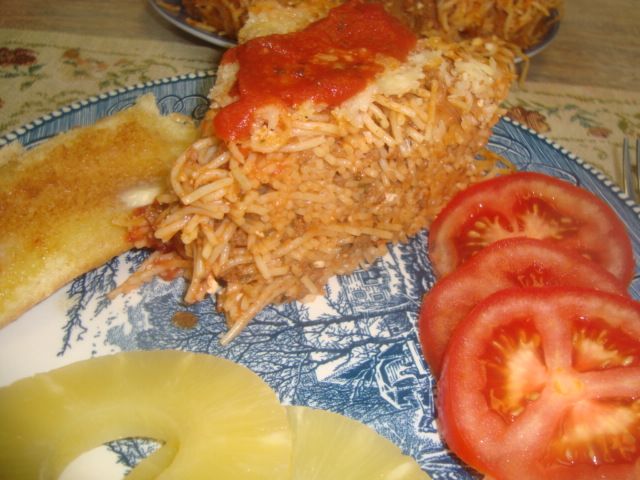 Added some sauce over the spaghetti and the wife made up some garlic buns and this turned out to be a very good meal.
Will probably do this one again....