I grill with charcoal for fuel on several of my cookers which would include my ceramic cookers, Backwoods cookers, WSM cookers, Weber kettles, Weber charcoal chimney, and a couple of home made cookers. I do this both direct which is over the fire with the drippings from the meat going straight into the fire and also indirect with a drip pan between the meat and the fire. Most of this grilling is done at elevated temperatures over lump charcoal.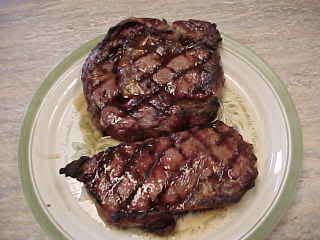 Ribeyes are really hard to beat cooked over a very hot lump charcoal fire with the meat just in the tip of the flames on an outside cooker. The above ribeyes were cooked on my WSM smoker.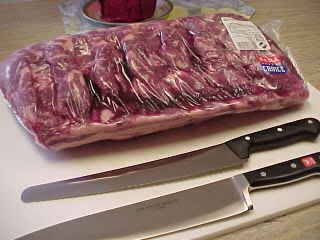 Great steaks MUST start from great meat!! For my ribeye steaks, which is by far my favorite steaks, I usually purchase the whole CHOICE ribeye loin and then cut the steaks into the thickness to suit me. Many times a year, in my area, the select grade will be on sale but in my opinion, spend the extra $1.00/2.00 a pound to get a better grade of meat. It must be choice or above!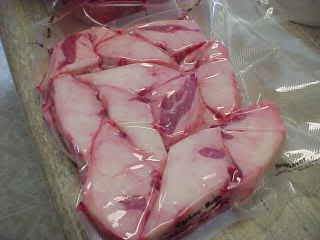 The first thing I do with my whole loin is to cut the tail off of the steaks as I want this fat for sausage or hamburger. I vacuum seal it and freeze for later use.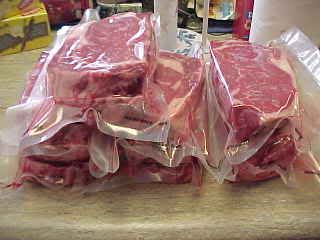 For our regular ribeyes steaks, I cut them about 1-1/4" to 1-1/2" thick and then vacuum pack them for the freezer. We also like what I call a State Fair steak sandwich and for this treat, I cut the steaks to about 1/2" in thickness.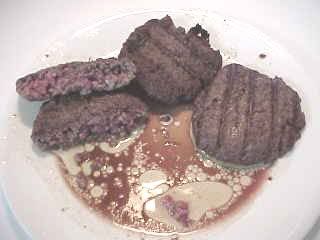 Just like your steak, great burgers start out with great ground meat. Never, I say never, if you want a great tasting hamburger, buy any ground meat that is leaner then chuck. And even with chuck, you will need to add some fat for the best results if you are grinding your own meat. If you want something leaner than chuck, grind up some liver and it will have about the same amount of flavor and moisture as a brick on your bun! I put burger ground from sirloin and round in this same catagory. FAT makes a great burger!! I usually make my burgers from the fattest cuts I can find and then add more fat from my other meats. I think about 65%lean and about 35% fat really make the best burgers. You bite into on of my home ground FAT burgers and all the juice and flavor from the fat will squirt into your mouth and you will think you have died and gone to heaven! The flavor is wonderful! Stay away from those bricks!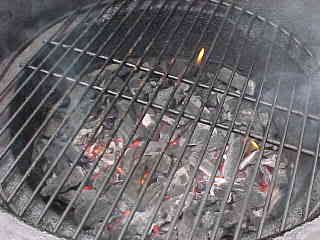 For the best steaks, you really need a hot fire and this takes a lot of lump charcoal as you see in the picture. This is my Big Green Egg with a full load of coals and all fired up and waiting for some steaks!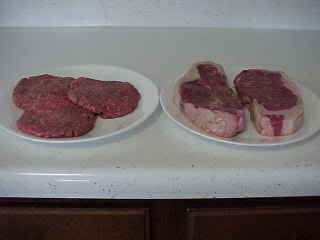 These are some fat burgers and a couple of ribeye steaks that have been salted and peppered and ready to go on the cooker. I will sometimes use a little garlic powder on my steaks as well but nothing else.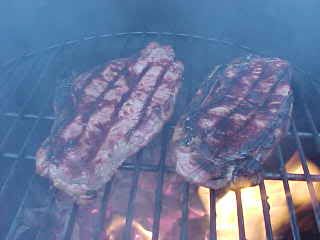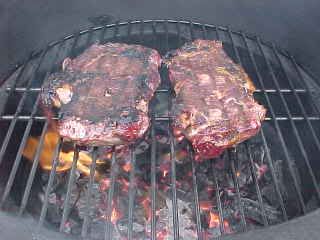 With a good hot fire like you see in the picture with the flames licking at the bottom of the meat, a great steak cooked to about rare or medium rare will only take about 3-4 minutes a side.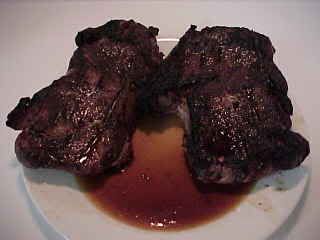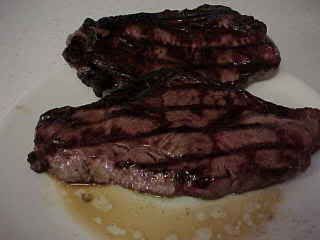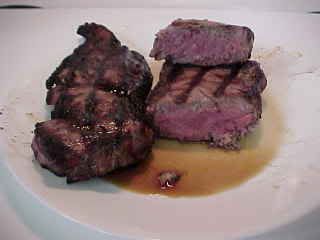 Now those are nice looking ribeyes ready for the plate.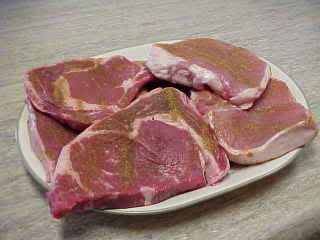 This is a plate of my State Fair cut ribeyes along with a couple of butterflied pork chops. They sell a sandwich with this cut of meat at the fair and it is just a killer meal. I cut them around 1/2" to 3/4" thick and then grill them at a high temp over lump charcoal for just a few minutes a side.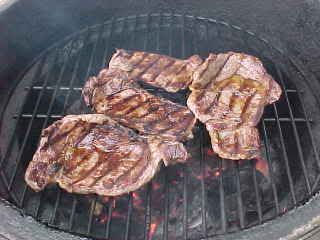 With a hot fire, they only take a couple of minutes per side. If I am serving to a group, I hold the steaks in a pan of hot Lipton onion soup. They come out of the onion soup and then onto a big bun for serving. It doesn't get any better than that for a sandwich.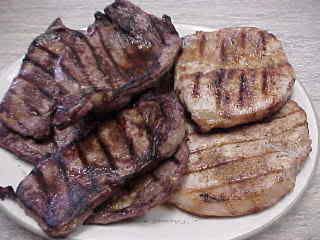 This is a few of the State Fair steaks done on a plate with the butterflied pork chops. Good stuff!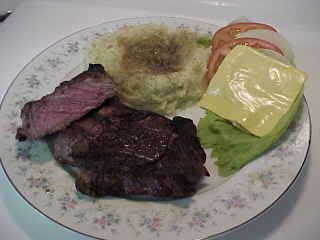 One of my favorite meals is a good steak off of my large Big Green Egg.
All my Backwoods cookers have the removable water pan which allows me to cook steaks and chops on them at just the tip of the flame with a lump charcoal fire if I want and these cookers will also do a great job with a steak meal.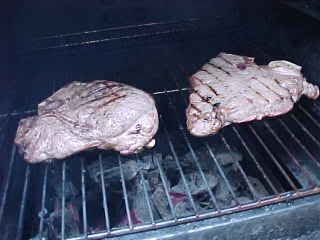 T-bones on the Backwoods smoker.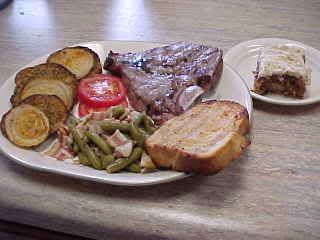 Another great steak dinner.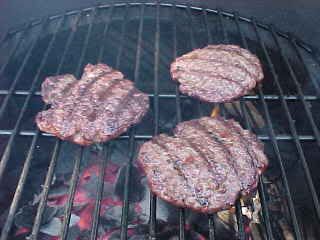 I do burgers both direct and indirect at many different temperatures as we do eat them often and I can usually find some room on any cooker for this great treat when cooking our other meats. Burgers are just wonderful as long as they are cooked over a charcoal fire.
For cooking them alone on a cooker, I prefer to do them direct on my ceramic cookers or my Weber kettle at the very high temps like I use for my steaks.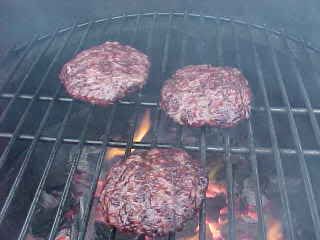 The above pictures show the burgers being cooked direct on a very hot fire. They cook in about the same amount of time as the steaks for rare and medium rare and that is about 4 minutes a side on a hot fire with the flames licking at the bottom of the meat.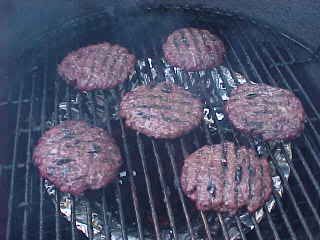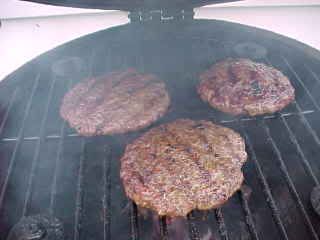 The above pictures shows some burgers being cooked indirect on a ceramic cooker. Using a cooking temp of about 325-375 degrees will also make a great burger but it does take longer.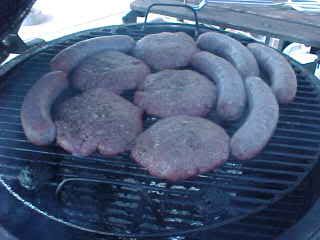 This is a mixed cook of burgers and sausage links just going on the ceramic cooker.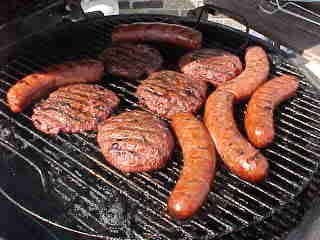 About done on the cooker and looking good.
Doing this article and seeing all the pictures sure makes my hungry so I think I will lay out some steaks for supper.