While scrounging around my files looking for a sausage picture, I came across this very first bake on my Weber Smokey Mountain (WSM) cooker. I think this bake was done in the Winter of 1999.
I set the cooker up for baking on my hearth and then fired it up and waited for it to get up to about 475 degrees which is the temp I wanted for my two "Thick and Chewy" crust pizzas.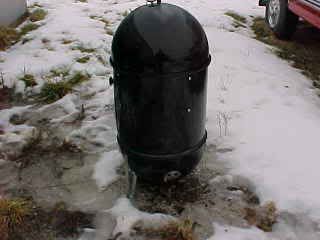 Was a cold Winter day with some snow and the WSM did a fine job with this bake.
I made enough dough for two 14" thick and chewy pizzas in my Kitchen-Aid mixer and prepped the first pizza and placed it on the cooker.
While the first pizza cooked, I made up the second pizza and had it ready to go when the first pizza came off the cooker.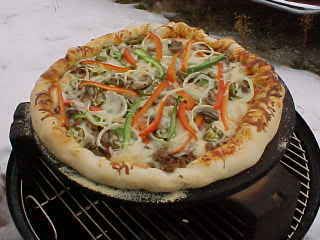 This great little cooker does a great job with about any type of task that you can throw at it and does it well.
You can find more information on how I setup and bake on this cooker under "WSM Cooker" in the "Table of Contents".