Along with my Charcoal Grilling / Beef article, we also grill many other items both direct and indirect over a lump charcoal fire in most of our cookers. These cookers would include my ceramic cookers, Backwoods cookers, WSM cookers, Weber kettles, and the Weber charcoal chimney.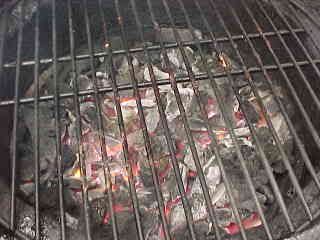 For grilling, you do need a very hot lump fire for most of the treats done on the cookers.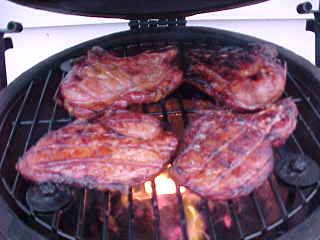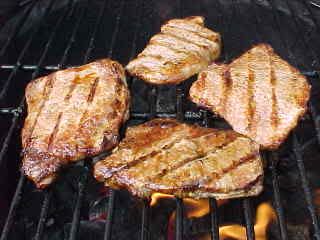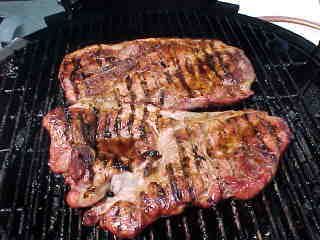 We like both our pork chops and the real thin cut pork steaks grilled over a hot lump fire in the cookers. Just apply a little rub of your choice or just salt and pepper and grill them a short amount of time over a lump charcoal fire and enjoy.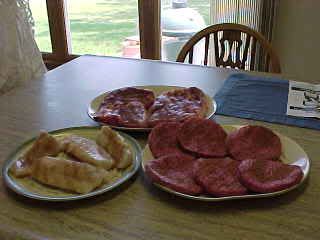 Fish is another great meal that can be done either direct or indirect on a grill or smoker. I usually do all my fish direct over a hot fire and it doesn't take very long to cook. This was a mixed grill of fish, fat burgers, and pork steak.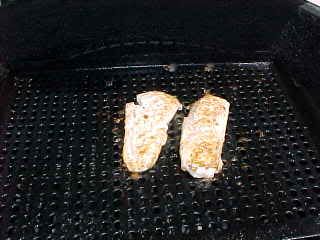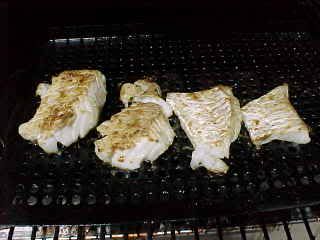 This picture shows some fish on a perforated vegetable or wok type of pan and works great for those items. This cook was done in my Backwoods cooker with the water pan removed from the cooker so I had a direct fire over the coals for the fish.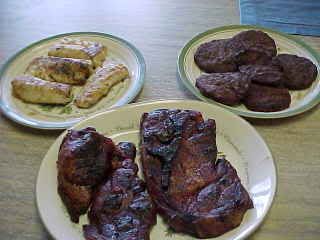 Great fish from my direct cook over a hot lump fire.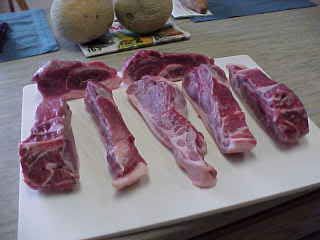 Here is another meat that in our area is called Western ribs. The ribs in the picture average about a pound each. They are cut out of a pork shoulder or pork butt and can be quite good but not even close to the REAL country ribs that are cut out of the loin. It is very difficult to find the loin cut country ribs in my area at this time and when you do, they are very pricy but usually worth it!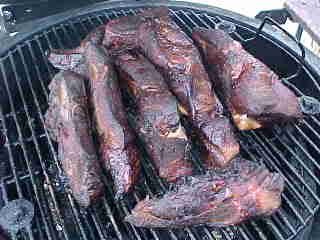 I like to cook or grill the Western ribs indirect on a raised grid in a ceramic cooker at a temperature of about 325-350 degrees. I use a pork rub and then finish them with a good bbq sauce and honey glaze. One of these one pounders along with a few slab potatoes and a salad, makes a good meal.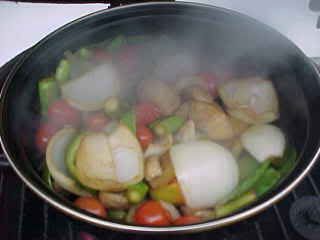 Mixed veggies are a great treat that can be grilled direct over a very hot lump charcoal fire and is a wonderful side for your other grilled meats or even a whole meal with just a big chunk of garlic bread. We do these often and love them with many different meals.
As you can see in the above two pictures, we cook them over a hot lump fire in either a vegetable basket, or sometimes called a perforated wok, or maybe a grill topper, or in a perforated pot like you see in the second or lower picture.
The best recipe and method I have ever seen for this treat comes from my friend Mr. Chris Cappel (Nature Boy) and the owner of Dizzy Pig Rubs. He posted his method with these veggies in November of 2001 on the BGE forum and I will share some of this with you as it is just a "killer" way to prepare this dish.
Quote
My favorite combo of veggies is asparagus, mushrooms, sweet onions and pineapple, but other combos work great as well. Green beans, red peppers, onions is one more example. Or maybe Zucchini, shrooms and onions. The possibilities are vast, and only limited by your imagination. Mushrooms, sweet onions and pineapple really add a lot IMO.
I slice the veggies and put them in a large bowl about 30 minutes prior to cooking. Nice big chunks. Then in a small bowl I mix up seasonings...again let your imagination go. The critical thing is to use some oil in the mix to "coat" the veggies. As an example of something I do often:
1-2 tbsp soy sauce
1-3 tbsp wine, sake or mirin
1 tbsp oyster or fish sauce
1 tsp of garlic powder (or fresh garlic)
1 tsp sugar
pepper to taste
and 2 tbsp or more of peanut oil.
Maybe a bit of sesame oil, or a tsp or so of your favorite rub. Maybe some lime juice.
Pour over veggies and toss with your hands to coat. Let sit 15-30 minutes. Any longer and the salts start yanking moisture out of the veggies and they shrink.
Once you have a good hot fire, and a glowing bed of coals all the way accross the firebox you are ready (not a huge load of coals like you would use for turbo temp steaks, but a smaller load, like what you have left after cooking chicken pieces). Place the grill topper wok (sprayed with oil) on your grate directly above the inferno, and close the lid. Dome should read between 500 and 750. After a minute or so carefully open the lid, and dump the veggies in. It should make a crisp sizzling noise as the veggies contact the hot steel. Spread the veggies out fairly evenly and close the lid. After 2-3 minutes open and stir well. You should see a hint of browning on some of the veggies. Close lid again and wait another couple minutes, and repeat this process until they are done to your liking. 5-8 minutes usually is perfect. We like them with a bit of crunch.
Cooking in a regular wok is good, and you will end up with plenty of juices, but it is not the same. There is something really special about the effect that the high heat, open flames and smoke have on he veggies. It is impossibe for me to explain. Just try it!!
UnQuote
Thanks Chris for one of the best recipe I have ever used for mixed veggies and please do try this with the veggies of your choice. I have used about every veggie out there with the above method and they have all come out wonderful.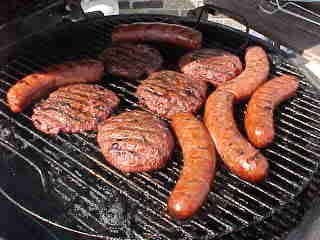 Any type of sausage links are great grilled on a cooker. Can be done either direct or indirect at about any temperature with good results.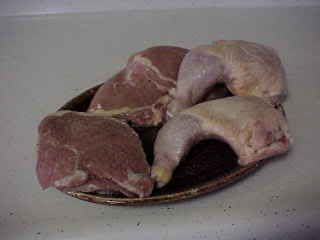 All poultry is great grilled on a cooker but you must be very careful to get it done to where the juices run clear or the internal temperature is at least 165 degrees or above.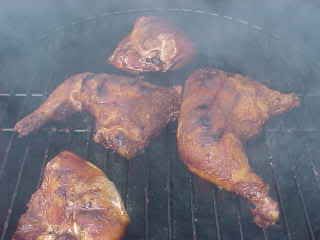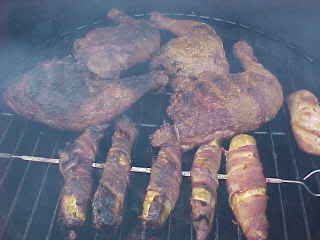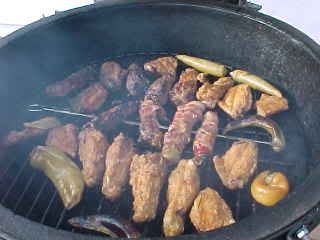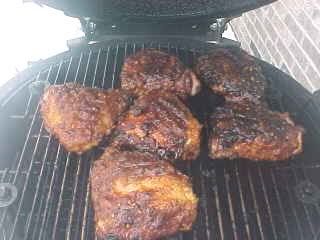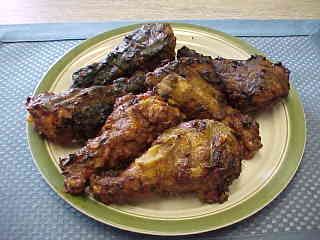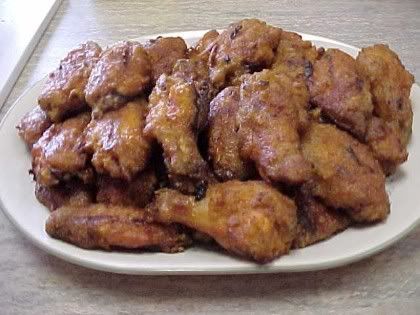 Poultry can be cooked either direct or indirect at about any temp above 250 degrees but if done by itself and the cooker can run hotter, it is usually the best when cooked at or above 350 degrees grid temp. It is also a good ideas to place the chicken in the cooker where it doesn't drip down on your other food while cooking.
There are other articles in my table of contents dealing with some other grilling and you can find them under ABT's, Hot Wings, and Slab Potatoes.