With the holiday season coming up, we always like to have some homemade appetizers, treats, and snacks available for family and visitors. We usually make up some holiday baskets for several friends as well.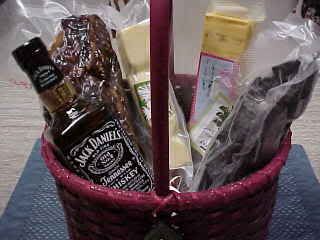 This is one of our baskets from last year and it contains a package of my Pig Candy, a package of my Regular Jerky, and a package of my Hot and Spicy Jerky, a couple of logs of my real Smoked Cheese, and a bottle of Jack.
Now, dontcha wish you were one of my friends and received your Christmas basket???
CAUTION:
This jerky recipe and method doesn't have a cure in it so it must be either refridgerated or frozen so it doesn't spoil after the cooking and drying.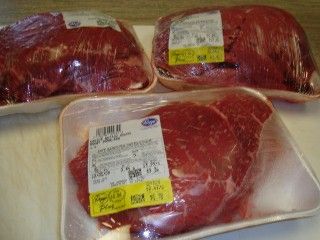 This batch was 10 pounds of beef bottom round roast and I had the store cut it off of the full round in 1/4" thick slices for my jerky. This saves me a step in the prep of this treat.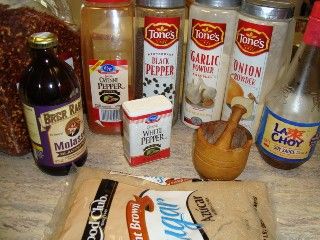 I usually start by making up my marinade for the meat as it needs to soak a while so the sugar can dissolve. For this 10 pounds of meat, I mixed up this recipe...
3-1/2 Cups of Soy Sauce
3/4 Cup Dark Molasses
2-1/4 Cup Brown Sugar
2 TBL Onion Powder
2 TBL Garlic Powder
2 TBL Black Pepper
1 TBL White Pepper
1 TBL Ground Red Pepper
2 TBL Crushed Red Pepper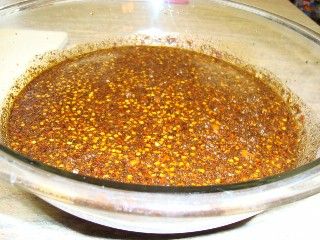 I make the marinade up in a large bowl and then throw the meat into the bowl as we trim it.
We trim as much fat out of the meat as we can and then cut it into slices like you see in the picture.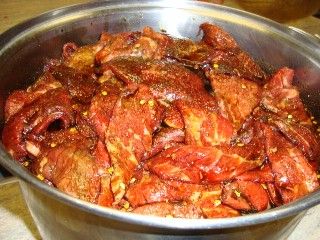 After the meat is trimmed, I place the meat and the marinade into a large stainless steel pot and put it into the fridge for at least 12 hours before it goes on the smoker. More time is even better.
On smoking day, I usually bring my cooking grids into the kitchen and then load them up. This was a large cook and will take both of my Backwoods Party cookers as I ended up with 14 grids of jerky meat.
I loaded up both cookers with some Rancher charcoal and then placed some hickory chunks over the top. I am running both with a dry water pan with my foil pan modifications as I sure don't need any moisture for this type of cook. After I lit them up, I cut the air back to about nothing on the intake vents as I don't want the temps to go over about 160 degrees.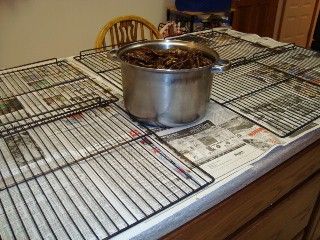 The meat then comes out of the fridge and we load it on the cooking racks. With the Backwoods cookers, I can only load the racks about 65% full so the cooker can flow the proper amount of smoke and heat.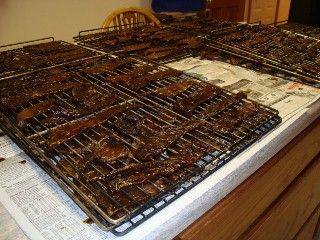 I ended up with 14 racks of jerky ready to go into the cookers.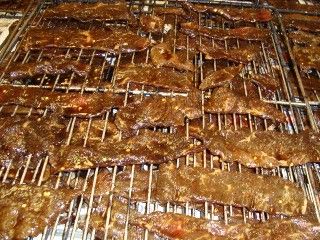 Meat looked great coming out of the marinade.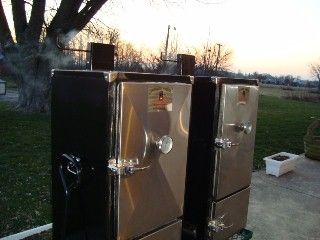 Was a cold morning at about 18 degrees and I got the meat on the cookers at about daylight.
On my one cooker, I did my spicy hot jerky and for this, I sprinkled on some more ground cayenne pepper as I put the grids into the cooker.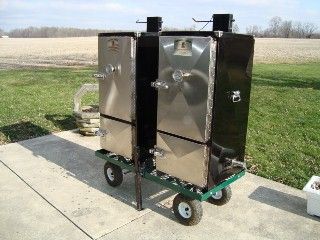 It did warm up a little to I think about 28 degrees so it was a good day for my cook.
I had one cooker that did great and I was able to keep the temps where I wanted them at under about 160 degrees but the other cooker got a little hot and the meat got done a little quicker that I expected at about 4 hours. Didn't hurt the quality at all as the meat from both cookers came out wonderful. I need to adjust the door on that cooker and I am sure my next low temp cook will be fine.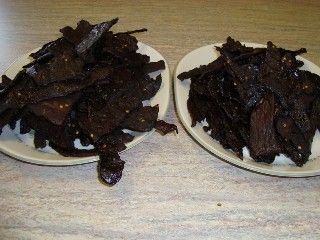 My jerky started coming off the cookers at about 4 hours and continued to come off for another 4 hours before all of it was done.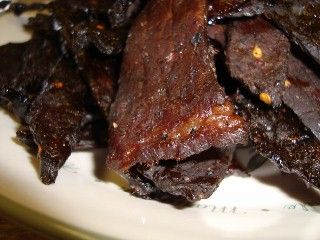 Meat looks great and is now ready for the vacuume pack bags.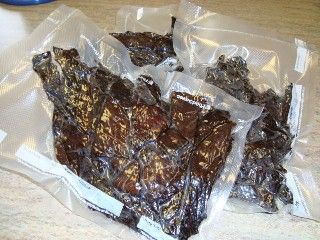 These are the first few bags off the cookers and are ready for the freezer.
Again, one last
CAUTION
, this meat must be refridgerated or frozen and it hasn't been cured. You can't just leave it set out on a table as it will spoil.
This is one great treat and will be a great snack for the holidays.
My smoked cheese is coming up next...