Pig Candy is a great sweet and spicy treat to have around the house for the holidays. It is fairly easy to make and is a great snack and goes well with my other appetizers of Jerky and Smoked Cheese.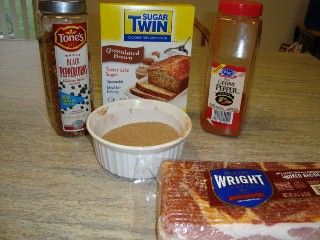 This cook is my no-carb low calorie version and I used the following ingredients.
4 pounds of the thick cut Country Bacon from Sam's Club
Sugar Twin Granulated Brown Replacement Sugar (Calorie free-no carbs)
Ground Cayenne pepper
Crushed Hot Red pepper flakes (in black pepper container)
I start by adding some Sugar Twin to a bowl and then adding enough ground cayenne pepper to make it as hot as I want it. I like it SCREEMING HOT and use way more than most folks can handle. For you folks that don't like it very hot, just add some cayenne and taste it and then get it as hot as YOU want. Some of the mix will cook and wash off of the bacon so do make it a little hotter at the start.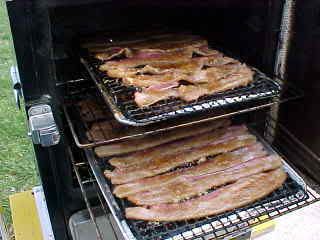 I would normally smoke this in one of my Backwoods cookers like you see in the picture but I cheated this time and did it in the kitchen oven so it won't have any smoke flavor but I was pressed for time and just didn't get the smoker out and fire it up for this treat. The Shame of it.....much better in a smoker.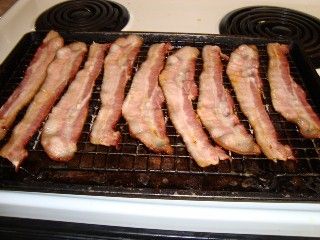 I don't like this treat cooked in it's own grease so I use raised cooling grids in the pans to keep the bacon up and out of the grease.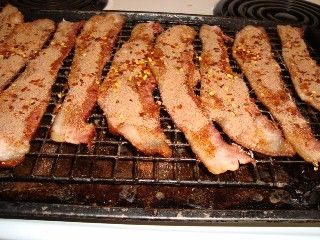 After I apply the hot spices & sugar to the top side of the bacon, I placed it in a 350 degree oven for about 30 minutes.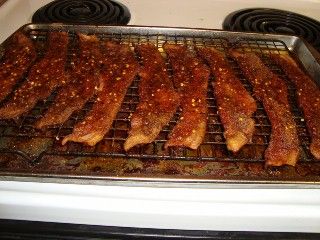 I pulled it out, and then turned the bacon over, and added the spices again, and placed it back into the oven for about 25-30 more minutes or until it is done to suit me.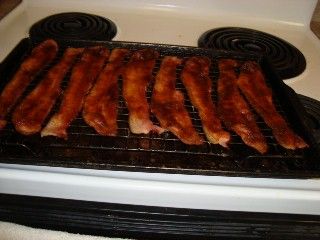 This is the final product just out of the oven and cooling on the top of the stove.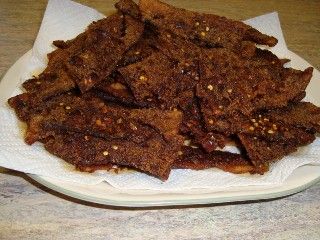 I then cut each strip of bacon in half and this picture shows the results of my 4 pound cook.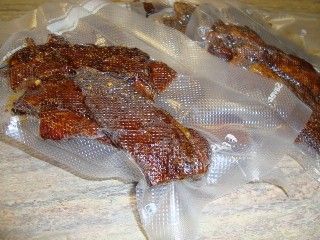 I bagged up the Pig Candy and have it ready for the holidays.
Good Stuff!!