The Ribs & Bibs Competition Barbecue Cooking Team would like to extend a heartfelt
THANK YOU
to the Kansas City Barbeque Society Certified Judges. Without your support, we couldn't enjoy this great hobby of competition barbeque cooking.
I know it is a "thankless" task at times but we do want you to know it is appreciated by this cooking team. In our area of the Mid-West, I know many of you have to travel which means additional fuel costs, maybe a motel room, several meals, and we know this comes out of your pocket and again, it is appreciated.
Along with the cost of judging in our area, we also would like to thank you for your valuable time that you give up to judge the contests. Your dedication to this sport/hobby means the world to the Ribs & Bibs BBQ Team.
For any of the judges that might arrive early on Friday for the event, or any of the judges that might want to stay over after the judging and visit, we would be honored to have you stop by the Ribs & Bibs cooking site for a beverage. We always have extra chairs and do like to talk about our sport.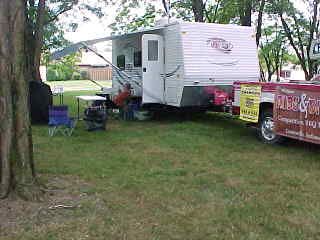 Just find the site with the red and white Ford pickup with the small white toy hauler and come in and introduce yourself and visit with us for a while.