This cook started out as a rib practice cook and just kept growing until I had several other items cooked as well as the ribs and tips. I had a couple of new things to try with my competition ribs as I sure do need some improvement to stay ahead of those dang Shigs.
Here in Central Indiana, those bronto spares have been on sale all Summer for as low as $1.59 a pound to about $1.99 a pound and this is a very good buy if you can find them under about five pounds per slab. I have been filling the freezer with them and decided to see what I could do with them.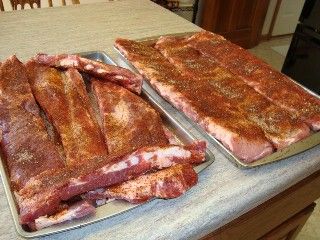 I cut them down to St louis cut which gives me a slab at just under two pounds and about 3 pounds of rib tips per whole slab of the bronto's. Got more tips than I got ribs!!
I got them ribs all prepared with some secret stuff and then did the tips with my regular stuff and fired up the pellet cooker with some pecan and loaded them up.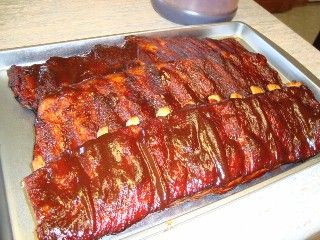 They came out good and I did sample one rib off of each slab and gave them to a neighbor for testing.
Now for me and my lady, I have this 9 pounds of tips ready to go back into the smoker in some sauce and another sweetner to finish them up.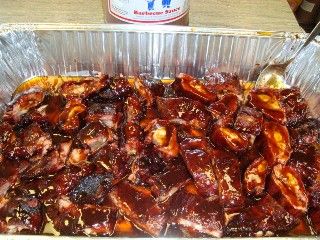 Now that is some good eating!!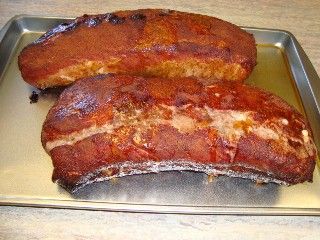 I also prepped a whole pork loin which is another great buy at $1.57 a pound at Kroger and cooked it along with the ribs and tips. They can be brined, marinaded, or just rubbed and cooked whole and make a great meat that will go with about anything. I love a couple of slices with my eggs at breakfast. Makes a great sandwich as well.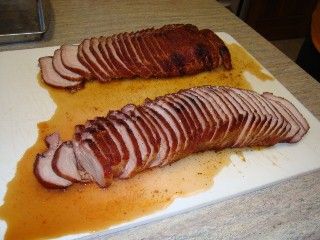 They slice up nice and are always tasty and juicy.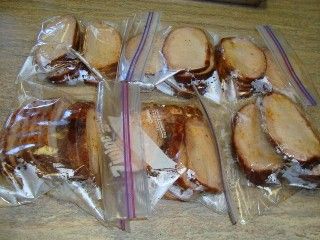 We usually end up freezing some one pound packages of this meat for later use.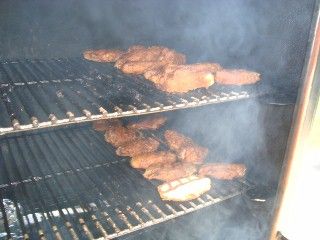 As with all my cooks when I have room, I always do some of my breaded and super hot wings.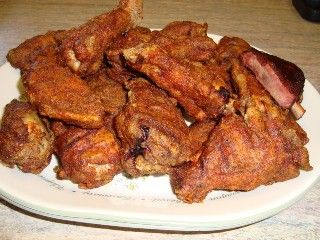 This chili-head just can't get enough hot stuff!!