This treat has been all over the web and on the cooking shows and other TV shows and I believe it was invented by The BBQ Addicts and posted on their blog back in 2008. They call it "The Bacon Explosion".
Probably a gazillion versions of this treat out there and this is another with my changes as this chili-head does like this kind of food hot.
Had some other items to grill along with this Ultimate Fattie so I fired up the Weber kettle and got it ready for my version of this treat.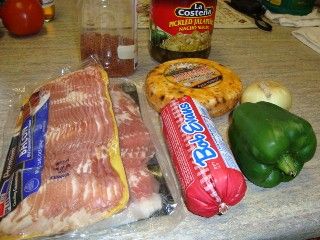 I started with these ingredients:
2 pound bacon
1 pound of Bob Evans hot sausage
onion
bell pepper
Jalapeno peppers
shreadded up about 1-1/2 cups of the very hot Three Alarm Colby Jack Cheese with Habanero, Chipotle, and Jalapeno peppers from Sam's Club.
rub
cayenne pepper
I need to stop right here and make a statement about the very hot Three Alarm Colby Jack Cheese as used in the above recipe.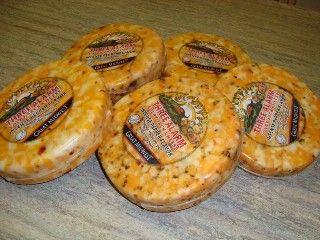 This stuff is "killer". It's great shreadded up and then mixed with your regular cheese for pizza, calzones, lasagna and other Italian treats. Also wonderful just sliced for crackers.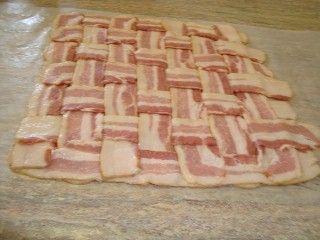 I started by making up the bacon weave and did it on a piece of wax paper. I used 14 pieces of bacon.
I then cut up the rest of the ingredients and shreaded the super hot cheese. Fried up about 10 slices of bacon on the stove and broke it into small pieces.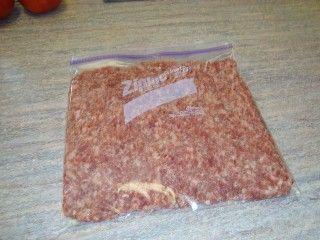 Next, I sprayed some Pam into a 1 gallon Zip-Lock bag and placed the sausage inside the bag and then pressed it out with my hands to form a nice square piece of sausage. I cut the top off the bag and then cut down the two sides and laid the bag open to get at the sausage. Placed a piece of waxed paper on top and then turned it over and removed the rest of the bag.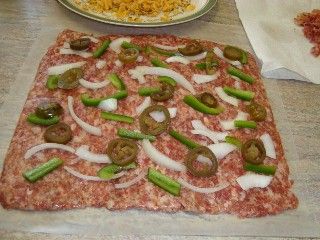 Started the stuffing process with the onions, bell peppers and Jalapeno peppers.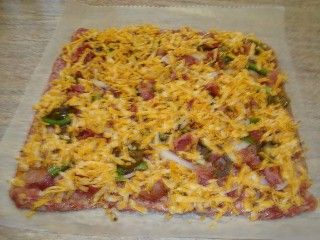 Next came the bacon pieces and the shreadded cheese.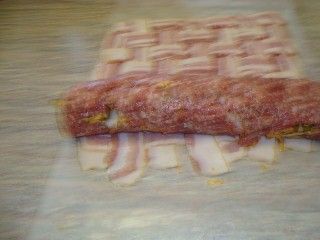 I then used the wax paper to help roll up the stuffed sausage roll and placed it on my bacon weave.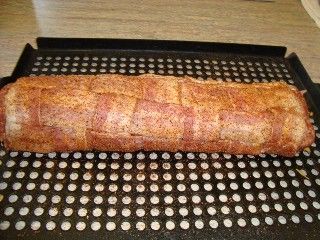 Using the wax paper again, I rolled up the sausage and bacon weave and then sprinkled on some rub and cayenne pepper and it was ready for the cooker.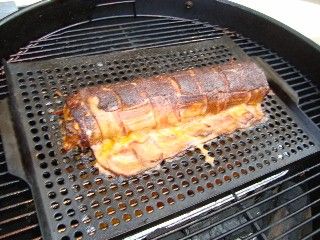 Placed it on the kettle at about 275 degrees and let it cook until the internal got to 165 degrees. As you can see, I didn't get the seam of the bacon all the way under the roll. It came loose at about the time it was done and was easily fixed.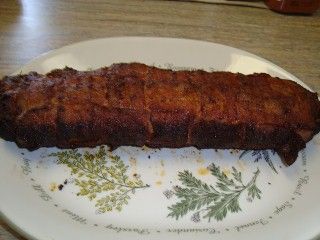 Had a problem here as the inside was done and the outside bacon wasn't as crisp as I like and I didn't want to overcook it. The picture makes it look like it was done enough but it wasn't so I let it rest until it cooled down some and then placed it in the oven under the broiler for about 10 minutes turning it a few times and man, that did it without overcooking the stuffing.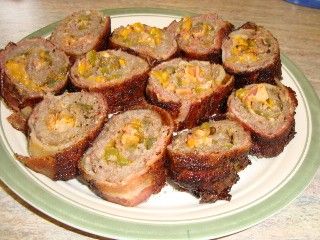 Cut it up for serving.
Just take a buttermilk biscuit, butter it and spread a glob of some good blackberry jelly on it and place one of these Bacon Explosion slices on it and enjoy. Also great on an English muffin with a big slab of tomato and some Mayo.