You know, Jimmy Carter lusts after beautiful women and I guess I lust after some of the older and more classic cookers and smokers. Cookers like the smaller 15" WSM, a Charbroil CB940, Cajun Grill, Hasty Bake, the two smaller Jedmasters, a Weber Performer in Red with the stainless steel table, and even a less expensive PK Grill to name a few.
I check the Craig's List about twice a week for some of these hard to find units and had been looking for one of the larger Hasty Bakes for about 3 years in the Indiana area. Last week I decided to look farther out and set my Search Tempest to 1000 miles from Indy and bingo, I got a hit in Mount Cory, Ohio! Heck, that is only 250 miles from the Po-Farm.
Some of the information in the ad stated the following...Made in USA. Been in dry storage the last 20 years, needs a good cleaning but this is a very nice large charcoal cooker. On it's way to the scrap yard, thought someone might appreciate it for what it is. The price was $10.00 dollars. Had these two pictures enclosed.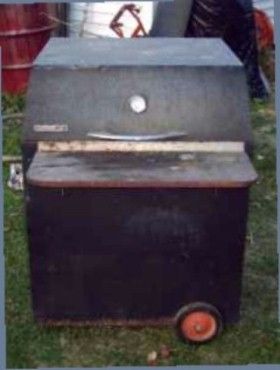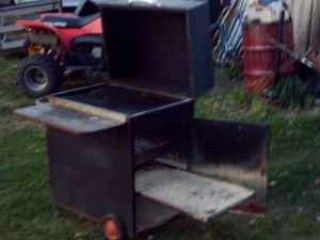 I called the gentleman and he told me that the cooker had been in his Mother's garage for about 20 years and other than a little surface rust, the cooker was in pretty good condition. I told him that I would take the cooker and asked him to hold it for me for a few days until I could get over there with some help to pick it up.
A few days later and early one morning, I picked up my good friend Jeff Toler (Anchorman) just North of Indy and we went over to Ohio and picked up the cooker and I had it back home at about 3:30pm in the afternoon. Pretty good for a 500 mile round trip.
All this time, I thought the cooker was the smaller Suburban size but after I got to checking it out, I found that it was a model 130 which is the larger and more desirable Legacy size model.
Looked it over good and it did need a good cleaning and had a broken firebox fire grate and was missing the heat deflector. The gentleman had told me that it did still have some ashes in the firebox when he rescued it from the garage and that did worry me some but the ash pan was fine and not rusted out.
With a few replacement parts, a good cleaning and reseasoning, some wire brushing and sanding, and a new paint job, I will add this cooker to my arsenal. Might be a great ending for a cooker that is probably near 30 years old at the present time. And yes, this is one fellow that
will
appreciate this old cooker as the seller had asked!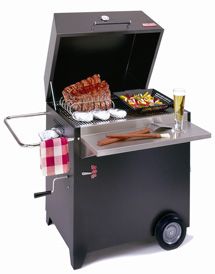 I am not sure I can get it to look as good as a new cooker as seen above and priced at about $1100.00 dollars but I'll bet it will cook just as good as a new one. As you can see, there has not been very many changes in the life of this 30 year old cooker.
Hasty Bake is a smaller company has been in business since 1948 and that is even longer than the Weber company and have built several models of these fine cookers over the years. They have a wonderful reputation and are a rock solid company. If they don't have a replacement part, they will make one up for you. They do treat their customers right.
I called the head guru, a Mr. Adam Myers at Hasty Bake and we talked about the age of this cooker. It doesn't have the indicator to show the height of the firebox and also doesn't have to pull out firebox feature. Other than that, it is the same as a new cooker. He figures it's an early 80's model cooker. I then ordered the three replacement parts I needed along with some accessories I wanted for this old classic.
The first thing I did to the cooker was to take it apart and then I scraped the inside down and removed some of that old grease and sludge. I then washed it all out and I put it back together and oiled it down good and then lit a hot lump fire and reseasoned the inside of the cooker. Now, I got parts coming in about a week but I couldn't wait and wanted to cook something in this old cooker.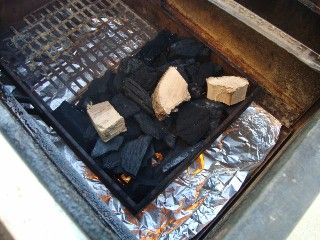 I covered the ash pan with foil, and then placed two fire cubes on it, and then loaded up the right half of the firebox with some good Ozark Oak lump. I added 3 big chunks of hickory to the top of the charcoal. I then lowered the firebox right down and on top of the fire cubes and it lit off quickly and I had a hot fire in about 20-25 minutes.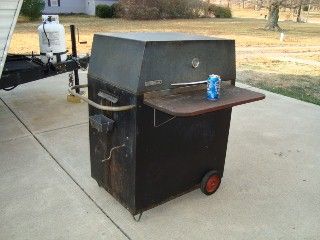 I left just the one cooking grid in the cooker for this cook. I then raised the hot firebox up to about 9-10 inches under the cooking grid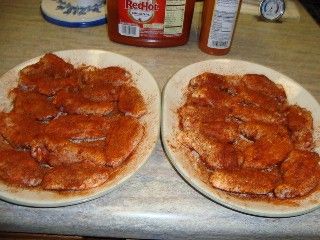 This old chili-head does like his hot stuff and I rubbed these wings with a heavy dose of the very hot 80 grade cayenne pepper. I also made up some glazing sauce with about a half stick of butter, about 10 oz of Franks Hot Sauce, and about 2 tsp of the hot ground cayenne pepper.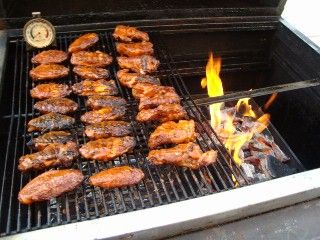 I moved the cooking grid over to the left side of the cooker so it wasn't over the fire and loaded up my wings. Since I don't have the foggiest idea of what I am doing with this cooker, I guess you could say I was "winging it". I know, that's bad but I had to say it! Anyway, I let them cook indirectly like this for about 30 minutes. Slopped on a heavy dose of sauce, turned them over and slopped on another dose to this side. Slid the grid over to the right side and over the fire for some direct cooking and to set the glaze. I kept moving the grid back and forth and turning and saucing the wings until my sauce ran out and the wings were charred up to suit me.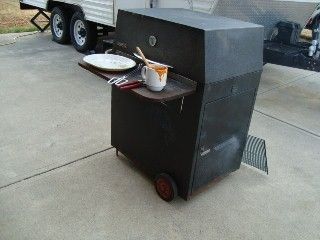 Worked nice for this first cook and I removed the wings and shut down the cooker.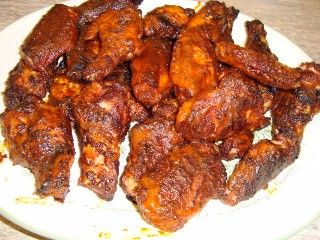 Love my hot wings!!
Will be more coming on this old classic cooker in the future.