I usually like to get my holiday cheese smoking done by early November so it has some time to age in the vacuum sealed packages before the holidays. Running a little behind this year as I just got to it yesterday.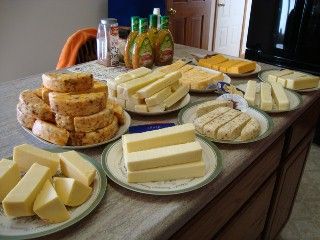 Wife purchased a large batch this year and this is the cheese I got ready for smoking by cutting it up into logs that measure about 1" to maybe 1-1/2" near square logs.
Three Alarm Colby Jack 11.46 lbs
Alpenhaus Swiss 4.80
Dutch Gouda 2.00
Colby-Jack 2.00
Bruschettta-Jack 2.00
Danish Havarti 1.43
Le Gruyere 1.30
Sharp Cheddar 4.81
This is 29.80 pounds of cheese and probably the largest batch I have smoked at one time.
I decided to smoke this batch in my Backwoods Party as I thought it would be a full load and this cooker was handy and at the front of the garage.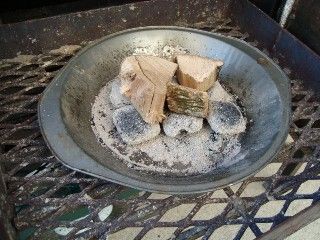 I rolled the smoker out of the garage and loaded a charcoal chimney with about 10 brickettes of that great Rancher charcoal. When it was ready, I fixed up my firebox (pie pan) with 6 greyed over brickettes and then added some chunks of a mild hickory out of Maine which I won at a contest a few years ago.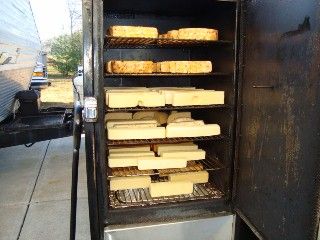 I was right in that it really filled up the cooker. I smoked this batch of cheese a total of 90 minutes and it was checked for smoke flavor about 3 times until I got it to where it should be perfect after it comes out of the vacuum sealed packages.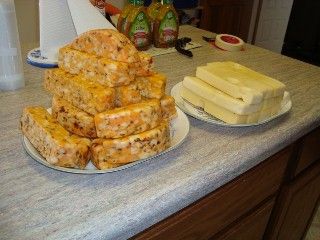 This is some of the cheese coming off of the smoker. Sure looks good...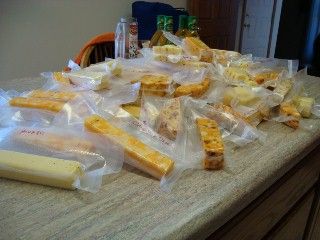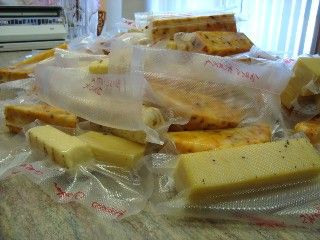 We got it all bagged up and vacuumed sealed and placed back into the fridge to age for a couple of weeks which will mellow out the flavor. Just can't wait to get into some of that smoked Three Alarm Colby-Jack cheese.
For the folks that need more detail on cheese smoking, see my other articles on this subject.