While Char-Broil makes several different charcoal smokers and grills, there is one that really stands out in my mind. It is the classic Char-Broil 940X. This great cooker has been around for many many years and will just flat do it all. From smoking cheese at 80 degrees to baking pizza at 425 degrees. Of course, it will also do everything in between these numbers. It is really not a hard cooker to learn and the results coming off of this cooker are outstanding.
We had some friends up from Florida this week and I used this fine cooker to do a nice lunch on Friday. My plan was to cook a few slabs of ribs and a full half pan of Rick Salmons pit beans. Wife decided at the last minute to do some smoked baked potatoes as well.
I rolled the CB 940X out of the garage to my cooking patio and set it up for the cook. It was still dark and a cool morning at about 32 degrees.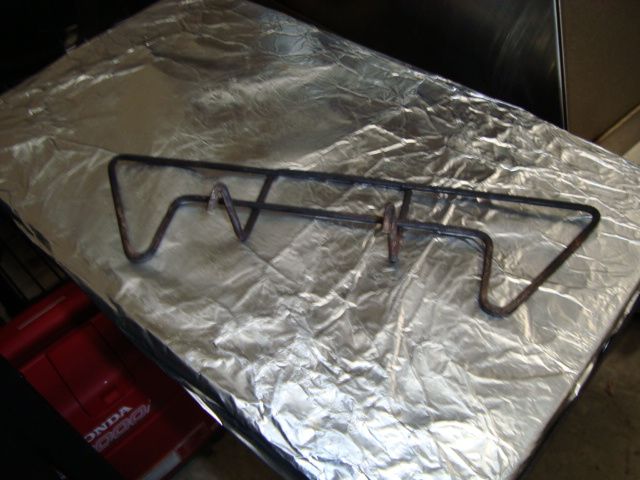 The first thing I did was to place two of these Weber charcoal rails at the end of the Char-Broil charcoal grid to cover up the big holes where the charcoal will fall thru. I would sure like to talk to the engineer that designed this grid.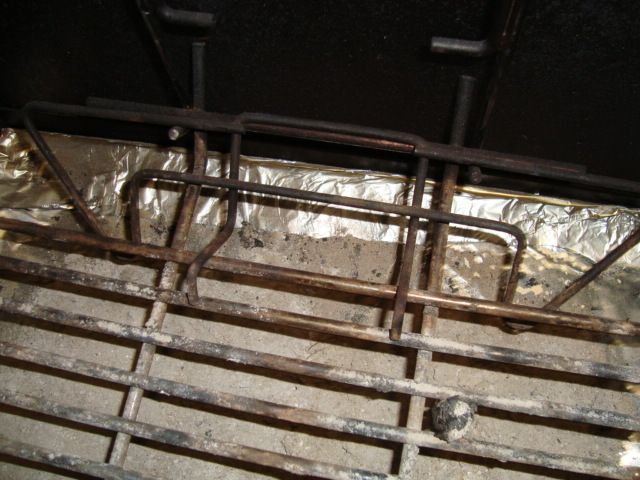 These rails really work nice in this cooker. Bout $ 7.00 bucks a pair.
My ribs will take about 5 or 6 hours so I will setup a fuse burn with 3 firebricks. This way I can get it on temp and won't have to worry about it staying close.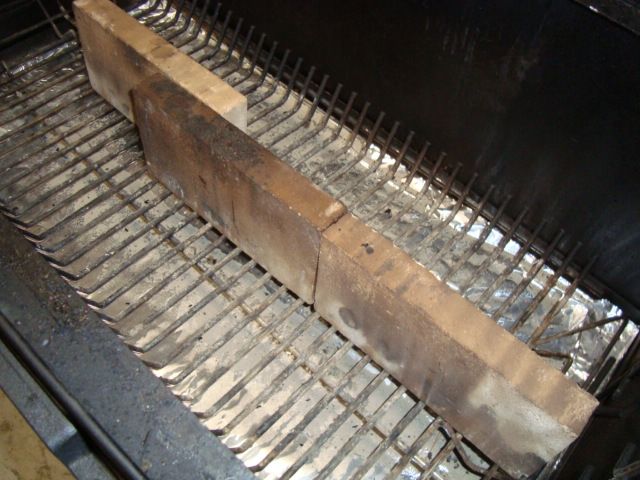 This shows my 3 firebricks in place in the cooker.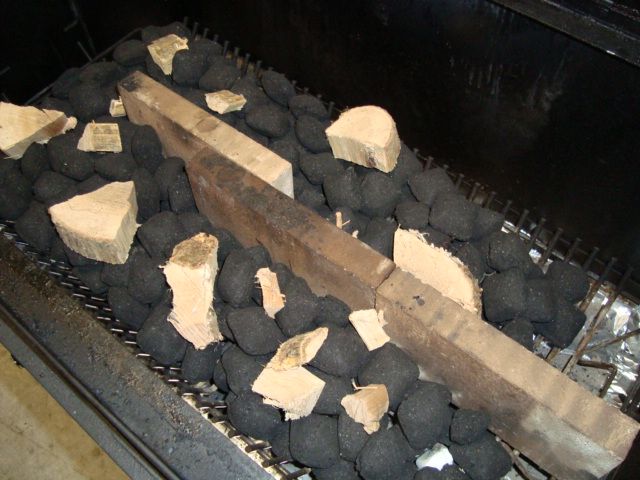 I then load up the charcoal grid with some all wood charcoal brickettes and add my hickory chunks for the smoke wood. I then place a Weber fire cube in the near front corner. This burn setup should last about 8 hours at around 225-250 degrees.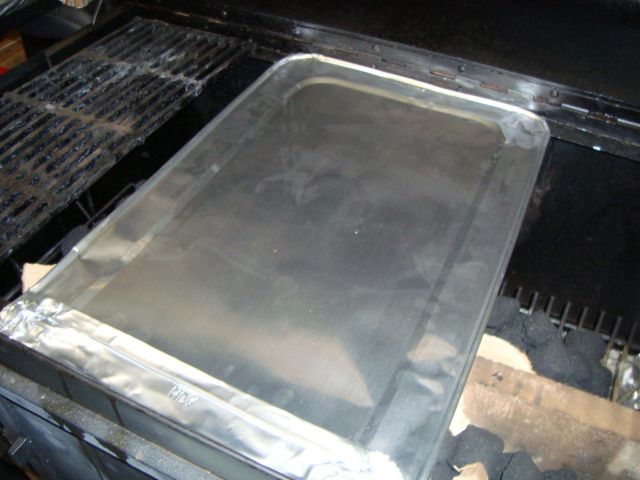 Next step is to add a pan to keep the cook indirect. I have been using oven liners as they are a perfect fit on the cooker but they are too much money so this time I used a full pan foil cover and just folded it up to fit the cooker. These lids only cost about $.50 each. It worked fine for this cook.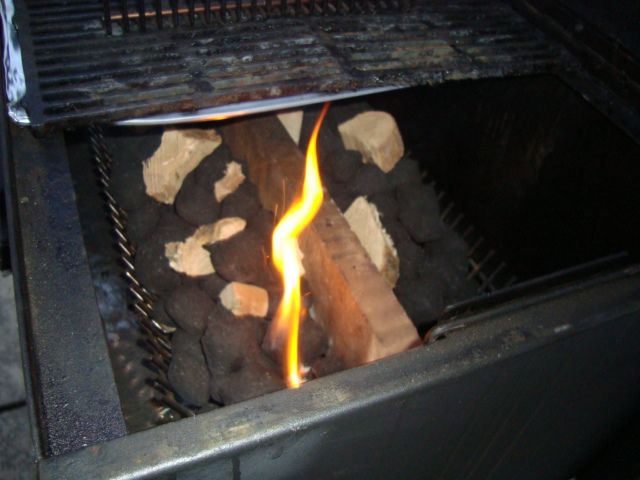 Fired the cooker up and then went in to prep my food.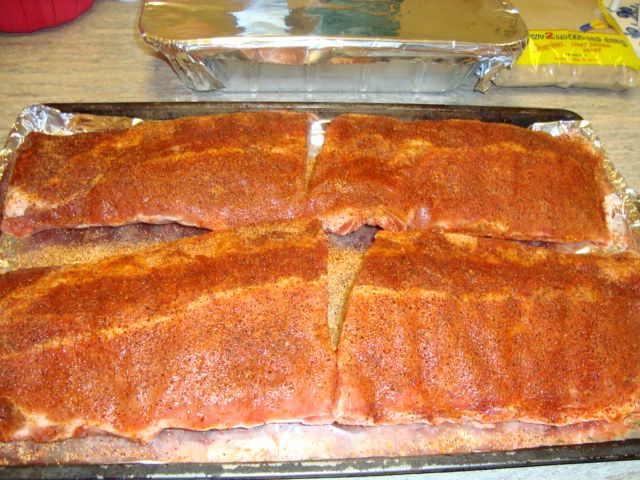 Trimmed up the ribs and pulled the membrane off. Dusted them with some Smokin' Guns hot and then cut the slabs into two pieces.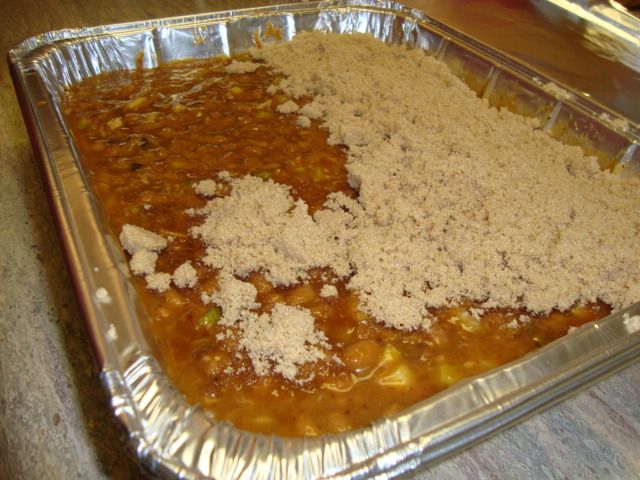 Put the pit beans together and added the brown sugar. I also applied some peanut oil and sea salt to my baking potatoes and got them ready for the cooker.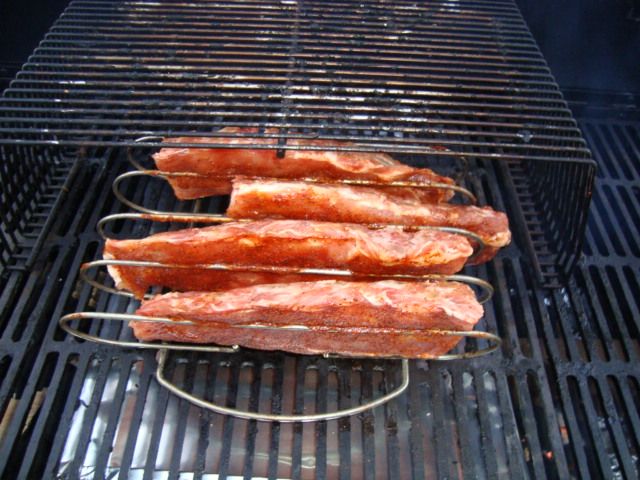 Placed the ribs into a rib rack and put them on the cooker.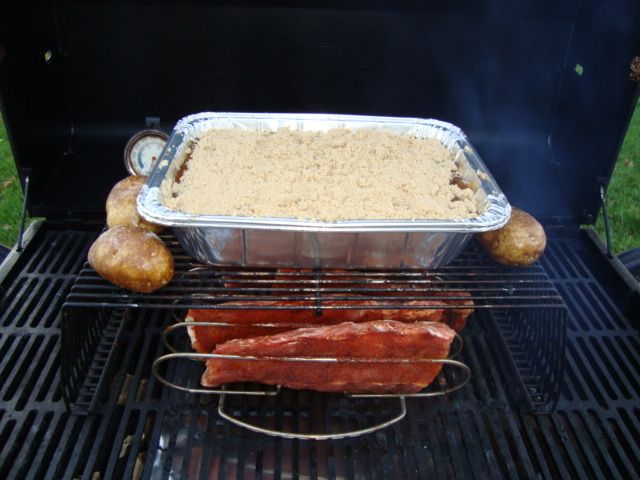 I added one of my raised grids to the cooker and then put on my pit beans and potatoes.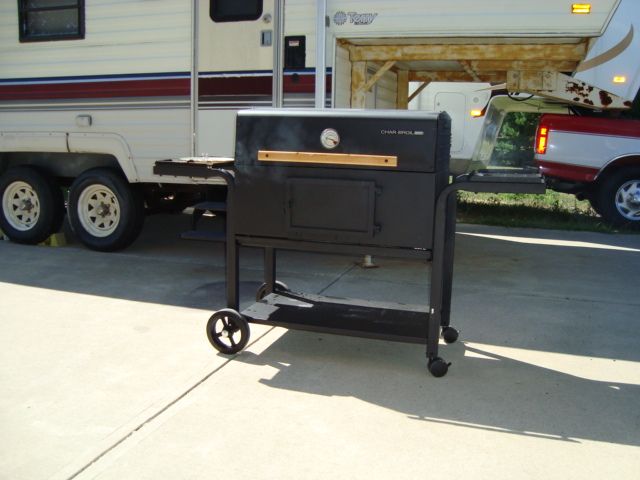 When I get it on temp, it will just set there and run like a swiss watch with my setup. I use the service door on the front of the cooker to control the temp of the cooker.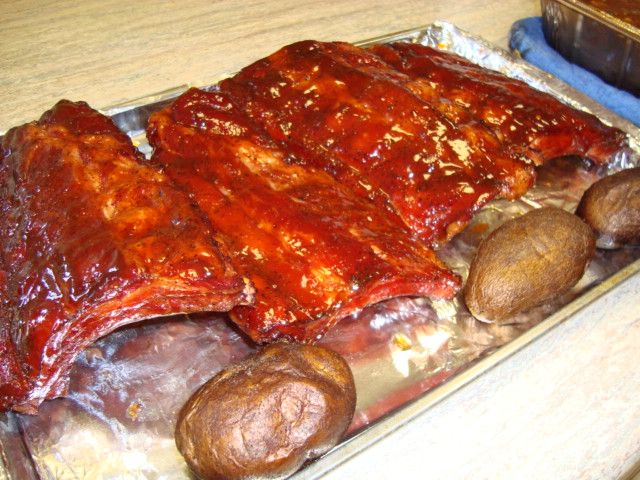 The cook took about six hours and this picture is the ribs and potatoes coming off of the cooker.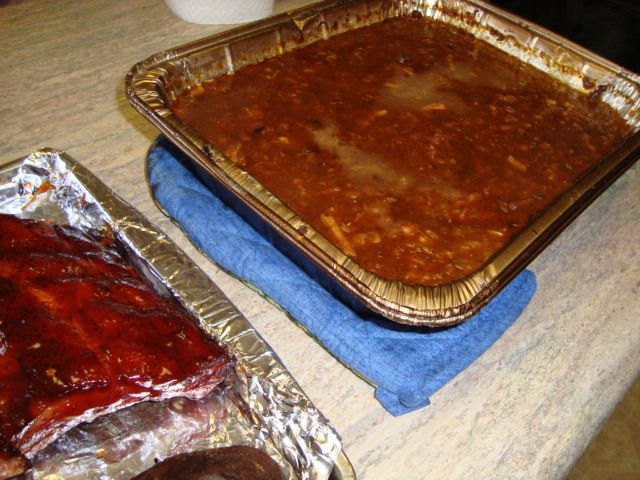 Those great pit beans coming off of the cooker. I didn't get any other finish pictures with this cook due to having guests in for the cook. Everything turned out great and those slow smoked potatoes were wonderful.