This is my first cook with some of the 12 pounds of 60/40 hamburger I made a couple of days ago.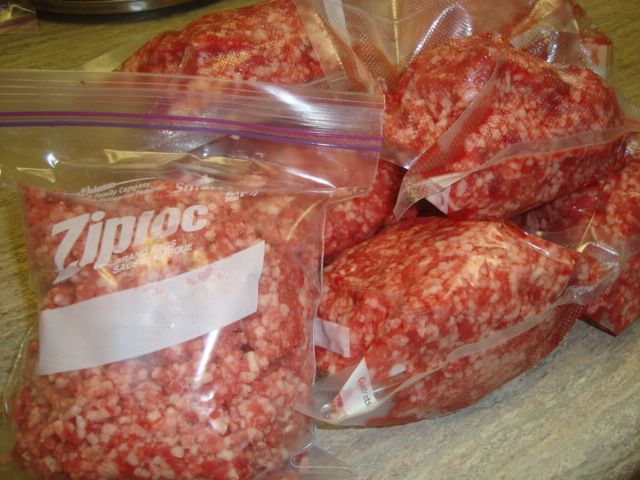 The Ziplock bag in the front of this picture wasn't frozen and contained a little over 1-1/2 pound of this great burger so I used it for this cook.
I made up five 1/3 pound patties and added some salt and pepper so they were ready for the cooker. Notice the white color showing all the fat or flavor that is in each burger.

I filled a Weber charcoal chimney about 2/3 full of that wonderful Ozark Oak lump charcoal and when it was ready, I poured it into one side of the little grill. I have the grill set so 1/2 is direct and the other half is indirect.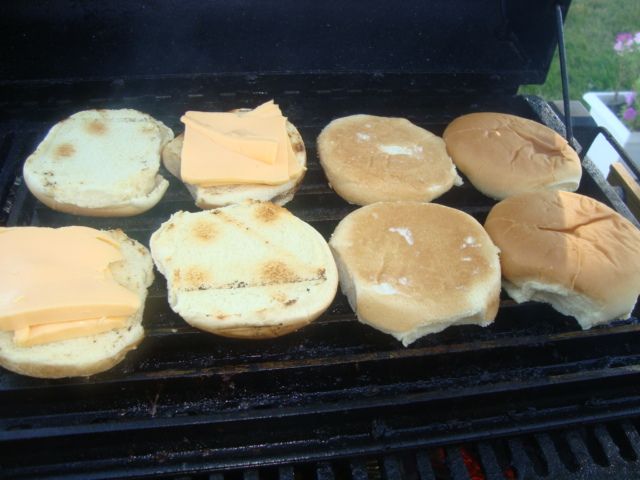 I started with my buns as I like them kinda toasted for my burgers. I also added some cheese to a couple of them as it is too difficult to get the burgers done correctly with the cheese as they are not on the grill long enough to melt the cheese.
I placed a couple of burgers on the hot grill and then cooked them 2 minutes and turned them about 45 degrees for the nice grill marks. They then cooked another 1-1/2 minutes and I turned them over and let this side go for 2 more minutes. The total time was 5-1/2 minutes to get the burgers to an internal of 130-135 degrees which was my goal for medium rare meat.
Had some smoke as all that juice dripped down on my charcoal fire.
The 5 patties looked good coming off of the cooker.
I took 2 of the patties off of the plate for our lunch and I think you can see all the juice that is left on the plate from these wonderful homemade burgers.
Wife likes her burgers all dressed out so I added some lettuce, tomato, and a thin slice of onion to her burger with cheese.
That does look good!

This old purest doesn't want any of that junk on his sandwich so I just loaded my patty into a bun and ate it without any additions to the sandwich. I wanted to taste all that juicy goodness of this homemade burger and this sandwich sure had that! Best burger I have had in months. Gonna eat another one for breakfast.