This is my first brisket cook on my Green Mountain pellet cooker and it came out great. It was also the first use of my A-MAZE-N-TUBE smoker in one of my cookers.
I started with a CAB full packer cut brisket that weighed in at just under 13 pounds. Was really a nice piece of meat but loaded with way too much fat.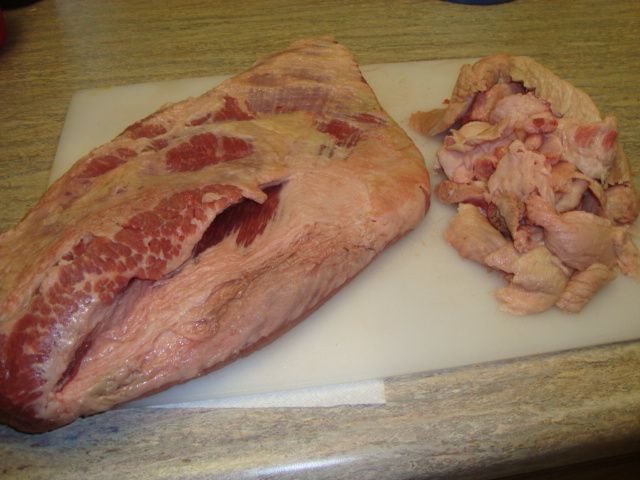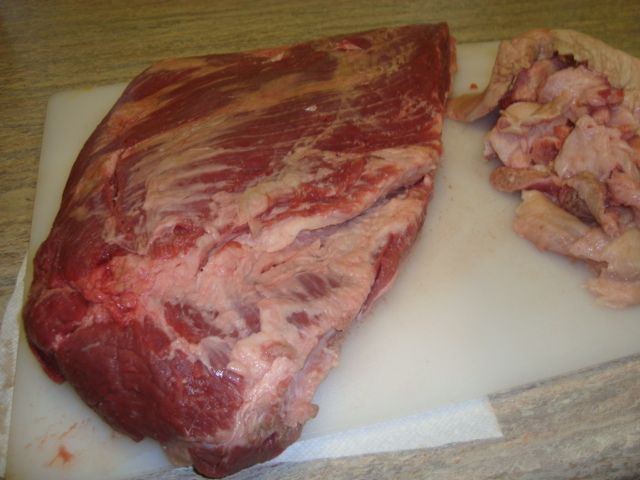 I trimmed off about 2-3 pounds of excess fat and then made up my injection for this cook.

2 cups beef broth
1/4 cup worcestershire sauce
2 TBL SGH rub
1 tsp onion powder
1 tsp garlic powder
1/2 tsp cayenne pepper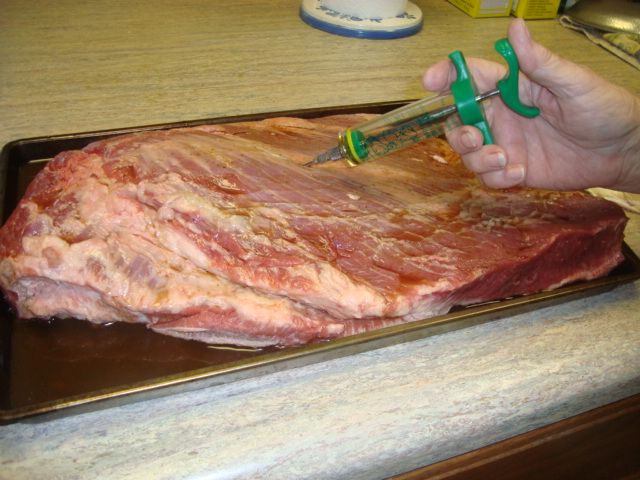 The meat was injected with the above liquid which will give me some additional flavor and help keep it moist in my higher temp cook.
The brisket was then rubbed with a generous amount of Smokin' Guns Hot rub on both sides.

I loaded the A-Maze-N-Tube with some pecan pellets and placed it into the pellet cooker and fired it up with a propane torch. I then fired up the pellet grill and brought it up to 165 degrees which seems to be about the best temp for adding smoke to my meat.
Pellet cookers are notorious for not providing enough smoke flavor to the product and this accessory is supposed to help and can be used on any cooker/smoker.
Loaded the brisket into the cooker and then covered the cooker with my welding blanket as the ambient was at 33 degrees.

After about 75 minutes at the lower "smoke" temp, I raised the temperature up to about 315 degrees measured at the cooking grid for the balance of the cook.
I did check the meat at 3 hours into the cook and all looked good.
The cook went an additional 1 hr and 45 minutes for a total of 4 hours and 45 minutes and I pulled the meat at an internal of about 202-205 degrees.
Looked good just off the cooker. I then cut the point off of the brisket and wrapped the flat in foil to rest for about an hour. I cut the point up into some nice 1-1/2" squares for my burnt ends. I placed the burnt ends in a pan and added some more rub and cayenne pepper, poured in some beef broth mixed with some Blues Hog sauce and placed them back into the cooker for about 2 more hours to get them as done as I wanted.
I cut a couple of nice slices of my homemade sourdough bread and loaded up one piece with some sliced brisket. I then added some pink horseradish to the meat. I added the lettuce, the onion, and the tomato to the other piece of bread.
I then put the sandwich together.
All plated up for serving. Made for a nice lunch.

The A-Maze-N-Tube did a great job of added some additional smoke flavor to this higher temp pellet cook.
When the burnt ends were done enough to suit me, I took the chunks out of the pan and drained them on some paper towels. They then went into the fridge for a another meal.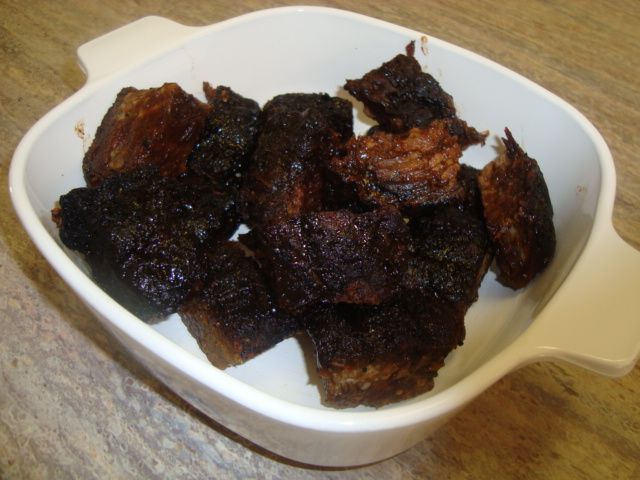 This is what they looked like when I pulled them out of the fridge for my lunch.
I selected about 5 pieces from the bowl and then heated them up for my meal and then added a dribble of Blues Hog sauce. Served with a baked potato, a piece of my sourdough bread, and some tomato slices.
This treat is just so much better than the standard brisket in my opinion and a fellow just doesn't get enough of it off of each brisket.