Have a couple cooks on the new style Weber Jumbo Joe to show you. The pizza was done on a cold morning with an ambient of about 24 degrees and windy.
The burger cook was done on a 14 degree morning and very cold and windy. Wind chill must have been around zero!
Pizza Prep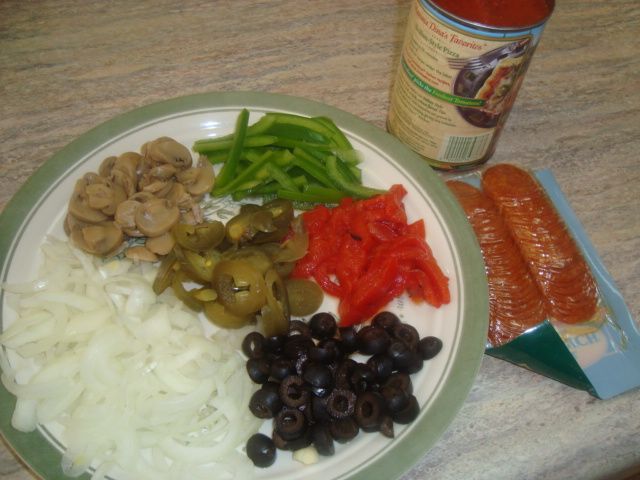 Chopped up some onions, bell peppers, and roasted red peppers. I added some sliced mushrooms, jalapenos, and black olives. We decided to use pepperoni for the meat on the two pizzas.
I made up enough herbed cheese pizza dough for two pizzas.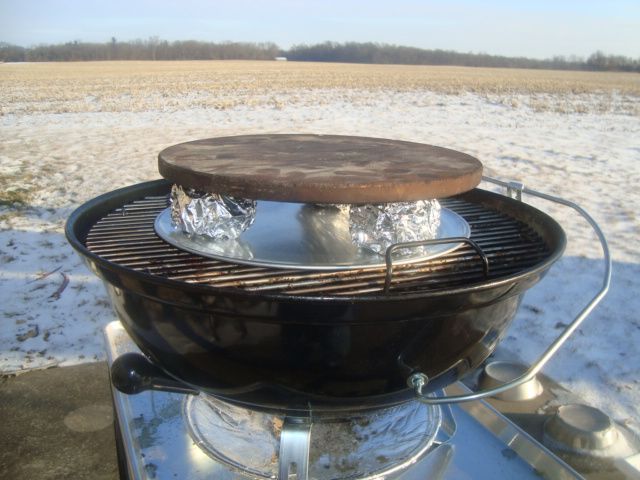 My setup was a 12" hearth stone on a raised grid (tin foil balls) over a 12-1/2 inch metal pan. I used about 1/3 of a Weber chimney of raw lump charcoal on the bottom of my kettle and then poured a full chimney of hot lump over the top of the unlit coals.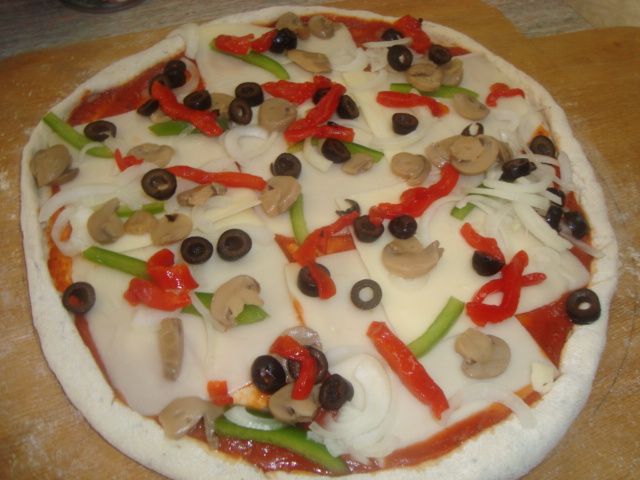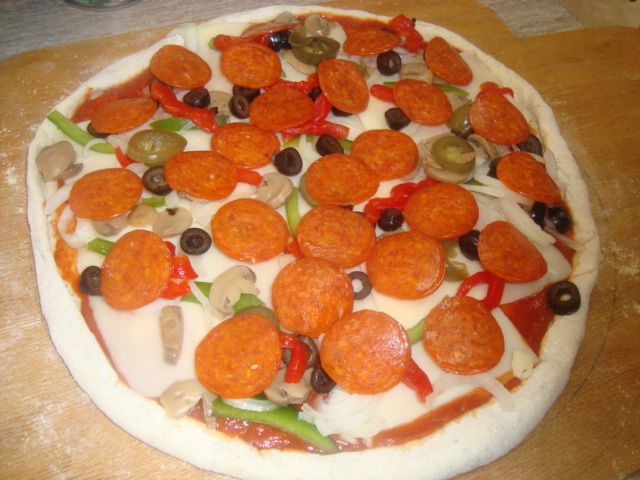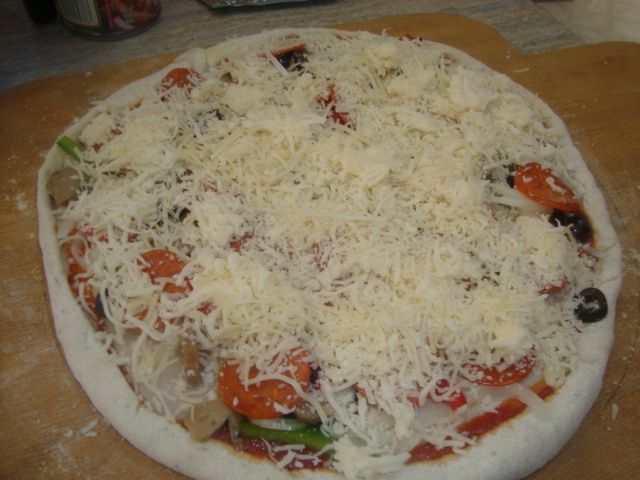 Formed the first pizza on my home made peel and added the veggies, sauce, cheese, and meat.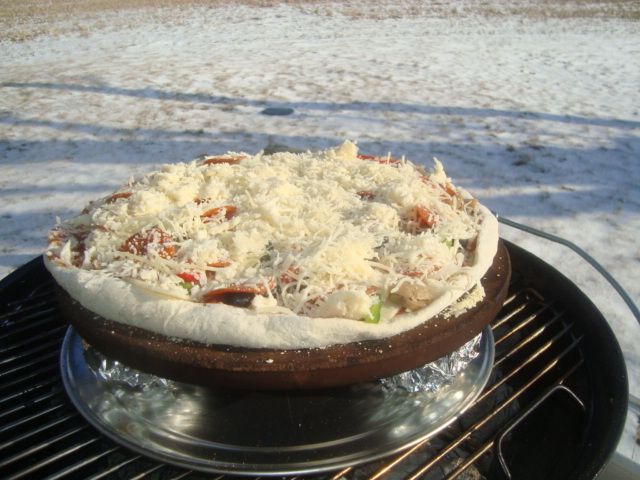 Brought the cooker up to about 400 degrees and after a warmup of about 15 minutes, I loaded the first pizza.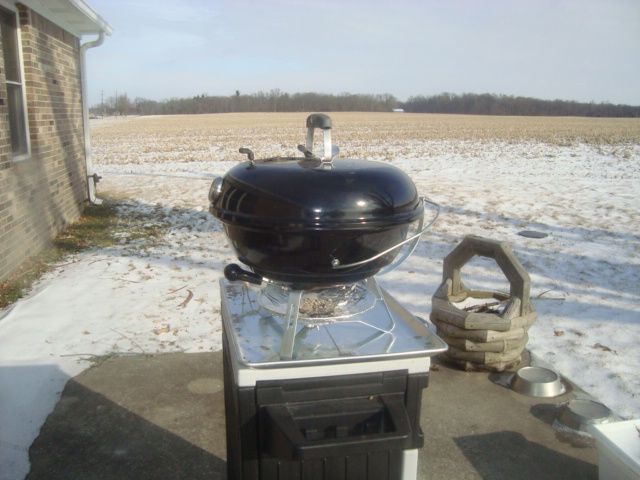 Cold morning but nice sunshine.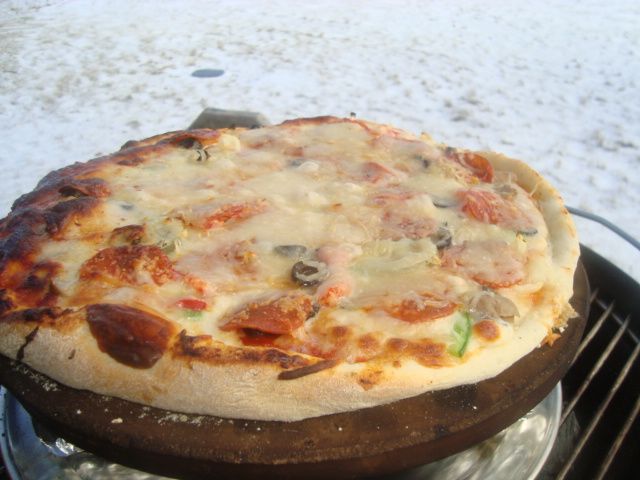 First pizza took about 13 minutes.
While the first pizza was cooking, I made up the second pizza.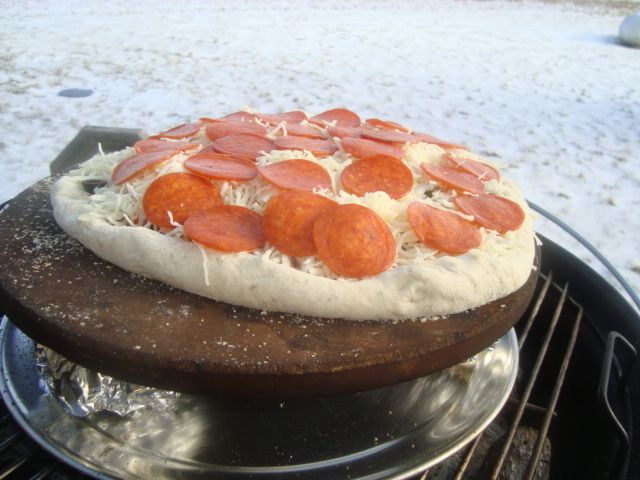 The second pizza took a little longer at about 17 minutes and I pulled it off the kettle.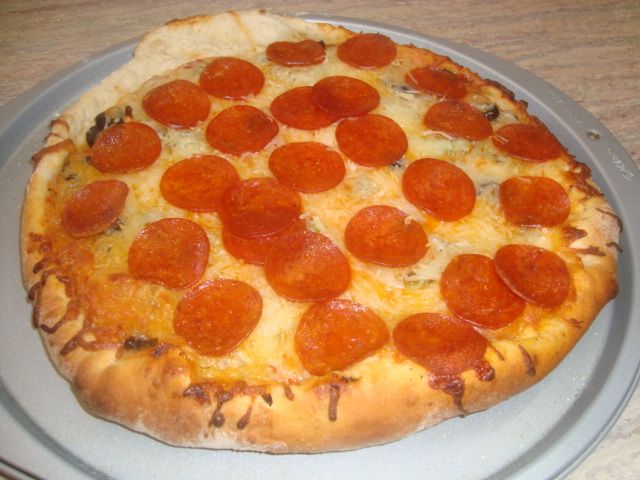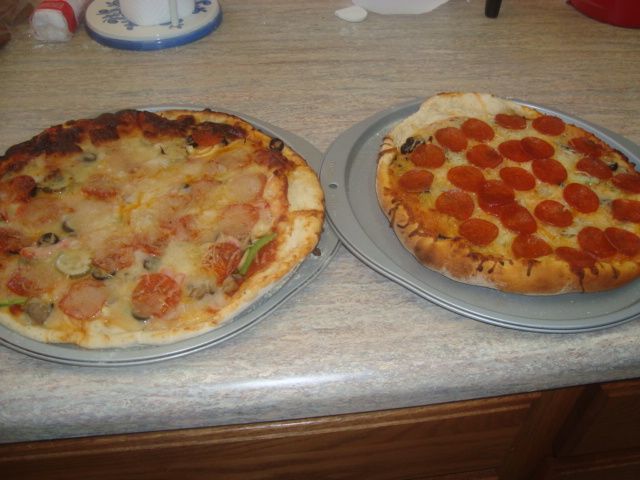 Not too bad for an first effort on my new Weber tailgater kettle.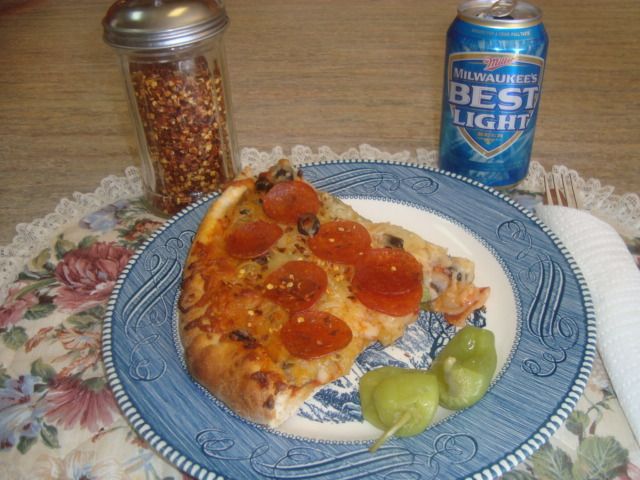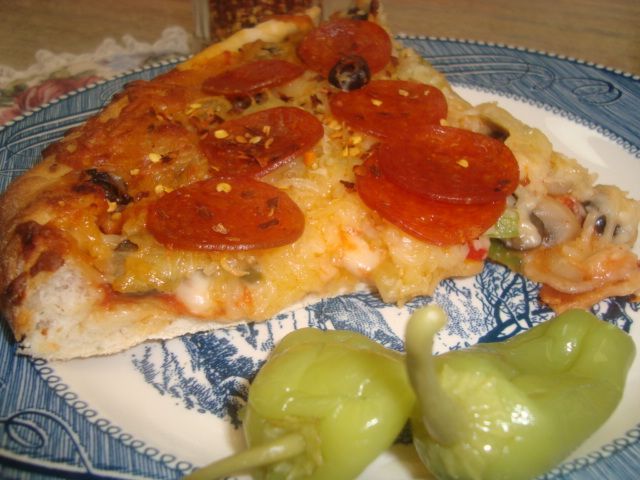 Made a nice lunch.
Next cook was some burgers on the Jumbo Joe fitted with the combination cast iron grid from Charbroil that will fit most all Weber products that measure either 18-1/2" or 22-1/2" in diameter. The one very inexpensive grid works on my kettles and my WSM smokers if I use them as a grill.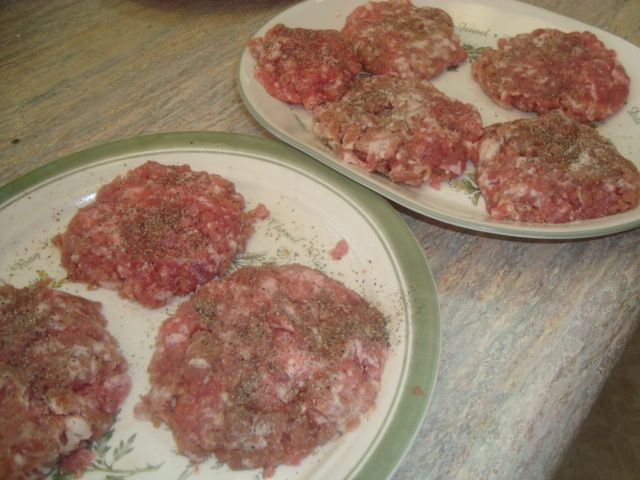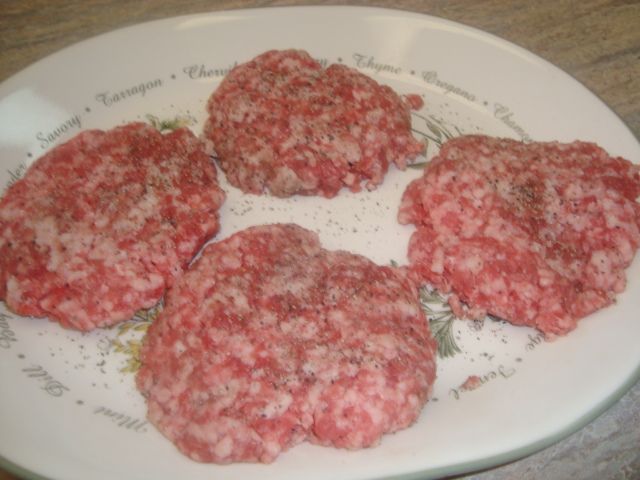 Mom made up about eight of my homemade 1/3 pound pork burgers and then did 4 more of my 60/40 beef fat burgers.
Fired the kettle up with a full Weber chimney of hot lump charcoal poured into two Weber charcoal baskets and centered in the grill for this cook.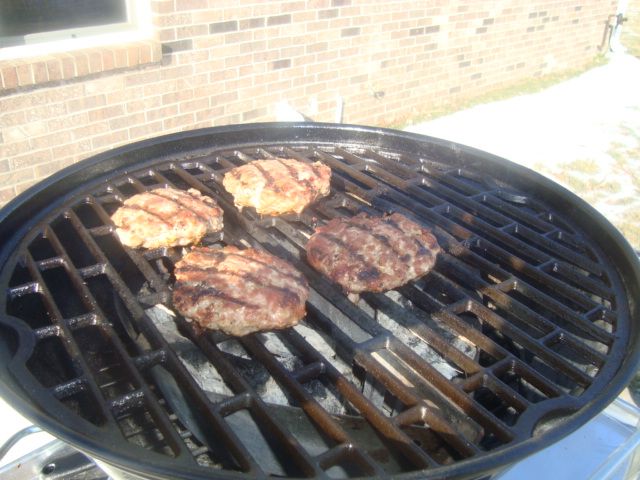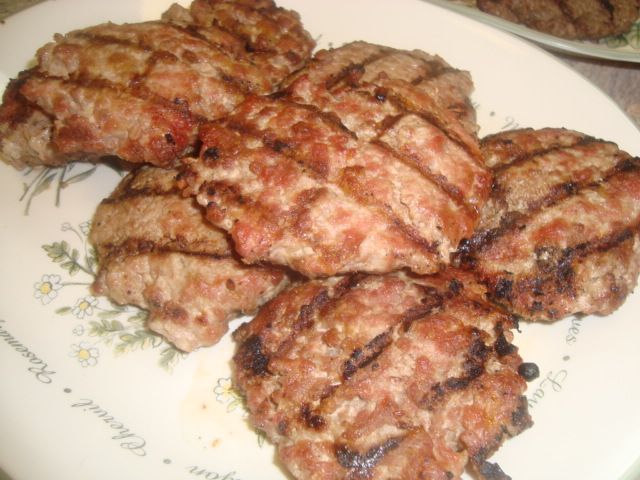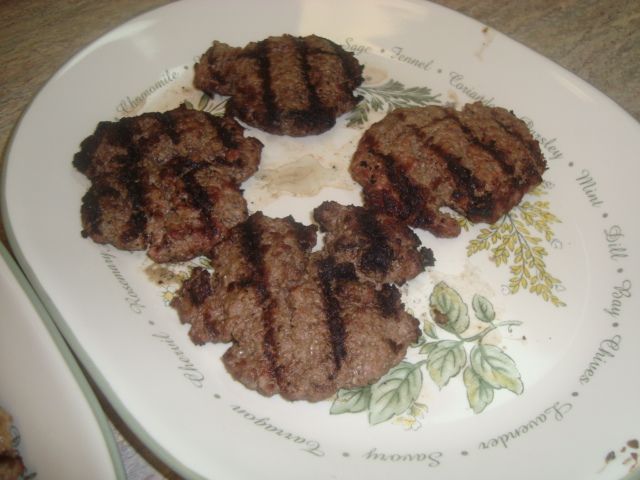 I didn't turn the burgers on the cast iron grid to get the nice cross-hatch marks as it was just too darn cold to stand out there and fiddle with the meat. It did pretty well with just the straight marks.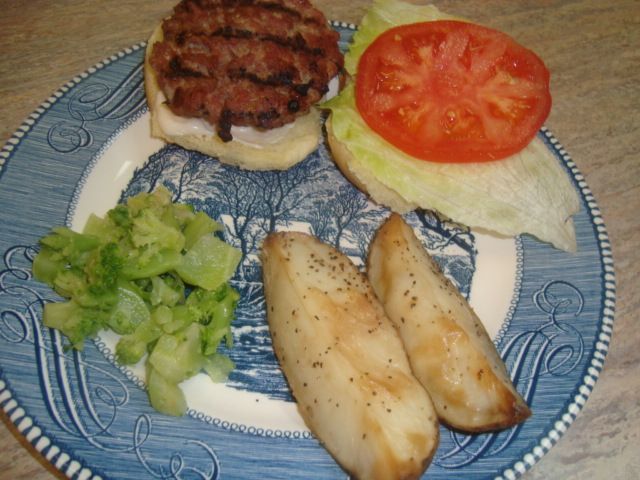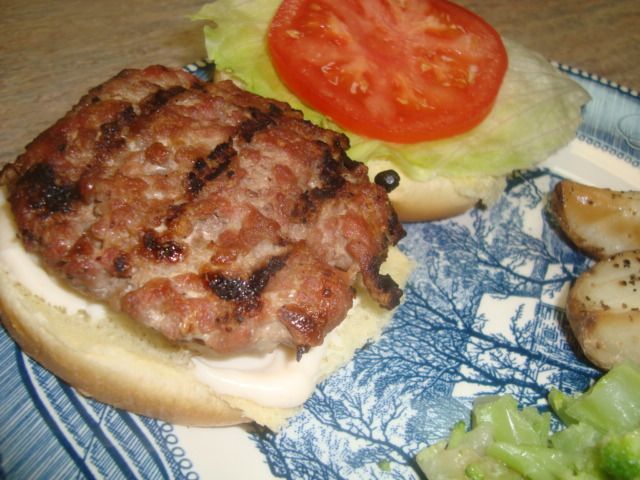 With a little broccoli and some potato wedges, I had a nice pork burger lunch.
This is slowly becoming my favorite go to cooker for most of my smaller backyard cooks.