I did this cook on the Cobb Grill and it came out well although it did take longer than I expected to get the beef done enough to pull like a pork butt.
1/2 jar sliced smoked red peppers
3-4 cloves of garlic minced
1/8 cup Worcestershire sauce
Salt, pepper, granulated garlic
About 12 oz of beef broth, water, or wine, or beer, or your favorite liquid for beef. I made up some beef broth for this cook.
Small can of sliced mushrooms
I prepped my 2-1/2 pound chuck roast with some Worcestershire sauce, kosher salt, and butcher cut black pepper. I also placed a probe in it as I needed to keep track of the internal temperature as I wanted it off of the cooker at about 170F internal for this first part of the cook.
I started with about 19-20 all hardwood briquets and had to add twice during this slightly over 4 hour cook at a fairly high temperature. The first time, I added 4 more briquets and the second time I added 5 more briquets.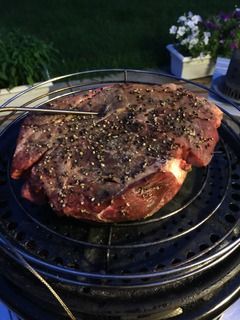 The meat going on the Cobb and this part of the cook took about 2 hours.
My pepper mixture consists of green bell pepper, red smoked bell pepper, jalapeño peppers, red onions, a few cloves of garlic, Worcestershire sauce, about 12 oz beef broth with some "Better Than Beef" broth seasoning.
Had a couple off showers during the cook and I had to rescue my transmitter by placing it into a freezer bag to keep it dry.
The chuck roast ready to come off with an internal of about 170 degrees.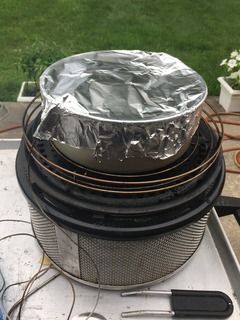 The roast beef and peppers just going on the Cobb after the first part of the cook.
After the meat was about done on the first step of this cook, it went into the pan with the peppers. It was in with the veggies for about 2 hours and 10 minutes or until I had an internal of about 212F degrees. It does need to go to this higher temp so it can be pulled like a pork butt.
The meat pulled perfectly and has a nice smoke ring.
I pulled the beef and mixed it back in with the peppers.
Sandwich was made with a generous portion of the peppered beef, two slices of Swiss cheese, mayo, and some horseradish. Served with some chips, tomato slices, and a deviled egg.
Another nice lunch off of the Cobb Grill. We also love this treat over pasta or brown rice.